Home
Free E-Mail
Bible Studies

Jesus' Parables for Disciples

Early Christian Symbols of the Ancient Church from the Catacombs
by Dr. Ralph F. Wilson

Free E-mail Bible Study

1 & 2 Timothy and Titus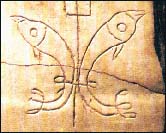 Christian symbols of two fish and what appears to be a trident, which was probably a disguise for the cross symbol, which might identify the person as a Christian and subject his family to persecution. Catacombs.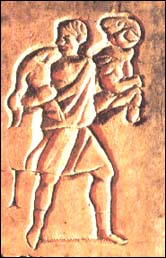 Christ was often depicted symbolically as the Good Shepherd. Paintings of Jesus didn't appear until about the Fifth Century. Catacombs.
What was early Christianity like? We the archaeology of the Roman catacombs in the second and third centuries AD, give us clues, where the graves of hundreds of thousands of Christians give clues, especially with a number of symbols that reflect the earliest period of the Christian era.
This site contains some photos and drawings of early Christian symbology, with links to many others. Most of these represent Christian visual art prior to 313 A.D., when Emperor Constantine legalized Christianity. During this time, the cross is seldom seen, except disguised in some way as an anchor, a trident, or the mast of a ship. Instead, Christians identified their tombs in the catacombs by other symbols alongside of funerary inscriptions.
Christian symbols were first mentioned in writing by Clement of Alexandria (153-217 AD) in Paedogogus 3, 11.
"And let our seals be either a dove, or a fish, or a ship scudding before the wind, or a musical lyre, which Polycrates used, or a ship's anchor, which Seleucus got engraved as a device; and if there be one fishing, he will remember the apostle, and the children drawn out of the water."
So-called Pagan Origins of Christian Symbols
It is without question that nearly all Christian symbols are adaptations of pre-Christian symbols. But as Christianity took hold, these symbols typically lost their pagan associations and took on Christian meanings. There is a certain sort of believer that cries "pagan" or "papist" at any Christian symbol, but that's silly. If we were to rid ourselves of every pagan remnant, we would refuse to use the names of the days of the week or the months of the year.
Thoughtful twenty-first century Christians look at the heart and meaning of the symbols as intended by their early Christian brothers and sisters. We Christians are one with every other true believer in Christ, no matter what denomination or doctrinal stance. We look, listen, and learn from a faith that was forged on persecution and struggle and yet grew and flourished.
Picture Collections
Historical Studies
Christian Art and Paintings: Abraham Art | Agnus Dei Art | Angel Art | Annunciation Art | Celtic Stone Cross Art | Christian Symbols and Art | Christmas Art | David | Easter Art | Elijah | Passion of Christ by Tissot | Gideon | Hebrew-Jewish Art | Holy Week Art | Jacob | Jesus' Ministry Art | Jesus' Teaching Art | Jesus Portraits and Art | John the Baptist | John the Apostle | Lamb of God Art | Last Supper Art | Madonna & Child Art | Moses and the Exodus | Names of God Art | OT Misc Art | Psalms Art | Palm Sunday Art | Paul Art and Paintings | Day of Pentecost Art | Peter Art and Paintings | Prayer Art | Resurrection Art | Revelation Art | Solomon |Thanksgiving and Pilgrims Art | Timothy Art and Paintings
Copyright of artwork. Much, but not all, of the artwork linked to on this site is in the public domain worldwide due to the date of death of its author (if it is was published outside of the U.S. and the author has been dead for over 70 years), or due to its date of publication (if it was first made public in the U.S. before 1923), at least in the United States (see Bridgeman Art Library v. Corel Corp.), in Germany, and in many other countries.
Copyright © 2023, Ralph F. Wilson. <pastor

joyfulheart.com> All rights reserved. A single copy of this article is free. Do not put this on a website. See legal, copyright, and reprint information.
Discipleship for New Believers
In-depth Bible study books
You can purchase one of Dr. Wilson's complete Bible studies in PDF, Kindle, or paperback format -- currently 48 books in the JesusWalk Bible Study Series.
Old Testament
Gospels
Acts
Pauline Epistles
General Epistles
Revelation
Topical
Grace: Favor for the Undeserving


My books are available in paperback and Kindle from Amazon.