Home
Free E-Mail
Bible Studies

Jesus' Parables for Disciples
Beginning the Journey (for new Christians). en Español
1, 2, and 3 John
1 & 2 Thessalonians
1 & 2 Timothy
1 Peter
2 Peter, Jude
1 Corinthians
2 Corinthians
7 Last Words of Christ
Abraham
Acts 1-12: The Early Church
Apostle Paul
Christmas Incarnation
Church
Christ Powered Life (Rom 5-8)
Colossians
Conquering Lamb of Revelation
Daniel
David, Life of
Galatians
Gideon
Grace
Great Prayers
Glorious Kingdom, The
Early Church: Acts1-12
Elijah
Ephesians
Hebrews
Holy Spirit, Disciple's Guide
Isaiah
James
Jacob
Jesus and the Kingdom
John's Gospel
John's Letters
Joshua
Lamb of God
Listening for God's Voice
Lord's Supper
Luke
Mark
Moses
Names of God
Names of Jesus
Parables
Philippians
Psalms
Rebuild & Renew: Post-Exilic Books
Resurrection
Revelation
Sermon on the Mount
Songs of Ascent (Ps 120-135)

Christian Art
About Us
Speaking
Contact Us
Dr. Wilson's Books
Donations
Watercolors
Sitemap

Conquering Lamb of Revelation
24 Brief Devotional Studies
Free E-mail Bible Study

Jesus' Parables for Disciples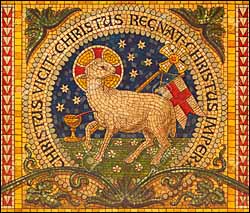 'Mosaic of Lamb of God, altar of little chapel Capella Pinardi, Turin, Italy. Larger image.
The Lamb in the Book of Revelation is a powerful, commanding, conquering figure, not the weak, docile, submissive persona you usually associate with a lamb. And while "lamb" refers to Jesus occurs only four times in the rest of the New Testament, the Lamb appears 27 times in Revelation as a symbol for Jesus Christ, many more times than any other name or title for Jesus in Revelation -- including "Jesus," "Christ," and "Jesus Christ." That's startling!
This Lamb of Revelation is mighty, militant, conquering, triumphant, rendering judgment -- and a perplexing and glorious paradox. He:
Is slain but standing,
The Lamb and the Lion,
Shares the throne with his Father,
Is the Shepherd who leads his people to living waters, and
Is the Warrior who conquerors the devil.
I invite you to join me as we explore the Lamb of Revelation in a series of brief daily devotions over the next twenty-four days, one meditation each day via e-mail.
| | |
| --- | --- |
| Tim McClure, Agnus Dei Stained Glass Window. | |
This will be different than a devotional guide you may be used to. They're longer. They are more like mini-studies -- some short, some longer, but all short enough to read within a few minutes. So plan to set aside a bit more time each day for the next 24 days. Each day's lesson contains enough research that you can meditate more deeply on each one, and even use it as the basis for a devotional message or sermon, if God so leads. Each devotion concludes with a prayer, a meditation question, and has a link to an audio version.
Each day of this series, I'll put the day's verse in brief context with what is going on in that section of Revelation. However, please don't expect me to explain the overall Book of Revelation in this series, or e-mail me for answers to questions of that sort.
For those questions I refer you to my study Book of Revelation: Discipleship Lessons, either in book form, or an e-mail-delivered study. Here are the daily meditations in this series on the Conquering Lamb of Revelation.

This is our 48th online Bible study since 1996. If you've participated in one before, you know how God can use them in your life. If not, then you have a treat in store for you. This is an cross-denominational study designed to help you grow as a disciple of Christ. -- Dr. Ralph F. Wilson. About the leader.

The Lamb in God's Awesome Throne Room (Revelation 4; 5:6)
The Lamb, the Conquering Lion (Revelation 5:5)
The Lamb Who Is Slain (Revelation 5:6)
The Lamb Who Opens the Seals (Revelation 5:1-8; 6:1)
A New Song to the Redeeming Lamb (Revelation 5:7-10)
Worthy Is the Lamb (Revelation 5:11-14)
The Wrath of the Lamb (Revelation 6:15-17; 14:9-11)
The Great Multitude Praising the Lamb (Revelation 7:9-12)
Washed in the Blood of the Lamb (Revelation 7:13-14)
The Lamb Who Is Our Shepherd (Revelation 7:15-17)
Overcoming by the Blood of the Lamb (Revelation 12:11)
The Lamb's Book of Life (Revelation 13:7-8)
Sealed with the Name of the Lamb (Revelation 14:1)
Following the Lamb Wherever He Goes (Revelation 14:4-5)
The Song of the Lamb (Revelation 15:2-4)
The Warrior Lamb, Mighty in Battle (Revelation 17:14)
The Marriage Supper of the Lamb (Revelation 19:6-9)
The Lamb's Book of Life Is Opened (Revelation 20:11-15)
Heavenly Zion and the Bride of the Lamb (Revelation 21:9-10)
The Twelve Apostles of the Lamb (Revelation 21:14)
The Lamb Who Is the Temple (Revelation 21:22)
The Lamb Who Is the Lamp (Revelation 21:23-25)
Healing River from the Throne of the Lamb (Revelation 22:1-2)
We Shall See His Face (Revelation 22:3-5)
You'll find the three-and-a-half weeks of this study a very rich time of gazing on the Conquering Lamb of Revelation. And as you're faithful to pause for the meditation of the day, day after day, you'll begin to experience the cumulative effect of all these passages, and begin to see Jesus in a new, faith-filled way. It's my prayer that through these meditations, you'll come to appreciate and trust Jesus more deeply, and give your life to him more fully.
Here's how we'll study together.
Each day
I'll send you a daily devotion based on one of the passages speaking of the Lamb in the Book of Revelation.
You can respond to the discussion questions
using the Joyful Heart Bible Study Forum -- and read others' answers to reinforce your own understanding.
With day's meditation you'll receive a link to a 8 to 15 minute audio teaching with me reading the lesson. Some who learn better from hearing than from reading really appreciate this.
What people are saying about the study....
"Lifted the veil off my appreciation and understanding of the Book of Revelation, which had previously seemed daunting and in-comprehensible to me." -- Richard Mwale, Botswana
"Refreshment to my spirit in difficult times" -- David Kohn, Alabama
"Well reasoned and theologically sound." -- Pastor Phil Alba, New York
"Takes you on a journey to evaluate your life with Jesus." -- Ken Shepard, California
"Boosts your awe quotient." -- Judith Clough, Wisconsin
"Spent most of my time in tears praising God through this study." -- Theresa M., Canada
"A spiritual gym, daily allowing the believer to build spiritual muscles with this wonderful meditative tool for spiritual strength and joy in life's battles." -- Glenda Samuel, Montserrat
"The scriptural truths are articulated with clarity inspired by the text itself. Controversial theories are not addressed, but the story of the wonders of Christ's victory and exaltation are presented majestically." - Dr. Jeanne Djaballah, Arcadia University, Montreal
If you sign up now, you'll receive the instructions and preface immediately. You'll receive the first lesson tomorrow, and then each day for the next 24 successive days. There is absolutely no charge for these e-mail lessons.
---
Copyright © 2023, Ralph F. Wilson. <pastor

joyfulheart.com> All rights reserved. A single copy of this article is free. Do not put this on a website. See legal, copyright, and reprint information.
Discipleship for New Believers
In-depth Bible study books
You can purchase one of Dr. Wilson's complete Bible studies in PDF, Kindle, or paperback format.


My books are available in paperback and Kindle from Amazon.