Home
Free E-Mail
Bible Studies

Jesus' Parables for Disciples
Beginning the Journey (for new Christians). en Español
1, 2, and 3 John
1 & 2 Thessalonians
1 & 2 Timothy
1 Peter
2 Peter, Jude
1 Corinthians
2 Corinthians
7 Last Words of Christ
Abraham
Acts 1-12: The Early Church
Apostle Paul
Christmas Incarnation
Church
Christ Powered Life (Rom 5-8)
Colossians
Conquering Lamb of Revelation
Daniel
David, Life of
Galatians
Gideon
Grace
Great Prayers
Glorious Kingdom, The
Early Church: Acts1-12
Elijah
Ephesians
Hebrews
Holy Spirit, Disciple's Guide
Isaiah
James
Jacob
Jesus and the Kingdom
John's Gospel
John's Letters
Joshua
Lamb of God
Listening for God's Voice
Lord's Supper
Luke
Mark
Moses
Names of God
Names of Jesus
Parables
Philippians
Psalms
Rebuild & Renew: Post-Exilic Books
Resurrection
Revelation
Sermon on the Mount
Songs of Ascent (Ps 120-135)

Christian Art
About Us
Speaking
Contact Us
Dr. Wilson's Books
Donations
Watercolors
Sitemap

Miscellaneous Early Christian Art
by Dr. Ralph F. Wilson

Free E-mail Bible Study

Jesus' Parables for Disciples


Gravestone of Datus. In this inscription the parents dedicate the epitaph to their son of 20 years. The figure to the left represents the resurrection of Lazarus, the most common image found in the catacombs. It reflected the belief of the early Christians in Jesus as the author of eternal life. (Marble catacomb inscription, Rome, 3rd century A.D. Pio Cristiano: Vatican Museum)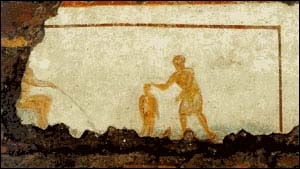 This painting found in Catacombs of St. Callixtus in Rome is probably the oldest paintings ever known in Christian History.
Bearing gifts to the Christ-child, catacomb gravestone, Lastra di Chiusura di Loculo di Severa (c. 330 AD), Museo Pio Cristiano, Rome
Visit of the magi, fresco, Catacomb of Callixtus, early fourth century.
Jonah, fresco, Catacomb of Callixtus, Chapel of Sacraments, third century, Rome.
Jesus the Alpha and Omega, appears as bearded, fresco, fourth century, Catacombs of Commodilla
Virgin and Child Enthroned with Saints Felix and Augustus, Commodilla catacomb, Rome
St. Paul, Catacombs of Praetextatus, fresco, fourth century.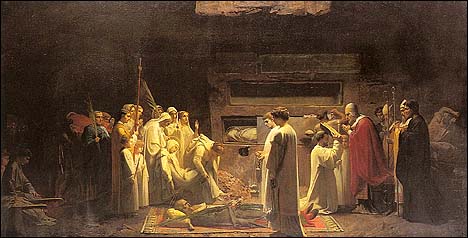 Jules-Eugène Lenepveu (1810-1898), The Martyrs in the Catacombs (1855), Musee d'Orsay, Paris

Copyright © 2023, Ralph F. Wilson. <pastor

joyfulheart.com> All rights reserved. A single copy of this article is free. Do not put this on a website. See legal, copyright, and reprint information.
Discipleship for New Believers
In-depth Bible study books
You can purchase one of Dr. Wilson's complete Bible studies in PDF, Kindle, or paperback format.


My books are available in paperback and Kindle from Amazon.