Home
Free E-Mail
Bible Studies

Jesus' Parables for Disciples

Paintings Depicting Prayer
Themes of St. Francis, St. Jerome, the Virgin Mary, David, Hezekiah, and Christ in Prayer
collected by Dr. Ralph F. Wilson

Free E-mail Bible Study

1 & 2 Timothy and Titus
Alessandro Magnasco (Italian painter, 1667-1749), Praying Monks. Oil on canvas, 53,6 x 43,9 cm, Museum voor Schone Kunsten, Ghent
Nicolaes Maes (Dutch painter, 1634-1693), Old Woman at Prayer, known as "Prayer without End" (1656), oil on canvas, 134 x 113 cm, Rijksmuseum, Amsterdam.
Aert de Gelder (Dutch painter, 1645-1727), Old Woman Praying (c. 1700), Oil on Canvas, 35.63" x 30.91" (90.5 x 78.5 cm.).
Matthias Stom (Dutch, c. 1600- c.1649), Old Woman Praying, oil on canvas; 30 5/8 x 25 1/8 in. (77.8 x 63.8 cm), Metropolitan Museum of Art, New York.
Henry Holiday, Figure Praying (1919-1920), Stained Glass, Calvary Album, photo taken by P. Neil Ralley
Jean-François Millet (French Realist Painter, 1814-1875), "The Angelus" (El Rezo del Angelus, 1857-59), oil on canvas, 55.5 x 66 cm, Musee d'Orsay, Paris. Moving painting of farmer and wife in field thanking God for his provision during potato harvest. Another.
Marc Chagall, The Praying Jew, 1923, oil on canvas, Art Institute of Chicago.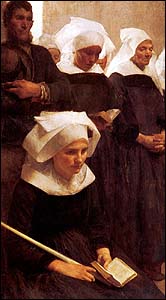 Pascal-Adolphe-Jean Dagnan-Bouveret (French painter, 1852-1929), "Bretons Praying" (1888),
Oil on canvas, 124x85cm, private collection. Larger image. (Note: Bretons are residents of Brittany, France.)
Pascal-Adolphe-Jean Dagnan-Bouveret, Bretons praying (1888), oil on canvas, 124x85cm, private collection.
St. Francis Praying
El Greco (1548-1614), St Francis Praying (1580-85), oil on canvas, 116 x 102 cm, Joslyn Art Museum, Omaha.
Leonardo Da Vinci, Saint Jerome Praying in the Wilderness, unfinished painting on wood panel
(1032 x 749 mm), Vatican City, Musei Vaticani.
Annibale Carracci (Italian painter, 1560-1609), St. Francis of Assissi (1585-90). Larger image.
Francisco De Zurbarán (1598-1664). Several striking paintings of St. Francis of Assisi in prayer.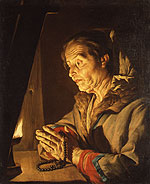 "Old Woman Praying," by Matthias Stom (Flemish painter, 1600-c. 1649), oil on canvas; 30 5/8 x 25 1/8 in., Metropolitan Museum of Art, New York. Larger image.
Bartolomew Esteban Murillo, Saint Francis of Asisi praying (1645-50), Oil on fabric. 182 X 129 cm., Onze-Lieve-Vrouwekathedraal, Antwerp.
Alonso Cano, San Francesco (1657- 1659), Iglesia de S. Francisco el Grande, Madrid, olio su tela
Mic Carlson, contemporary painter and illustrator, has a number of paintings of St. Francis, with a beautuful study of Francis praying.
St. Jerome Praying
Follower of Caravaggio, anamorphic Saint Jerome Praying, 1635, oil on canvas. Circular distortion.
Harmensz van Rijn Rembrandt (1606-1669)
The Virgin Mary in Prayer
Sassoferrato (Italian painter (1609-1685) (Giovanni Battista Salvi)
Albrecht Dürer (Dutch painter, engraver, and woodcut illustrator)
Gerrit Dou (Dutch Painter), The Prayer of the Spinner (1630-1650), oil on wood, 27,7 x 28,3 cm, Alte Pinakothek, Munich
Harmensz van Rijn Rembrandt (1606-1669)
Michaelangelo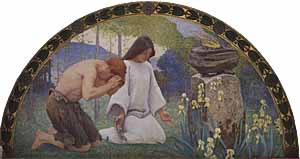 Dante Gabriel Rossetti (1828-1882),
Charles Sprague Pearce (American artist, 1851-1914)
Illustrators
J.H. Hartley, in James Bailie and J H Hartley (illustrator), The Bible Story a connected narrative retold from Holy Scripture (A & C Black Ltd., London, 1923). Moses Praying on Mt. Pisgah (1922) (clipart.com collection, color, #1050661).
Millais, Sir John Everett (Pre-Raphaelite English painter and illustrator, 1829-1896). Judah and Hur Holding Up Moses' Hands (clipart.com, b&w, #497466)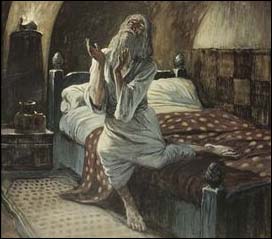 James J. Tissot (1836-1902, French artist and illustrator), "David Praying in the Night," gouach on board, Jewish Museum, New York.
Tissot, James J. (1836-1902, French artist and illustrator). Other works.
Gertrude Marsh, Hezekiah spread it before the Lord (1891)
Morgan Weistling (California illustrator and painter, 1964- )
F. Alexandre Bida (French painter and illustrator, 1813-1895). Illustrated Les Saints Evangeles (1873) with 28 etchings and Christ in Art; or, The Gospel Life of Jesus: With the Bida Illustrations. by Edward Eggleston (New York: Fords, Howard, & Hulbert, 1874)

Rudolf Schäfer (1929), from illustrated German Bible. Available from ClipArt.com
Contemporary Painters on Prayer
David's Confession in Psalm 51
Julius Schnoor von Carolsfeld (German artist, 1794-1872), woodcut illustrations in Das Buch der Bücher in Bilden
Daniel Praying
Daniel's Answer to the King (1890), oil on canvas, 74x47-7/16 inches, Manchester Art Gallary, UK.
Daniel in the Lion's Den (1872), Walker Art Gallery.
Jesus in the Garden of Gethsemane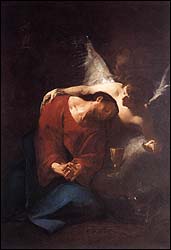 Paul Troger (Austrian Painter, 1698-1762), Christ comforted by an angel (c. 1730), oil on canvas, Museo Diocesano, Camerino. Larger image.
Collections
Christian Art and Paintings: Abraham Art | Agnus Dei Art | Angel Art | Annunciation Art | Celtic Stone Cross Art | Christian Symbols and Art | Christmas Art | David | Easter Art | Elijah | Passion of Christ by Tissot | Gideon | Hebrew-Jewish Art | Holy Week Art | Jacob | Jesus' Ministry Art | Jesus' Teaching Art | Jesus Portraits and Art | John the Baptist | John the Apostle | Lamb of God Art | Last Supper Art | Madonna & Child Art | Moses and the Exodus | Names of God Art | OT Misc Art | Psalms Art | Palm Sunday Art | Paul Art and Paintings | Day of Pentecost Art | Peter Art and Paintings | Prayer Art | Resurrection Art | Revelation Art | Solomon |Thanksgiving and Pilgrims Art | Timothy Art and Paintings
Copyright of artwork. Much, but not all, of the artwork linked to on this site is in the public domain worldwide due to the date of death of its author (if it is was published outside of the U.S. and the author has been dead for over 70 years), or due to its date of publication (if it was first made public in the U.S. before 1923), at least in the United States (see Bridgeman Art Library v. Corel Corp.), in Germany, and in many other countries.
Copyright © 2023, Ralph F. Wilson. <pastor

joyfulheart.com> All rights reserved. A single copy of this article is free. Do not put this on a website. See legal, copyright, and reprint information.
Discipleship for New Believers
In-depth Bible study books
You can purchase one of Dr. Wilson's complete Bible studies in PDF, Kindle, or paperback format -- currently 48 books in the JesusWalk Bible Study Series.
Old Testament
Gospels
Acts
Pauline Epistles
General Epistles
Revelation
Topical
Grace: Favor for the Undeserving


My books are available in paperback and Kindle from Amazon.