Home
Free E-Mail
Bible Studies

Grace
Beginning the Journey (for new Christians). en Español
1, 2, and 3 John
1 & 2 Thessalonians
1 & 2 Timothy
1 Peter
2 Peter, Jude
1 Corinthians
2 Corinthians
7 Last Words of Christ
Abraham
Acts 1-12: The Early Church
Apostle Paul
Christmas Incarnation
Church
Christ Powered Life (Rom 5-8)
Colossians
Conquering Lamb of Revelation
Daniel
David, Life of
Galatians
Gideon
Grace
Great Prayers
Glorious Kingdom, The
Early Church: Acts1-12
Elijah
Ephesians
Hebrews
Holy Spirit, Disciple's Guide
Isaiah
James
Jacob
Jesus and the Kingdom
John's Gospel
John's Letters
Joshua
Lamb of God
Listening for God's Voice
Lord's Supper
Luke
Mark
Moses
Names of God
Names of Jesus
Philippians
Psalms
Rebuild & Renew: Post-Exilic Books
Resurrection
Revelation
Sermon on the Mount
Songs of Ascent (Ps 120-135)

Christian Art
About Us
Speaking
Contact Us
Dr. Wilson's Books
Donations
Watercolors
Sitemap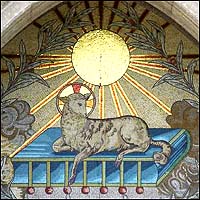 Ontario, Canada, church doorway, Behold the Lamb of God, mosaic with gilded sun above Lamb.
The Agnus Dei or Lamb of God symbol, typically shows a lamb, holding a cross or a flag. The Agnus Dei probably goes back to 5th century Rome. Discs of wax imprinted with the lamb, blessed by the Pope, were used from the ninth century, and probably earlier.
One of the few Christian symbols dating from the first century is that of the Good Shepherd carrying on His shoulders a lamb or a sheep, with two other sheep at his side. Between the first and the fourth century eighty-eight frescoes of this type were depicted in the Roman catacombs.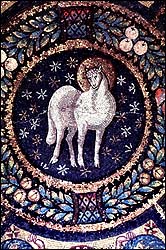 San Vitale, Ravenna (begun 532, consecrated 547A.D), Agnus Dei (Lamb of God) Detail of Central Medallion, large photo, detailed image.
In the Agnus Dei symbol, the lamb was used to symbolize innocence and was also a sacrificial animal. the Agnus Dei, or Lamb of God, is an ancient symbol of Christ and His sacrifice. The cross stands for Christ's victory over sin and death. Biblical references include John 1:29 and Revelation 14. In ancient examples of the Agnus Dei may be seen lying upon the Book of Seven Seals or carrying the Banner of Victory. It must be crowned with a three-rayed nimbus or halo, signifying that it is a symbol of divinity. In other examples the Lamb stands upon a hill from which flow the Four Rivers of Paradise, signifying the Four Gospels.
In Christian symbolism, the lamb represents Jesus, "the Lamb of God." Standing with a banner, the lamb represents the risen Christ triumphant over death. Standing with a cross and a gash in its side, it symbolizes the passion of Christ. Seated on a throne or a book, the lamb represents the judgment of Christ. Because the lamb is humble, gentle, and innocent, lambs are often engraved on the tombstones of children.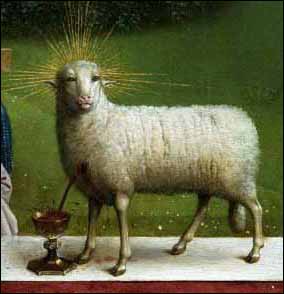 Detail. Adoration of the Lamb, by Jan van Eyck (1432), oil on wood, Ghent altarpiece, Cathedral of St. Bavo, Ghent.
Paintings of Lamb of God or Agnus Dei
Woodcuts
| | |
| --- | --- |
| Detail of "Adoration of the Lamb" (1496-98) woodcut by Albrecht Dürer. Larger image. | |
Albrecht Dürer (German painter, 1471-1528), Adoration of the Lamb (1496-98), woodcut in Apocalypse of St. John series, each 39 x 28cm.
Sculpture, carving, statue of Lamb of God
Piero della Francesca (1416-1492), Resurrection of Christ (1463-65), Mural in fresco and tempera, 225 x 200 cm, Pinacoteca Comunale, Sansepolcro
Painting of Scene with John the Baptist pointing to Jesus as the Lamb of God
Dieric Bouts (AD 1410-1475), "Ecce Agnus Dei", (1462/64), Holz, 53,8 x 41,2 cm Erworben 1989 mit Unterstützung der Kulturstiftung der Länder.
Agnus Dei Stained Glass Windows
Mosaic
Miscellaneous
Iconography of the Agnus Dei
Copyright © 2022, Ralph F. Wilson. <pastor

joyfulheart.com> All rights reserved. A single copy of this article is free. Do not put this on a website. See legal, copyright, and reprint information.
Discipleship for New Believers
In-depth Bible study books
You can purchase one of Dr. Wilson's complete Bible studies in PDF, Kindle, or paperback format.


My books are available in paperback and Kindle from Amazon.