Home
Free E-Mail
Bible Studies

Jesus' Parables for Disciples

Vine and Grape Clusters
by Dr. Ralph F. Wilson

Free E-mail Bible Study

1 & 2 Timothy and Titus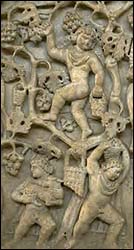 Detail of angels harvesting grapes from the vine that emanates from the central shepherd. Sarcophagus of the Good Shepherd, Catacomb of Praetextatus, Rome, 390s AD. Full sarcophagus.
The idea of the vital union of the believers with Christ and among each other is symbolized by the vine and its branches (John 15:1-6).
A dove with a cluster of grapes. Inscription from the Catacombs of Priscilla, IV sec. d.c., via Salaria Nova, Roma (below, left)
Copyright © 2023, Ralph F. Wilson. <pastor

joyfulheart.com> All rights reserved. A single copy of this article is free. Do not put this on a website. See legal, copyright, and reprint information.
Discipleship for New Believers
In-depth Bible study books
You can purchase one of Dr. Wilson's complete Bible studies in PDF, Kindle, or paperback format -- currently 48 books in the JesusWalk Bible Study Series.
Old Testament
Gospels
Acts
Pauline Epistles
General Epistles
Revelation
Topical
Grace: Favor for the Undeserving


My books are available in paperback and Kindle from Amazon.