Home
Free E-Mail
Bible Studies

Jesus' Parables for Disciples

Dove as a Christian Symbol
by Dr. Ralph F. Wilson

Free E-mail Bible Study

1 & 2 Timothy and Titus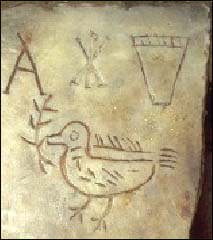 Inscription of Bincentia, flanked by theChi-Rho symbol, basket (indicating good works), and dove with olive branch; Catacomb of S. Sebastiano, Rome. Showing inscription
Early Christians often had a dove on their tombs as a symbol of the peace and happiness of the soul. The olive branch symbol comes from the story of Noah, who after the flood dispatched a dove to find dry land and finally returned with an olive branch in its mouth (Genesis 8:11).
Occassionally in the earliest Christian art the dove is used as a symbol of the Holy Spirit. Of course, later it was very common.


The inscription in pace ("in peace") with the dove and orante describe the peaceful state of the dead in Christ.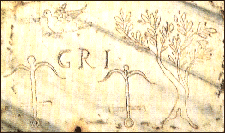 Two anchors a dove with an olive sprig in its mouth (top left), with an olive tree (right).
Copyright © 2023, Ralph F. Wilson. <pastor

joyfulheart.com> All rights reserved. A single copy of this article is free. Do not put this on a website. See legal, copyright, and reprint information.
Discipleship for New Believers
In-depth Bible study books
You can purchase one of Dr. Wilson's complete Bible studies in PDF, Kindle, or paperback format -- currently 48 books in the JesusWalk Bible Study Series.
Old Testament
Gospels
Acts
Pauline Epistles
General Epistles
Revelation
Topical
Grace: Favor for the Undeserving


My books are available in paperback and Kindle from Amazon.