Home
Free E-Mail
Bible Studies

Jesus' Parables for Disciples

Orante (Orans) as Early Christian Symbol
by Dr. Ralph F. Wilson

Free E-mail Bible Study

1 & 2 Timothy and Titus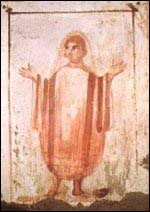 Orante della catacomba di via Anapo a Roma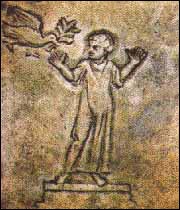 Person in prayer (orantes) and a dove with an olive branch in its mouth.
The Orante is a figure with open arms, a symbol of the soul at peace in paradise, a representation of the soul in the other world as a figure (orante) with arms extended in prayer.

Orante figure from the Catacomb of Priscilla, Cubicle of the Velata, Rome (second half of the third century).This pose of arms lifted in prayer is found in thousands of figures in the catacombs, representing a soul at peace in paradise.

Orante - Gebetshaltung, Catacomba di Priscilla, Cubicle of Velata. Another. Another.
Orante fragment, Il museo di St. Eustorgio
Fresco of Orante, Italy
Gravestone for Mouses and his wife (Rome, 3rd century A.D.), Pio Cristiano Museum, Vatican. Shows Orante and Good shepherd.
Lastra con epitaffio di Bessula. Sec.V. Musei Vaticani, Museo Pio Cristiano. Cittàdel Vaticano.
Sezione archeologica. Epigrafe con figura di donna orante, Museo Civico, Biassono.
Rara figura di "orante" incisa sulla muratura di un "mayen" a Torgnon
Copyright © 2023, Ralph F. Wilson. <pastor

joyfulheart.com> All rights reserved. A single copy of this article is free. Do not put this on a website. See legal, copyright, and reprint information.
Discipleship for New Believers
In-depth Bible study books
You can purchase one of Dr. Wilson's complete Bible studies in PDF, Kindle, or paperback format -- currently 48 books in the JesusWalk Bible Study Series.
Old Testament
Gospels
Acts
Pauline Epistles
General Epistles
Revelation
Topical
Grace: Favor for the Undeserving


My books are available in paperback and Kindle from Amazon.