Home
Free E-Mail
Bible Studies

Jesus' Parables for Disciples
Beginning the Journey (for new Christians). en Español
1, 2, and 3 John
1 & 2 Thessalonians
1 & 2 Timothy
1 Peter
2 Peter, Jude
1 Corinthians
2 Corinthians
7 Last Words of Christ
Abraham
Acts 1-12: The Early Church
Apostle Paul
Christmas Incarnation
Church
Christ Powered Life (Rom 5-8)
Colossians
Conquering Lamb of Revelation
Daniel
David, Life of
Galatians
Gideon
Grace
Great Prayers
Glorious Kingdom, The
Early Church: Acts1-12
Elijah
Ephesians
Hebrews
Holy Spirit, Disciple's Guide
Isaiah
James
Jacob
Jesus and the Kingdom
John's Gospel
John's Letters
Joshua
Lamb of God
Listening for God's Voice
Lord's Supper
Luke
Mark
Moses
Names of God
Names of Jesus
Parables
Philippians
Psalms
Rebuild & Renew: Post-Exilic Books
Resurrection
Revelation
Sermon on the Mount
Songs of Ascent (Ps 120-135)

Christian Art
About Us
Speaking
Contact Us
Dr. Wilson's Books
Donations
Watercolors
Sitemap

Paintings and Artwork of Gideon
Collected by Dr. Ralph F. Wilson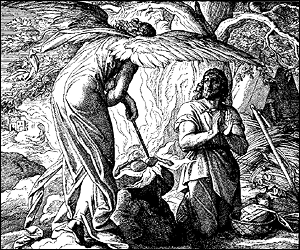 Julius Schnorr von Carolsfeld, "Gideon and the Angel of the Lord (1851-60).
James Jacques Tissot
(Paintings probably in the Jewish Museum, but not shown on their website)
Tissot, Gideon asks bread of the men of Succoth (1904), in The Bible and Its Story Taught by One Thousand Picture Lessons, vol. 3. edited by Charles F. Horne and Julius A. Bewer. (1908). Picture inscription says "Copyright, 1904, M. de Brunoff"
Maarten van Heemskerck, "Gideon thanks God for the miracle of the dew" (c. 1550), Musée des Beaux-Arts de Strasbourg. Another.
Gideon and His 300 (1907), bible card, "Coprighted 1907 by Providence Lithograph Co." Unknown artist. Another. Another.
Unknown, Gideon and 300 men deliver Israel from the Midianites
Jacob de Wet (Dutch artist, 1640-1697), Gideon and the Angel, oil on panel, 508 x 616mm, Auckland Art Gallery.
Christian Eduard Böttcher, Gideon selects his army of 300 by observing their manner of drinking from a stream
G. van der Gouwen, Gideon's surprise attack.
Julius Schnorr von Carolsfeld
, 1851-60
Gustave Doré
1832-1883), 1865
Sir Stanley Spencer (1891-1959), The Sword of the Lord and of Gideon (1921), Oil on paper laid on board support: 622 x 559 mm on paper, unique. Abstract.
Illustration, Gideon and trumpets, B&W, artist A.P.
Illuminated Manuscript
Unknown artist, The Nativity: Gideon, German, Hildesheim, about 1170s, Tempera colors, gold leaf, silver leaf, and ink on parchment, 11 1/8 x 7 7/16 in., MS. 64, FOL. 92. Getty Museum. Shows Gideon pointing to the fleece.
Sculpture
Gideon-Fountain in the city of Solothurn
Stained Glass Windows
Gideon's Rout of the Midianites, , Tiffany Studios, Union Congregational Church, Montclair, NJ
Gideon seeking guidance (c. 1500), St. Mary's Church, Fairford, Gloucestershire, stained glass window.
Icon
Judge Gideon, Russian Orthodox icon from the first quarter of the 18th century, Iconostasis of Kizhi monastery, Karelia
Contemporary
Maps
Collections
Christian Art and Paintings: Abraham Art | Agnus Dei Art | Angel Art | Annunciation Art | Celtic Stone Cross Art | Christian Symbols and Art | Christmas Art | David | Easter Art | Elijah | Passion of Christ by Tissot | Hebrew-Jewish Art | Holy Week Art | Jacob | Jesus' Ministry Art | Jesus' Teaching Art | Jesus Portraits and Art | John the Baptist | John the Apostle | Lamb of God Art | Last Supper Art | Madonna & Child Art | Moses and the Exodus | Names of God Art | OT Misc Art | Psalms Art | Palm Sunday Art | Paul Art and Paintings | Day of Pentecost Art | Peter Art and Paintings | Prayer Art | Resurrection Art | Revelation Art | Thanksgiving and Pilgrims Art | Timothy Art and Paintings
Copyright of artwork. Much, but not all, of the artwork linked to on this site is in the public domain worldwide due to the date of death of its author (if it is was published outside of the U.S. and the author has been dead for over 70 years), or due to its date of publication (if it was first made public in the U.S. before 1923), at least in the United States (see Bridgeman Art Library v. Corel Corp.), in Germany, and in many other countries.
Copyright © 2023, Ralph F. Wilson. <pastor

joyfulheart.com> All rights reserved. A single copy of this article is free. Do not put this on a website. See legal, copyright, and reprint information.
Discipleship for New Believers
In-depth Bible study books
You can purchase one of Dr. Wilson's complete Bible studies in PDF, Kindle, or paperback format.


My books are available in paperback and Kindle from Amazon.