Home
Free E-Mail
Bible Studies

Jesus' Parables for Disciples
Beginning the Journey (for new Christians). en Español
1, 2, and 3 John
1 & 2 Thessalonians
1 & 2 Timothy
1 Peter
2 Peter, Jude
1 Corinthians
2 Corinthians
7 Last Words of Christ
Abraham
Acts 1-12: The Early Church
Apostle Paul
Christmas Incarnation
Church
Christ Powered Life (Rom 5-8)
Colossians
Conquering Lamb of Revelation
Daniel
David, Life of
Galatians
Gideon
Grace
Great Prayers
Glorious Kingdom, The
Early Church: Acts1-12
Elijah
Ephesians
Hebrews
Holy Spirit, Disciple's Guide
Isaiah
James
Jacob
Jesus and the Kingdom
John's Gospel
John's Letters
Joshua
Lamb of God
Listening for God's Voice
Lord's Supper
Luke
Mark
Moses
Names of God
Names of Jesus
Parables
Philippians
Psalms
Rebuild & Renew: Post-Exilic Books
Resurrection
Revelation
Sermon on the Mount
Songs of Ascent (Ps 120-135)

Christian Art
About Us
Speaking
Contact Us
Dr. Wilson's Books
Donations
Watercolors
Sitemap

Anchor as an Early Christian Symbol
by Dr. Ralph F. Wilson

Free E-mail Bible Study

Jesus' Parables for Disciples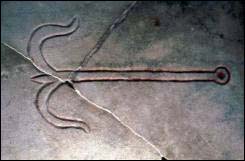 Anchor, IV sec. d.c., Catacomb of Priscilla, via Salaria Nova, Roma
The anchor was an early Christian symbol commonly found in the Roman catacombs as a symbol of the hope we have in Christ beyond this life, and is a fitting inscription for a Christian tomb. The symbol doubtless comes from this verse:
"We have this hope as an anchor for the soul, firm and secure. It enters the inner sanctuary behind the curtain, where Jesus, who went before us, has entered on our behalf. He has become a high priest forever, in the order of Melchizedek." (Hebrews 6:19-20)
The anchor is found in the first century cemetery of St. Domitilla, the second and third century epitaphs of the catacombs, and especially in the oldest parts of the cemeteries of Sts. Priscilla (about 70 examples in this cemetery alone), Domitilla, Calixtus, and the Coemetarium majus.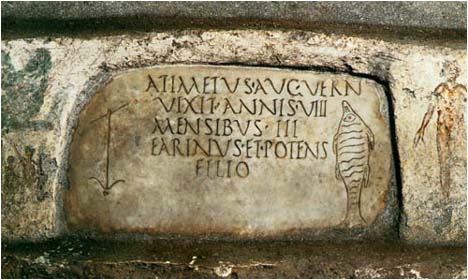 Christian Roman epitaph of Atimetus from the catacombs of St. Sebastian on the Via Appia, Rome. Inscription flanked by Christian symbols, an anchor and a fish.
Petroglyphs from catacomb di S. Callisto. Anchor, and other symbols.
Chi-rho, Fish, and Anchor symbols, Catacombs of St. Sebastian.
Good shepherd, Chi-Rho, swastika, anchor, fish, and ichthus from Catacombs of St. Sebastian, Rome
"When the early Christians did represent the sign of the cross on their monuments, nearly all sepulchral in character, they felt obliged to disguise it in some artistic and symbolical way. One of the oldest of the symbols of the cross is the anchor. Originally a symbol of hope in general, the anchor takes on in this way a much higher meaning: that of hope based on the Cross of Christ. The similarity of the anchor to the cross made the former an admirable Christian symbol." (Orazio Marucchi, "Archaeology of the Cross and Crucifix," Catholic Encyclopedia (1908), Vol. 4)
In some anchors, the "stock" at the top of the anchor reminded Christians of a cross.
Large iron anchors were found in the Mediterranean as early as the third century B.C. Ancient anchor.
Maurice M. Hassett, The Anchor (as Symbol), Catholic Encyclopedia (1907), vol. 1.
Copyright © 2023, Ralph F. Wilson. <pastor

joyfulheart.com> All rights reserved. A single copy of this article is free. Do not put this on a website. See legal, copyright, and reprint information.
Discipleship for New Believers
In-depth Bible study books
You can purchase one of Dr. Wilson's complete Bible studies in PDF, Kindle, or paperback format.


My books are available in paperback and Kindle from Amazon.