Home
Free E-Mail
Bible Studies

Grace
Beginning the Journey (for new Christians). en Español
1, 2, and 3 John
1 & 2 Thessalonians
1 & 2 Timothy
1 Peter
2 Peter, Jude
1 Corinthians
2 Corinthians
7 Last Words of Christ
Abraham
Acts 1-12: The Early Church
Apostle Paul
Christmas Incarnation
Church
Christ Powered Life (Rom 5-8)
Colossians
Conquering Lamb of Revelation
Daniel
David, Life of
Galatians
Gideon
Grace
Great Prayers
Glorious Kingdom, The
Early Church: Acts1-12
Elijah
Ephesians
Hebrews
Holy Spirit, Disciple's Guide
Isaiah
James
Jacob
Jesus and the Kingdom
John's Gospel
John's Letters
Joshua
Lamb of God
Listening for God's Voice
Lord's Supper
Luke
Mark
Moses
Names of God
Names of Jesus
Philippians
Psalms
Rebuild & Renew: Post-Exilic Books
Resurrection
Revelation
Sermon on the Mount
Songs of Ascent (Ps 120-135)

Christian Art
About Us
Speaking
Contact Us
Dr. Wilson's Books
Donations
Watercolors
Sitemap

Paintings and Art Depicting the Book of Revelation
Collected by Dr. Ralph F. Wilson
Free E-mail Bible Study

Grace: Favor for the Undeserving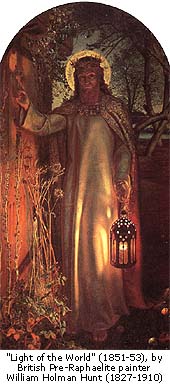 I've found a number of interesting depictions from the Book of Revelation from all artistic styles. You might want to use some of these to illustrate PowerPoint lessons on the Book of Revelation. This is part of a much larger study of Revelation: Disciple Lessons.
John on Patmos
Gustave Doré (1832-1883), Illustrations on Revelation from the The Doré Bible Gallery. Again
Albrecht Dürer (1471-1528), Apocalypse of St. John (1496-98), woodcuts, each 39x28 (15 x 11 ") Connecticut Colleges Wetmore Print Collection.
William Blake (1757-1827). English poet, painter, engraver; one of the earliest and greatest figures of Romanticism. The Great Red Dragon Paintings are a series of watercolors he painted 1805-10, when he was commissioned to create over 100 paints to illustrate books of the Bible.
Peter von Cornelius (1793 - 1867), The Last Judgment (1836-40). Poster. A "Nazarene" painter.
Hieronymus Bosch
Fra Angelico
Michelangelo
John Martin
William Holman Hunt (1827-1910)
Lynn Morgan
Jacobello Alberegno (Italian painter, Venetian school, d. 1397)
Bruegel, Pieter the Elder (about 1525-69)
Edward Coly Burne-Jones (1833- 1893)
Roger Wagner
Richard Harrison
Unknown
Two Witnesses
Last Trumpet, Last Judgment
Unknown artist, but powerful image

Nardo Di Cione (Italian painter, Florentine, active 1343-66), Last Judgment (detail), 1350s, Fresco, Cappella Strozzi, Santa Maria Novella, Florence

Fragelico, Last Judgment
Collections:
Pat Marvenko Smith, developer of the video "Revelation Illustrated," is contemporary artist who has developed 35 prints illustrating Revelation.
John Steczynski, Professor, Boston College, APOCALYPSE: Meditations on the Visions of John, drawings.
Moments in Bible Prophecy, Revelation Study Guide. All 22 chapters are illustrated from various sources.
Devi Anne Moore, Revelation Art, by TAV-Art.
Bamberg Apocalypse, about 1020, Bamberg, Staatsbibliothek. Many medieval manuscript illustrations depicting scenes from Revelation.
Art of Jesus Christ in the Book of Revelation Apocalypse
Professor Felix Just, S.J, Loyala Marymount University
Lee Stoneking. Many images including
Worldwide Church of God (illustrations to articles)
Book of Revelation Verse by Verse Audio Study, David Griffin. Collection of grapics.
Bedford Studio, Revelation: the Magnificant Conclusion. Dale Bedford, contemporary artist.
BibleView Presentations Revelation I, Revelation II. Many simple single images and symbols from Revelation. Overview Presenations, Christchurch, New Zealand.
Christian Artwork by Duncan Long, includes pictures of Revelation, judgment, and "secret rapture".
Apolyptic Ideas in Old English Literature. Carolin Esser. Image gallery. Many fascinating images from different chapters.
The H'Art of the Revelation of Jesus Christ, 49 artworks by Devi Anne Moore.
Book of Revelation by Ulrike. Contains diagram of tabernacle, plus 7 seals on scroll.
Medieval illuminated manuscripts of several Revelation scenes
Digital Art by Ted Larson. A series of Revelation images.
4 Living Creatures around the Throne
New Jerusalem
Tree of Life
Christian Art and Paintings: Abraham Art | Agnus Dei Art | Angel Art | Annunciation Art | Celtic Stone Cross Art | Christian Symbols and Art | Christmas Art | David | Easter Art | Elijah | Passion of Christ by Tissot | Hebrew-Jewish Art | Holy Week Art | Jacob | Jesus' Ministry Art | Jesus' Teaching Art | Jesus Portraits and Art | John the Baptist | John the Apostle | Lamb of God Art | Last Supper Art | Madonna & Child Art | Moses and the Exodus | Names of God Art | OT Misc Art | Psalms Art | Palm Sunday Art | Paul Art and Paintings | Day of Pentecost Art | Peter Art and Paintings | Prayer Art | Resurrection Art | Revelation Art | Thanksgiving and Pilgrims Art | Timothy Art and Paintings
Copyright of artwork. Much, but not all, of the artwork linked to on this site is in the public domain worldwide due to the date of death of its author (if it is was published outside of the U.S. and the author has been dead for over 70 years), or due to its date of publication (if it was first made public in the U.S. before 1923), at least in the United States (see Bridgeman Art Library v. Corel Corp.), in Germany, and in many other countries.
Copyright © 2022, Ralph F. Wilson. <pastor

joyfulheart.com> All rights reserved. A single copy of this article is free. Do not put this on a website. See legal, copyright, and reprint information.
Discipleship for New Believers
In-depth Bible study books
You can purchase one of Dr. Wilson's complete Bible studies in PDF, Kindle, or paperback format.


My books are available in paperback and Kindle from Amazon.