Home
Free E-Mail
Bible Studies

Jesus' Parables for Disciples
Beginning the Journey (for new Christians). en Español
1, 2, and 3 John
1 & 2 Thessalonians
1 & 2 Timothy
1 Peter
2 Peter, Jude
1 Corinthians
2 Corinthians
7 Last Words of Christ
Abraham
Acts 1-12: The Early Church
Apostle Paul
Christmas Incarnation
Church
Christ Powered Life (Rom 5-8)
Colossians
Conquering Lamb of Revelation
Daniel
David, Life of
Galatians
Gideon
Grace
Great Prayers
Glorious Kingdom, The
Early Church: Acts1-12
Elijah
Ephesians
Hebrews
Holy Spirit, Disciple's Guide
Isaiah
James
Jacob
Jesus and the Kingdom
John's Gospel
John's Letters
Joshua
Lamb of God
Listening for God's Voice
Lord's Supper
Luke
Mark
Moses
Names of God
Names of Jesus
Parables
Philippians
Psalms
Rebuild & Renew: Post-Exilic Books
Resurrection
Revelation
Sermon on the Mount
Songs of Ascent (Ps 120-135)

Christian Art
About Us
Speaking
Contact Us
Dr. Wilson's Books
Donations
Watercolors
Sitemap

1 and 2 Timothy
Leadership and Discipleship Lessons
A Free 11-week E-Mail Bible Study
by Dr. Ralph F. Wilson


Free E-mail Bible Study

Jesus' Parables for Disciples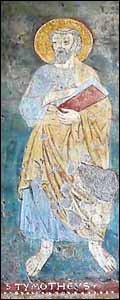 "St. Timothy" (5th Century), fresco, Basilica of St. Paul Outside the Walls, Rome. Photo by Richard Stracke. Larger image.
I've always loved First and Second Timothy. Paul's warmth encourages me, his exhortations to his protégé Timothy challenge me, his example of sacrificing all for the gospel humbles me. These two epistles include:
A powerful doxology ("Now to the King eternal, immortal, invisible ...")
Assurance of God's saving love ("who wants all men to be saved...")
Christ as the one Mediator
Guidelines for selecting church leaders
Strong exhortations to flee ungodliness and pursue righteousness, faith, love, and peace
A declaration of faith in God's keeping power
A call to endure hardship
A warning to handle God's word as careful workmen
Advice in gently instructing opponents
A revelation of all Scripture as "God-breathed"
... and much more
My mind keeps returning to Paul's last words:
"I have fought the good fight, I have finished the race, I have kept the faith. Now there is in store for me the crown of righteousness ...." (2 Timothy 4:7-8)
You and I want to live our lives strongly and finish well! These letters teach us how and urge us towards godly living. Here is the outline of our 11-week study:
I invite you to journey with me and thousands of brothers and sisters world-wide through a study of 1 and 2 Timothy. Here's how we'll study together.
Each Saturday I'll e-mail you the lesson for the week
. Then you'll read the Bible passage and use my notes to help you understand it better.
On Sunday, Monday, Tuesday, and Wednesday you'll receive a question
from that week's lesson to think about and answer. This is designed as a "total immersion" approach to Bible study, since I believe God wants to use these lessons to work real and permanent change in your life. (You can opt out of the daily questions if you like, however, and just receive the weekly lessons.) You'll be thinking about these passages constantly over these weeks -- long enough for God to work his Word into your life and lifestyle.
You can respond to the questions and exercises
using the Joyful Heart Bible Study Forum -- and read others' answers to reinforce your own understanding.
With each lesson you'll receive a link to a 20- to 30-minute audio teaching that sums up the passage you've been studying that week. Some who learn better from hearing than from reading really appreciate this.
Then on Saturday, I'll send you the next week's lesson.
Why don't you sign up right now -- and then encourage some of your friends to sign up and study along with you.
One big favor you can do for me: Please link to this Bible study in your online bookmarks, blog, personal webpage, ministry or church website, as follows: 1 & 2 Timothy Bible Study www.jesuswalk.com/timothy/ The number of people who will find this on the Internet is directly related to the number of links you and other place. If you can't link, that's okay, too. I understand. It would be a big help if you would place a bookmark on your favorite online system. Please do this right now before you forget. Thanks. Pastor Ralph

Sign up now!
To sign up, start by clicking on your e-mail frequency preference:
You'll receive your first lesson the Friday after you sign up. There is no cost to participate in the study, though donations are encouraged so we can create more studies and reach more people.
We respect your privacy and never sell, rent, or loan our lists. Please don't subscribe your friends; let them decide for themselves.
Please don't sign up for more than one of my Bible studies at one time. There's no penalty, but each of them is pretty intensive. If you try to do too many studies at the same time without adequate reflection, you'll miss out on God speaking to you.
---
Copyright © 2023, Ralph F. Wilson. <pastor

joyfulheart.com> All rights reserved. A single copy of this article is free. Do not put this on a website. See legal, copyright, and reprint information.
Discipleship for New Believers
In-depth Bible study books
You can purchase one of Dr. Wilson's complete Bible studies in PDF, Kindle, or paperback format.


My books are available in paperback and Kindle from Amazon.