Home
Free E-Mail
Bible Studies

Jesus' Parables for Disciples

IHS Christogram
by Dr. Ralph F. Wilson

Free E-mail Bible Study

1 & 2 Timothy and Titus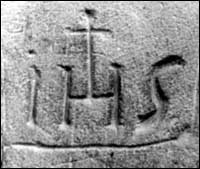 This photo is reputedly from the catacombs, but I can't verify its origin.
The IHS monogram is an abbreviation or shortening of Jesus' name in Greek to the first three letters. Thus ΙΗΣΟΥΣ, ιησυς (iēsus, "Jesus"), is shortened to ΙΗΣ (iota-eta-sigma), sometimes transliterated into Latin or English characters as IHS or ΙΗC.
The symbol is said to appear rarely in the catacombs, only in the catacomb of Priscilla and the atrium of the Capella Graeca (Greek Chapel).1 It was popularized in the fifteenth century, however, by Franciscan disciple Bernadine of Sienna as a symbol of peace. In 1541 St. Ignatius Loyola adopted the symbol with three nails below and surrounded by the sun as the seal of the Jesuit order.
Contrary to some authors, the monogram originally stood for neither for Iesus Hominum Salvator ("Jesus Savior of Men") nor for "In His Service." Some attribute its origin to Constantine's vision, where he saw a cross with the inscription "In hoc signo vinces" ("in this sign you shall conquer,"2 which is abbreviated, according to them, as IHS. However, this seems to require a stretch, as do claims that it is really a pagan symbol.3 The simplest explanation, as an abbreviation of Jesus' name, is best.
References
A. Hauck, Jesus Christ, Monogram of, The New Schaff-Herzog Encyclopedia of Religious Knowledge, Vol. 6, p. 168.
Eusebius, The Life of Constantine 1.28.
Matthew Baldwin, IHS a Greek abbreviation, B-Greek List, 16-Dec-2003.
Copyright © 2023, Ralph F. Wilson. <pastor

joyfulheart.com> All rights reserved. A single copy of this article is free. Do not put this on a website. See legal, copyright, and reprint information.
Discipleship for New Believers
In-depth Bible study books
You can purchase one of Dr. Wilson's complete Bible studies in PDF, Kindle, or paperback format -- currently 48 books in the JesusWalk Bible Study Series.
Old Testament
Gospels
Acts
Pauline Epistles
General Epistles
Revelation
Topical
Grace: Favor for the Undeserving


My books are available in paperback and Kindle from Amazon.