Home
Free E-Mail
Bible Studies

Songs of Ascent (Psalms 120-134
Beginning the Journey (for new Christians). en Español
1, 2, and 3 John
1 & 2 Thessalonians
1 & 2 Timothy
1 Peter
2 Peter, Jude
1 Corinthians
2 Corinthians
7 Last Words of Christ
Abraham
Apostle Paul
Christmas Incarnation
Church
Christ Powered Life (Rom 5-8)
Colossians
Conquering Lamb of Revelation
Daniel
David, Life of
Galatians
Gideon
Great Prayers
Glorious Kingdom, The
Ephesians
Hebrews
Holy Spirit, Disciple's Guide
Isaiah
James
Jacob
Jesus and the Kingdom
John's Gospel
John's Letters
Joshua
Lamb of God
Listening for God's Voice
Lord's Supper
Luke
Mark
Moses
Names of God
Names of Jesus
Philippians
Psalms
Rebuild & Renew: Post-Exilic Books
Resurrection
Revelation
Sermon on the Mount

Christian Art
About Us
Speaking
Contact Us
Dr. Wilson's Books
Donations
Watercolors
Sitemap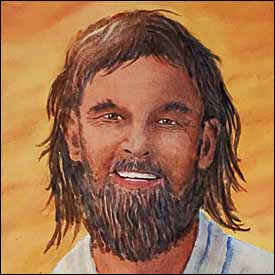 Ralph F. Wilson, 'The Teacher' (2020), original watercolor. Prints available.
Wouldn't it be wonderful to be trained as a disciple by Jesus himself? To be one of that band of Twelve and then Seventy who followed him around Galilee and Judea, who absorbed every word, and began to learn how to be productive co-workers with him?
Disciple Lessons in Luke's Gospel is a conscious attempt to put you and me in the place of those first disciples. To look at each of Jesus' healing acts, each word, each confrontation, each parable, and ask the question: What should I as a disciple be learning from this?
Written over a period of three years and experienced by over 5,000 students from 123 countries, Disciple Lessons in Luke's Gospel is being used by God to mold many in Christ's image. (Here's what people have said about it.) Now slightly revised and available in audio form and via e-mail, this series can help form you as a disciple.
Preachers will be glad for the careful exegesis of each passage, footnoted research, and deep digging that results in present-day applications. Teachers will use the deep, probing questions at the end of each lesson. But the one who will benefit most is you, the earnest disciple, who wants to learn genuine discipleship at the feet of the Master.


Dr. Ralph F. Wilson, author of the JesusWalk Bible Study Series.
This quest for disciple training is not for the faint of heart. The entire series consists of 120 meaty lessons drawn from the text of Luke's Gospel. Only the determined will get through it all and absorb the core of what Jesus has to say to his disciples. While crowds of thousands followed him as a popular teacher, only a few hung with him day after day, year after year, even to the cross. I hope you are one of the few who will dedicate yourself to learn from Jesus with particular intensity and determination to become his disciple indeed.
I look forward to studying with you,
Pastor Ralph
---
I have divided these lessons into six series of 20 to 28 lessons each to break it up into manageable groups for study via e-mail. You can sign up to receive a lesson in various frequencies:
Once a week (each Saturday), which will take you about two years to complete.
Twice a week (Tuesday, Friday), which you can complete in about a year if you're diligent.
Three times a week (Monday, Wednesday, Friday), which goes a bit faster, but runs the risk of just reading or listening without really absorbing so that its life lessons have a chance to work within you the change the Jesus desires.
Our goal is to become disciples. Unlike most studies of Luke's Gospel, we begin in Luke 3, with John the Baptist, and skip the infancy narratives in Luke 1-2, which aren't yet dealing with discipleship lessons. You might subscribe to this series of 8 lessons of the Infancy Narratives during the Advent Season some year.
Each lesson contains in-depth Greek word studies, modern applications, and probing questions that can be discussed with a group or Sunday school class (if you use this with others), or which you can discuss on an online forum with others who are studying these passages. If you're a preacher or teacher you can draw from the research built into these lessons to help build messages for your congregation.
For your convenience you'll find Discipleship Lessons in Luke's Gospel in various formats:
E-mail lessons (available once, twice, and three times per week at no charge).
Audio lessons in mp3 format that you can download or stream as a podcast (no charge).
Web pages you can browse at your leisure (no charge).
Book formats in paperback, PDF, and Kindle. In paperback format, I was able to reduce the size of type and margins to fit the text into 808 pages. Paperback costs more, of course, to pay for printing costs. But the PDF and Kindle versions are quite reasonable. If you plan to make this a serious course of study for yourself or your congregation, I recommend getting it in book form, since e-mail is often unreliable. (Of course, all the material in the book formats is available the web or by e-mail at no charge; the book formats are just more convenient, that's all.)
To get started, go to the webpage for the series where you want to start, and sign up for the e-mail series. I recommend you start at the beginning, as Luke intended, and study one series at a time.
Series 1. Jesus and John: Early Ministry and Jesus' Galilean Ministry (part 1; Luke 3:1-6:49; 20 lessons).

Series 2. Jesus' Galilean Ministry (part 2; Luke 7:1-9:50; 20 lessons). Available in November.

Series 3. Jesus' Judean Ministry (part 1; Luke 9:51-14:35; 22 lessons). Available in November.

Series 4. Jesus' Judean Ministry (part 2; Luke 15:1-19:27; 22 lessons). Available in November.

Series 5. Jesus in Jerusalem: Crucifixion and Resurrection (Luke 19:28-24:53; 28 lessons). Available in November.

Series 6. Infancy Narratives (Luke 1:5-2:52; 8 lessons). Available in November.
If you can't find a lesson, you'll find a complete list of links to all the lessons here.
Copyright © 2020, Ralph F. Wilson. <pastor

joyfulheart.com> All rights reserved. A single copy of this article is free. Do not put this on a website. See legal, copyright, and reprint information.
Discipleship for New Believers
In-depth Bible study books
You can purchase one of Dr. Wilson's complete Bible studies in PDF, Kindle, or paperback format.

My books are available in paperback and Kindle from Amazon.