Home
Free E-Mail
Bible Studies

Jesus' Parables for Disciples

Catch and Release
A Short Story based on Luke 5:1-11
Free E-mail Bible Study

1 & 2 Timothy and Titus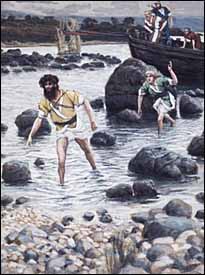 James J. Tissot, 'The Calling of Saint James and Saint John' (1886-94), gouache on gray wove paper, 7.6 x 5.75 in., Brooklyn Museum, New York.
Crowds on the stony beach at Capernaum are listening intently. Not a sound except the gentle lap-lap of the water, and Jesus' strong voice carrying across the water from his position in a fishing boat bobbing slightly, twenty or thirty feet from shore.
Now the teaching is over, and the people are beginning to disperse. Jesus turns to Peter, who owns the boat, and makes a request, almost a command: "Put out into the deep water, and let down the nets for a catch."
What? What does this landlubber know about fishing? Peter says to himself. The best fishing on the Sea of Galilee is done is at night. And lately, even night fishing has been a disaster! But Peter bites his tongue and replies evenly:
"Master, we've worked hard all night and haven't caught anything. But because you say so, I will let down the nets."
Peter pulls the anchor that has held them just off shore, and hoists the sail so that it catches the breeze. The ship slowly picks up speed until they are out in the deeper parts.
Now the sail comes down and Peter becomes the paragon of efficiency. He'll show Jesus how real fishermen do things -- even if they don't catch anything. One end of the net goes over the side, and Peter and his crew play out the long net until it is extended full length, floats bobbing on the surface. Now he fastens the other end of the net to the far end to the boat.
All off a sudden they feel a jolt, the lines become taut, and the boat leans over at a dangerous angle. Jesus grabs the gunwale to keep from going overboard. A whole school of fish has hit the net and is pulling hard against the boat. Peter is instantly alert. He shouts orders to pull in the net to bring it closer to the boat. Carefully, ever so carefully Snap! He can hear the nets are beginning to break under the strain of so many fish. Carefully, men! Carefully.
Now Peter steadies himself by the mast and shouts at the top of his lungs across the water where his partners James and John are still mending nets.
"H-E-L-P U-S," he shouts into the wind. "C-O-M-E A-N-D H-E-L-P U-S!"
Far away on the shore, he can see that they've heard him and are scampering for their boat. Soon James' and John's boat glides alongside and they help to pull fish out of the net into their boat, flapping, flopping on the boat bottom. Jesus, too, is pulling fish aboard as fast as he can. The men work noiselessly until the last of the huge catch is into the boats, so heavy that the gunwales of the boats are now dangerously close to the waterline.
Carefully, oh, so carefully, they row the laden boats ashore, not relaxing until they can hear the prow crunch on the beach. It is the biggest catch they have ever brought in. And not at night, but in the middle of the day!
Jesus steps out into the shallows and up onto the dry shore. Peter sees him, leaps over the side of the boat and falls on his knees before him. For a moment he can't speak, overcome by emotion and recent exertion. Jesus waits.
"Depart from me, Lord," Peter finally gasps out. "I am a sinful man."
Jesus puts his hand on Peter's shoulder and looks down at him. "Don't be afraid," he says. "From now on you will be catching men."
You can see Peter nodding his head. He knows it is true. Finally, he lifts his eyes to meet Jesus' eyes. "Yes, Lord, if you'll show me how. But wait just one minute until we get these boats pulled all the way up. It'll just be a moment. We don't want to lose a catch like this."
James and John help Peter and Andrew as they pull first Peter's boat, and then their own boat up onto the shore. And then they leave everything where it is and begin to follow Jesus.
Old Zebedee is on his feet, cupping his hands, ready to shout to his boys about leaving before the work is done. But then he drops his hands, and gazes after them as they follow Jesus down the road from the beach into town. Wouldn't it be wonderful, he thinks, if he too could leave everything and follow the Master?
Zebedee sends word to town for help in unloading the amazing catch and preparing it for sale. The proceeds will feed their families for many days hence. He'll have to mend the stressed fishing nets with his other boys. They'll have to pull out the weeds and debris, wash the nets, and put them out to dry so they'll be ready for tomorrow night's fishing. Life goes on -- the daily chores of a fishermen.
But James and John, Peter and Andrew have left it behind. They have a new challenge, a new skill to learn. It is called "catch and release." Jesus will teach them to become fishers of men, to "catch men," and then set them free to flourish in Jesus' kingdom. What joy!
Note: This short story is based on Luke 5:1-11. The verb translated "catch" in verse 10 is nearly unique in the New Testament: zōgreō, "to capture alive" or "to spare life" (BDAG 429). The word "followed" in verse 11 is Greek akolutheō, which in the gospels has a special meaning: "to follow someone as a disciple, be a disciple, follow" (BDAG 36, 3). A fuller exposition of this passage is found in my Disciple Training in Luke's Gospel series (https://www.jesuswalk.com/luke/010-call.htm). For those not acquainted with the phrase "catch and release," it has a double meaning in this story. It describes a "practice within recreational fishing where after capture, often a fast measurement and weighing of the fish is performed, followed by posed photography as proof of the catch, and then the fish are unhooked and returned live to the water" (Wikipedia).
Copyright © 2023, Ralph F. Wilson. <pastor

joyfulheart.com> All rights reserved. A single copy of this article is free. Do not put this on a website. See legal, copyright, and reprint information.
Discipleship for New Believers
In-depth Bible study books
You can purchase one of Dr. Wilson's complete Bible studies in PDF, Kindle, or paperback format -- currently 48 books in the JesusWalk Bible Study Series.
Old Testament
Gospels
Acts
Pauline Epistles
General Epistles
Revelation
Topical
Grace: Favor for the Undeserving


My books are available in paperback and Kindle from Amazon.