Home
Free E-Mail
Bible Studies

Jesus' Parables for Disciples

Day 24. We Shall See His Face (Revelation 22:3-5)
Free E-mail Bible Study

1 & 2 Timothy and Titus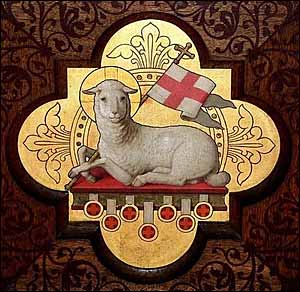 Agnus Dei, unknown source.
In Revelation 21 and 22, John describes the Heavenly Jerusalem in all its glory, showing the river of life flowing from the throne. The passage concludes with these words:
"3 No longer will there be anything accursed,
but the throne of God and of the Lamb will be in it,
and his servants will worship him.
4 They will see his face, and his name will be on their foreheads.
5 And night will be no more.
They will need no light of lamp or sun,
for the Lord God will be their light,
and they will reign forever and ever." (Revelation 22:3-5)
John's vision assures us of the utter sanctity of the Holy City in two verses:
"But nothing unclean will ever enter it, nor anyone who does what is detestable or false, but only those who are written in the Lamb's book of life." (Revelation 21:27)
"No longer will there be anything accursed...." (Revelation 22:3a)
At one time Satan and his angels had a place in heaven, but they rebelled and were thrown down (Revelation 12:3-9; Luke 10:18). Henceforth, only the righteous will be found there, "only those who are written in the Lamb's book of life" (Revelation 22:27b, see Day 12 and Day 18). Moreover, nothing accursed will be permitted in the Lamb's presence. The time is past when sin would reign. Judgment has taken place. Now Jesus' prayer for his disciples is fulfilled: "Your Kingdom come, your will be done on earth as it is in heaven" (Matthew 6:10).
You and I, who believe in and follow the Lamb, will be in the Holy City gathered before the throne. Not because we have somehow succeeded in making ourselves righteous. We were unclean (Ephesians 2:1-3). We were accursed (Galatians 3:13). But we have been washed, sanctified, justified (1 Corinthians 6:11; Titus 3:5). In the words of Revelation, we have "washed our robes and made them white in the blood of the Lamb" (Revelation 7:14b). It's all Jesus; it's all the Lamb.
"His name will be on their foreheads." (Revelation 22:4b)
In contrast to the mark of the beast on the foreheads of his followers, we are sealed and marked with the name of the Lamb and the Father's name (Revelation 14:1; 3:12; Day 13). It is our mark of both ownership -- we belong to the Lamb -- and his ultimate protection for his own.
Let's skip for a moment to the last phrase of this passage:
"They will reign forever and ever." (Revelation 22:5)
"They," of course, refers to "his servants" (verse 3b). The word that fascinates me, however, is "reign," basileuō, "to exercise authority at a royal level, be king, rule,"126 which we looked at on Day 5. This idea of the saints reigning with the Messiah goes back to the book of Daniel,127 is hinted at in the Gospels,128 and is found in Paul's letters129 as well as in the Book of Revelation.130
I've wondered: Who will we reign over? But that probably isn't the right question. Rather, I think this refers to places of responsibility we'll have in Christ's "administration," when the time comes that every knee shall bow before him. We'll rule and reign as officials in his "administration," in the Kingdom of our God and of his Christ (Revelation 11:15). But how? Why? Be patient. Details to follow when we get there.
I've rearranged the order of this passage so I can conclude with what I consider the ultimate privilege we will have.
"3b The throne of God and of the Lamb will be in [the city],
and his servants will worship him.
4 They will see his face...." (Revelation 22:3b-4a)
In Genesis, it seems that the Lord God is accustomed to walking in his garden with Adam and Eve, enjoying open, loving, trusting fellowship day by day. But one day, Adam and Eve are missing. They have sinned and are now ashamed of their nakedness. "Where are you," the Lord calls. Adam responds, but the fellowship is already broken. God covers their nakedness with animal skins, then drives them from the Garden (Genesis 3).
From then on, people are afraid of seeing God's face for fear that they, in their sin, will be immolated, fried, seared by exposure to his holiness. Moses asks to see Yahweh's glory. God allows Moses to see his back, but not his face, for his face is "like the sun shining in full strength" (Revelation 1:16).131
"You cannot see my face,
for man shall not see me and live." (Exodus 33:20)
Sometimes, God allows a partial vision. Moses, for example, spends time before Yahweh in his "tent of meeting" and comes out with his face glowing (Exodus 33:7-11; 34:29-35). Paul compares Moses' communion with our intimate fellowship with Jesus:
"And we all, with unveiled face,
beholding the glory of the Lord,
are being transformed into the same image
from one degree of glory to another.
For this comes from the Lord who is the Spirit." (2 Corinthians 3:18)
The Holy Spirit mediates this spiritual beholding of Jesus.
"Now we see in a mirror dimly, but then face to face." (1 Corinthians 13:12)
On that Day, in our resurrected bodies, we shall "see his face." In a monarchy, everyone wants to see the king, even from afar. There is power if you are close to the throne, so people jockey for position close to the king. However, in the New Jerusalem we will be gathered around his throne, close up, and "see his face" in intimate conversation and fellowship. In Jesus' words, we'll sit with Abraham, Isaac, and Jacob in the Kingdom of Heaven (Matthew 8:11).132 We'll be there, you and I, and it will be wonderful!
I think of a couple of old gospel songs, "O, I want to see Him, look upon His face,"133 and "It will be worth it all, when we see Jesus."134 I guess of all my hopes based on his Word, this one is the most precious: that we will see him in person, sit at his feet, and be asked to sit alongside him on his throne. "It will be worth it all, when we see Christ!" We, my beloved brothers and sisters will see his face!
Come soon, Lord Jesus, Lamb of God!
Prayer
Lord Jesus, Lamb of God, we long to see your face, to be near you and warm ourselves in the glow of your glorious presence. Thank you for the hope we have, the blessed hope of your returning, bringing to an end this vale of tears, and replacing it with the joy of your presence, where you have wiped away every tear and death will be no more. We look forward to seeing you return, O Lamb of God. In your holy name, we pray. Amen.
Day 24 Meditation (Revelation 22:3-5). With the picture of God and the Lamb high and lifted up, and the train of his robe filling the temple (Isaiah 6:1), what significance does it have for us to "see his face"? What kind of intimacy and access does that imply? How can you begin to "sit at his feet" and "behold the glory of the Lord" now? (Luke 10:39; 2 Corinthians 3:18). To what degree are you currently doing this?
https://www.joyfulheart.com/forums/topic/1898-day-24-face/
Endnotes
(References and Abbreviations)
[126] Basileuō, BDAG 170, 1bδ.
[128] Mark 10:40; Matthew 25:34; etc.
[129] Romans 5:17; 2 Timothy 2:12.
[130] Revelation 3:21; 5:10; 11:5; 20:4; 22:5.
[131] Genesis 32:30; Judges 6:22; 13:23; Isaiah 6:5; John 1:18; 6:46; 1 Timothy 6:16.
[132] There's a great African American spiritual, "I'm gonna sit at the welcome table one of these days."
[133] "O, I Want to See Him," words and music by Rufus H. Cornelius, 1916.
[134] "When We See Christ," words and music by Esther Kerr Rusthoi, © 1941, renewed 1969, Singspiration.
Copyright © 2023, Ralph F. Wilson. <pastor

joyfulheart.com> All rights reserved. A single copy of this article is free. Do not put this on a website. See legal, copyright, and reprint information.
Discipleship for New Believers
In-depth Bible study books
You can purchase one of Dr. Wilson's complete Bible studies in PDF, Kindle, or paperback format -- currently 48 books in the JesusWalk Bible Study Series.
Old Testament
Gospels
Acts
Pauline Epistles
General Epistles
Revelation
Topical
Grace: Favor for the Undeserving


My books are available in paperback and Kindle from Amazon.