Home
Free E-Mail
Bible Studies

Jesus' Parables for Disciples

Baraka ya Kutoa / The Blessing of Giving
Funzo la Uwanafunzi kuhusu Kutoa
Discipleship Lessons in Tithing and Giving (Swahili and English)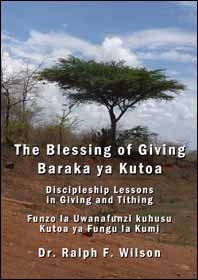 During the African Renewal Pastors' Training Conference in Eldoret, Kenya, October 26-29, 2011, the Lord led Dr. Ralph F. Wilson to teach on tithing. The idea is that as pastors, even very poor pastors, learn to tithe and teach their people to tithe, then three things happen:
The promises of tithing and sowing generously will result in greater financial blessing for pastors and families, lifting them some economically.
There will be more money to support the ministry, so pastors have more time to give to the ministry.
There will be funds for mission projects, schools, and orphanages to help break Africa's dependence on funds from Europe and America.
Here are the messages given, available on YouTube. These were recorded by videographer John Oboyo Njoni of Eldoret, Kenya.
These video messages are also available a set of two DVDs in PAL format and for distribution only in Africa for a nominal price. The exclusive distributor for Africa is Pastor Chriss Barasa, phone +254 724682134. PO Box PO Box 1882, Eldoret, Kenya 31000. Email: chrissbarass at-sign yahoo.com These DVDs are not available from Dr. Wilson.
Utangulizi kwenye Sanduri Funzo la Uwanafunzi kuhusu Kutoa / Introduction to the Teachings on Tithing and Giving, Bishop Chriss Barasa. Rev. Barasa was the host pastor for the conference at Word of Life Harvest Church, Langas Estate, Eldoret, Kenya.
---
The Blessing of Giving / Baraka ya Kutoa
Copyright © 2023, Ralph F. Wilson. <pastor

joyfulheart.com> All rights reserved. A single copy of this article is free. Do not put this on a website. See legal, copyright, and reprint information.
Discipleship for New Believers
In-depth Bible study books
You can purchase one of Dr. Wilson's complete Bible studies in PDF, Kindle, or paperback format -- currently 48 books in the JesusWalk Bible Study Series.
Old Testament
Gospels
Acts
Pauline Epistles
General Epistles
Revelation
Topical
Grace: Favor for the Undeserving


My books are available in paperback and Kindle from Amazon.