Home
Free E-Mail
Bible Studies

Jesus' Parables for Disciples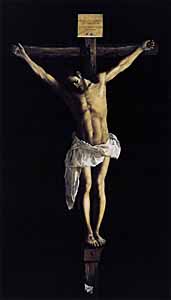 Francisco Zurbará n (Spanish painter, 1598-1664), "Christ on the Cross" (1627), oil on canvas (114-5/16" x 65-3/16"), The Art Institute of Chicago.
Philip the Evangelist is on the road to Gaza when the Spirit of God directs him to a chariot containing the treasurer of Ethiopia, reading and trying to make sense out of Isaiah 53:7-8:
"He was led like a
sheep to the slaughter,
and as a lamb
before the shearer is silent,
so he did not
open his mouth."
(Acts 8:32-33)
The Ethiopian asks Philip who the prophet is talking about. Luke records, "Then Philip began with that very passage of Scripture and told him the good news about Jesus" -- the Lamb of God.
In this lesson we'll be examining the profound ways in which Isaiah 53 speaks about Jesus'ministry and mission. This passage fits with other prophecies that extend from Isaiah 49 to 55, but because of its importance, we're considering it by itself.[180]
When John the Baptist cries out, "Behold, the Lamb of God who takes away the sin of the world" (John 1:29), we wonder just which lamb in the Bible he is referring to. Is he thinking of this "lamb led to the slaughter" in Isaiah 53? Very likely. Other lambs mentioned in the Old Testament deal with a person's sin or perhaps a national sin. Neither the daily sacrifices in the temple nor the Passover Lamb are strictly a sin offering. But the Suffering Servant figure of the lamb in Isaiah 53 deals with sin on a universal basis -- the sins of the nations, the sins of the whole world.
Isaiah 53 is one of a series of several passages in Isaiah 40-55 (and, perhaps, Isaiah 60) that are referred to as the "Servant Songs" because they present the "Servant of Yahweh" or the "Suffering Servant" who has a special mission.[181] In the earlier Songs, the Servant is sometimes identified as the nation Israel (49:3), but in Isaiah 53 the Servant seems to be an individual rather than the nation itself. Some early Jewish commentators even saw the passage as Messianic.[182]
Notice the scope of the Servant's ministry in Isaiah 52:13 to 53:12:
"He will sprinkle many nations." (52:15)
"Laid on him the iniquity of us all." (53:6)
"Transgression of my people." (53:8)
"Will justify many." (53:11)
"He bore the sin of many." (53:12)
In 53:8 the prophet focuses on the sins of the Jewish nation. But the Servant's role is broader; it clearly extends to "many nations." The Servant, depicted as a lamb in 53:7, actually "takes away the sin of the world" (John 1:29).
Q1. (Isaiah 53) From how large a group of people does God remove sins in Isaiah 52:13 - 53:12? In what sense is this a universal sacrifice of salvation? In what sense is Jesus'sacrifice wasted on some people?
https://www.joyfulheart.com/forums/index.php?showtopic=1301


When you look at all the New Testament passages that quote or have clear allusions to Isaiah 53 (see Appendix 5), you can see that this passage has been extremely influential in the way that the Apostles understood Jesus'death. It's also pretty clear that this passage was at the core of how Jesus understood his own mission. Let me offer some examples that prove my point (skipping over passages where the Gospel writers themselves cite Isaiah 53 as a fulfillment):
"...Just as the Son of Man did not come to be served, but to serve, and to give his life as a ransom for many" (Matthew 20:28=Mark 10:45).
This is not a direct quotation, but a conceptual parallel. Four parallel ideas indicate that Isaiah 53 is the primary source of Jesus'teaching here: (1) the servanthood, (2) atoning death, (3) the idea of voluntarily giving one's life, and (4) the wording "for many," which parallels the words "many" (53:11) and "of many" (53:12).[183]
In Jesus'words at the Last Supper this "for many" phrase is also repeated: "This is my blood of the covenant, which is poured out for many for the forgiveness of sins" (Matthew 26:28 = Mark 14:24).[184]
"Why then is it written that the Son of Man must suffer much and be rejected?"(Mark 9:12) is a pretty clear reference to 53:3. To his companions on the road to Emmaus, Jesus begins, "'Did not the Christ have to suffer these things and then enter his glory?'And beginning with Moses and all the Prophets, he explained to them what was said in all the Scriptures concerning himself." (Luke 24:25-27) This is a reference to 52:13 and 53:12. See also Mark 8:31; 9:31; 10:32-34; 14:21. Isaiah 53 provides the clearest Old Testament prediction of Messianic suffering -- more than Daniel 7:13-14 and Zechariah 11-13.[185]
Among several allusions is a direct quote of Isaiah 53:12 from Jesus'own lips: "It is written: 'And he was numbered with the transgressors'; and I tell you that this must be fulfilled in me. Yes, what is written about me is reaching its fulfillment" (Luke 22:37).
Finally, Jesus reads Isaiah 61:1-2 -- closely related to the Servant Songs -- at Nazareth ("The Spirit of the Lord is upon me...") and says, "Today this scripture is fulfilled in your hearing" (Luke 4:18-21).
Jesus obviously knew the Servant Songs well and was convinced that they spoke about his own mission and destiny.
Q2. (Isaiah 53) Which New Testament parallels to Isaiah 53 convince you that Jesus himself saw his own mission and destiny spelled out in Isaiah 53? If you aren't convinced, what stands in your way?
https://www.joyfulheart.com/forums/index.php?showtopic=1302


Isaiah 53 is a complex passage. My approach won't be a verse-by-verse commentary, but a topical study of five themes which relate to Jesus'work of atonement.
The first clear theme on atonement is that the Servant -- or Lamb, in our analogy -- is more than a helper, advisor, or victor. He is a substitute for us, that is, he bears our sins instead of us. Consider these verses:
"Surely he took up (nāśā') our infirmities and carried (sābal) our sorrows, yet we considered him stricken by God, smitten by him, and afflicted. But he was pierced for our transgressions, he was crushed for our iniquities...." (53:4-5)
"...The LORD has laid on (pâ ga') him the iniquity of us all." (53:6)
"...The LORD makes his life a guilt offering ('āshem)...." (53:10)
"... He will bear (sābal) their iniquities." (53:11)
"For he bore (nāśā') the sin of many
and made intercession (pâ ga') for the transgressors." (53:12)
At the risk of being too technical, I'd like you to dip into the original Hebrew to see exactly what is meant, though most of the Hebrew words in Isaiah 53 will be explained only in the footnotes.
In 53:10 we find the Hebrew noun is 'āshem, which means "guiltiness, offering for sin, sin, trespass, trespass offering." With few exceptions, this noun denotes the "trespass offering" (KJV) or "guilt offering" (NRSV, NIV), and occurs 22 times in Leviticus.[186] In several of these instances a lamb is the guilt offering (Leviticus 14:13, 21, 24-25; Numbers 6:12).[187] Clearly the Servant is seen as a trespass offering, but one who takes the sin of not just a few, but all.
Now let's look at three key verbs, each repeated twice within the larger passage:
Nāśā' -- "lift, carry, take." The term is used literally, as well as figuratively "of bearing the guilt or punishment of sin," such as in Genesis 4:13; Leviticus 5:1, 17; 7:18; Numbers 5:31; 14:34; Leviticus 10:17. The word is used of the scapegoat bearing Israel's sins into the wilderness on the Day of Atonement (Leviticus 16:22). Nasa' can also imply "the taking away, forgiveness, or pardon of sin, iniquity, and transgression" (Exodus 34:7; Numbers 14:18; Micah 7:18; Psalm 32:1, 5).[188]
Sābal -- "bear, transport (such as a heavy load)." The stress is "on the process of bearing or transporting a load (Isaiah 46:7), hence becomes a figure of servitude (Genesis 49:15)." In Isaiah 53 it puts the stress of bearing the weight of man's sickness, sorrows, sin, and punishment.[189] I wonder how heavy this load of sin felt when it settled in upon Jesus?
Pâ ga'-- "to lay, to burden" -- In the Hiphil stem there are two primary meanings, both used in our text -- "to intercede" (Isaiah 53:12) and "to lay, burden" (Isaiah 53:6).[190]
So the Servant-Lamb in this passage carries or bears the heavy load of sin, as would a sacrifice. But it is our sin -- the sin of all of us -- that is laid upon him.
Under the Levitical system of sacrifice, sin was transferred from the sinner to the sacrifice by means of the laying on of hands (Leviticus 4:33). The sin is understood to pass from the sinner to the sacrifice, which then carries the sins. There is a strong conceptual parallel -- though not a verbal parallel -- to Isaiah 53 found in the Apostle Paul's Second Letter to the Corinthians:
"God made him who had no sin to be sin for us, so that in him we might become the righteousness of God." (2 Corinthians 5:21)
You must admit, it's a pretty awe-inspiring concept -- that our sins transfer to him, and his righteousness to us. Another New Testament passage, this time from Peter, is in some ways a paraphrase of Isaiah 53 that clearly points out the atoning work of Christ:
"To this you were called, because Christ suffered for you, leaving you an example, that you should follow in his steps.
"He committed no sin,
and no deceit was found in his mouth." [quotes Isaiah 53:9]
When they hurled their insults at him, he did not retaliate; when he suffered, he made no threats. Instead, he entrusted himself to him who judges justly. He himself bore our sins in his body on the tree, so that we might die to sins and live for righteousness; by his wounds you have been healed [quotes Isaiah 53:5]. For you were like sheep going astray, but now you have returned to the Shepherd and Overseer of your souls." (1 Peter 2:24-25)
Notice, the phrase "by his wounds you have been healed"? This moves us to our second theme....
Besides bearing the sins of the people, the Servant in Isaiah also bears their punishment, standing in as a substitute in their place. Notice the verbs that indicate the punishment he undergoes from both God and man:
"... We considered him stricken (nāga') by God, smitten (nākâ [191]) by him, and afflicted ('ānâ [192])." (53:4)
"He was oppressed (nāgaś[193]) and afflicted ('ānâ )..." (53:7)
"Yet it was the LORD's will to crush (dākā'[194]) him and cause him to suffer (chālâ [195])...." (53:10)
Two verses bring out especially clearly the idea that he bears punishment on our behalf -- the Servant in exchange for sinners:
"But he was pierced (chālal[196]) for our transgressions,
he was crushed (dākā') for our iniquities;
the punishment (mûsār) that brought us peace (shālôm) was upon him,
and by his wounds (chabbûrâ [197]) we are healed (rāpā'[198])." (53:5)
"For the transgression of my people he was stricken (nega')." (53:8)
The key word for this "punishment" is the Hebrew noun mûsār, "discipline," which normally denotes "correction which results in education."[199] But E.J. Young observes that mûsār does not mean "instruction" in this context. "It is rather a chastisement in which an evil was inflicted upon the servant, and as a result of which he has procured God's peace for us."[200]
We have sinned and deserve punishment. But we cannot stand the punishment we deserve. So the Servant steps in to take our punishment. He takes it and takes it until it kills him -- on our behalf.
You and I have questions on how this could happen. Is this fair? How can one person be allowed to take another's sin and punishment? You can find some of the answers in the Old Testament ideas of leaders who represent nations, Adam who represents the human race, etc. (Romans 5:12-21; 1 Corinthians 15:20-23). Theologians sometimes call this concept "federal headship" and have argued about it over the centuries. But whether or not we can quite understand it, Isaiah 53 is pretty clear that the Servant does indeed take our sin and punishment upon him, and the New Testament is unanimous that because of this we are forgiven.[201]
Q3. (Isaiah 53) Isaiah 53 teaches what theologians call "the substitutionary atonement." In what sense does the Servant act as a substitute to bear our sins? Put it in your own words.
https://www.joyfulheart.com/forums/index.php?showtopic=1303

Q4. (Isaiah 53) In addition to our sins, the Servant also bears the punishment deserved by sinners. In what sense, if any, did Jesus bear the punishment due you when he died on the cross?
https://www.joyfulheart.com/forums/index.php?showtopic=1304
The third point I want you to see in Isaiah 53 is that the Servant acts willingly, voluntarily. He is not a victim, but a willing participant. The prophecy makes that clear in several ways. Notice the active verbs showing the action of the Servant:
"... He poured out ('ārâ [202]) his life unto death...." (53:12)
"Surely he took up (nāśā') our infirmities and carried (sābal) our sorrows...." (53:4)[203]
"He was oppressed (nāga') and afflicted ('ānâ ) yet he did not open his mouth; he was led like a lamb to the slaughter (tebach[204])." (53:7)
"... As a sheep before her shearers is silent, so he did not open his mouth." (53:7)
"After the suffering ('āmāl[205]) of his soul, he will see the light of life and be satisfied...." (53:11)
An unwilling victim would cry out and complain. Jesus did neither, but was silent before his judges and executioners. He poured out his soul/life unto death. He carried our infirmities and sorrows -- because he chose to.
Now consider a fourth theme. In most of the references in this passage the Servant is a sacrifice who bears the sin and punishment due us. But in two rather remarkable verses he also appears to act as would a priest:
"... So will he sprinkle (nāzâ ) many nations." (52:15)
"By his knowledge my righteous (tsaddîq) servant will justify (tsādēq) many...." (53:11)
The Hebrew verb nāzâ "signifies a spattering or sprinkling of blood, oil, or water, either with one's finger (Leviticus 4:6) or a 'sprinkler'(vessel, Leviticus 14:7)" and occurs 24 times in the Old Testament, nearly always as a technical term in the context of priestly action to cleanse from sin to obtain ritual purity.[206] The paradox of this passage is that though the disfigured servant is seen by others as unclean, yet he is the one who is offering cleansing to the nations as would a priest.
Isaiah 53:11 uses two related words -- "righteous" and "make righteous." An upright priest will make sinners righteous by his sacrifices of atonement. But the righteous Servant who has borne sin, now acts as a priest to justify others. The Hiphil stem of tsādēq has the causative sense, "declare righteous, justify."[207] Here is the Old Testament basis of Paul's insight into justification by faith outlined in Romans 3, especially verses 24-26.
"... And all are justified freely by his grace through the redemption that came by Christ Jesus. God presented him as a sacrifice of atonement, through faith in his blood. He did this to demonstrate his justice, because in his forbearance he had left the sins committed beforehand unpunished -- he did it to demonstrate his justice at the present time, so as to be just and the one who justifies those who have faith in Jesus. (Romans 3:24-26)
In Isaiah 53 we see the Servant as the one who justifies. In the New Testament justifying sinners is clearly a divine act (Romans 3:30; 4:5; 8:33; Galatians 3:8, 11).
A final theme in Isaiah 53 I want to highlight is God's exultation of his righteous Servant.
"See, my servant will act wisely;
he will be raised and lifted up and highly exalted." (52:13)
"Therefore I will give him a portion among the great,
and he will divide the spoils with the strong...." (53:12)
In an early Christian hymn, Paul echoes this theme:
"Therefore God exalted him to the highest place
and gave him the name that is above every name,
that at the name of Jesus every knee should bow,
in heaven and on earth and under the earth,
and every tongue confess that Jesus Christ is Lord,
to the glory of God the Father." (Philippians 2:9-11)
The Servant is vindicated and exalted publicly (see Acts 2:33; 3:13, 26). As I have studied Isaiah 53 I have been amazed to find that this exaltation seems to include resurrection from the dead.
"After the suffering ('amal) of his soul,
he will see the light of life and be satisfied...." (53:11)
The phrase "light of life" (NIV) doesn't occur in the Masoretic Hebrew text, but is found in both the Greek Septuagint translation as well as the Hebrew text of the Isaiah scroll found among the Dead Sea Scrolls.[208] The Servant's contemporaries saw him as "cut off from the land of the living" (53:8). But 53:11 indicates that the Servant will see "light" -- that is, life outside the grave -- even after his atoning death. I expect that Jesus also saw this promise, which underlies his teaching to his disciples that "it is written" that the Son of Man would be raised from the dead (Luke 24:25-27; 8:31; 9:31; 10:32-34; 14:21).
Q5. (Isaiah 53) Which single New Testament passage best sums up for you the lessons of Isaiah 53? Why did you chose this passage? (Select from Matthew 26:38-42; Luke 22:37; John 1:29; Romans 3:24-26; 2 Corinthians 5:20-21; 1 Peter 2:24-25; 1 Peter 3:18; Philippians 2:5-11 -- or any other passage you can think of.)
https://www.joyfulheart.com/forums/index.php?showtopic=1305
After this survey of five themes in Isaiah 53, you can see why the concepts in this passage lie at the root of much of the Christian understanding of atonement. The Servant in Isaiah 53:
Bears our sin as a substitutionary atonement,
Receives the punishment due to us on account of our sin,
Acts voluntarily as a sacrifice for us,
Performs the cleansing and justifying roles of a priest, and
Is finally exalted and vindicated by God in resurrection from the dead.
Who is the Lamb of God who takes away the sin of the world? Jesus. Have you asked him to take away your sin?
Prayer
Father, as I have studied Isaiah 53 I must say I am awed. I've read this before, but I guess I never really appreciated all Jesus did on my behalf -- as a sacrifice, as a lamb, as a servant. Thank you, Father, for your love that prompted this amazing and ultimate act of love. In Jesus'name, I pray. Amen.
Dear friend, if you're not sure if you've ever really put your trust in Jesus before, why don't you do it right now -- no matter what your religious background. Formulate a simple prayer to God and speak it out loud. Tell God that you believe in Jesus. That you have sinned. That you ask for forgiveness and cleansing. That you believe that Jesus was sacrificed for all your sins. That you'll seek to follow Jesus for the rest of your life. Conclude your prayer with thanks for God's great gift to you. If you've prayed this simple "sinner's prayer" for the first time please e-mail me and tell me what God has done for you. I'd like to have some special materials sent to you to help you in this new spiritual step you've taken. pastor@joyfulheart.com
Key Verses
"But he was pierced for our transgressions,
he was crushed for our iniquities;
the punishment that brought us peace was upon him,
and by his wounds we are healed.
We all, like sheep, have gone astray,
each of us has turned to his own way;
and the LORD has laid on him
the iniquity of us all." (Isaiah 53:5-6)
End Notes
---
Copyright © 2023, Ralph F. Wilson. <pastor

joyfulheart.com> All rights reserved. A single copy of this article is free. Do not put this on a website. See legal, copyright, and reprint information.
Discipleship for New Believers
In-depth Bible study books
You can purchase one of Dr. Wilson's complete Bible studies in PDF, Kindle, or paperback format -- currently 48 books in the JesusWalk Bible Study Series.
Old Testament
Gospels
Acts
Pauline Epistles
General Epistles
Revelation
Topical
Grace: Favor for the Undeserving


My books are available in paperback and Kindle from Amazon.