Home
Free E-Mail
Bible Studies

Jesus' Parables for Disciples
Beginning the Journey (for new Christians). en Español
1, 2, and 3 John
1 & 2 Thessalonians
1 & 2 Timothy
1 Peter
2 Peter, Jude
1 Corinthians
2 Corinthians
7 Last Words of Christ
Abraham
Acts 1-12: The Early Church
Apostle Paul
Christmas Incarnation
Church
Christ Powered Life (Rom 5-8)
Colossians
Conquering Lamb of Revelation
Daniel
David, Life of
Galatians
Gideon
Grace
Great Prayers
Glorious Kingdom, The
Early Church: Acts1-12
Elijah
Ephesians
Hebrews
Holy Spirit, Disciple's Guide
Isaiah
James
Jacob
Jesus and the Kingdom
John's Gospel
John's Letters
Joshua
Lamb of God
Listening for God's Voice
Lord's Supper
Luke
Mark
Moses
Names of God
Names of Jesus
Parables
Philippians
Psalms
Rebuild & Renew: Post-Exilic Books
Resurrection
Revelation
Sermon on the Mount
Songs of Ascent (Ps 120-135)

Christian Art
About Us
Speaking
Contact Us
Dr. Wilson's Books
Donations
Watercolors
Sitemap

Preface to the Christ Powered Life (Romans 5-8)
by Dr. Ralph F. Wilson
Audio
(2:46)
Free E-mail Bible Study

Jesus' Parables for Disciples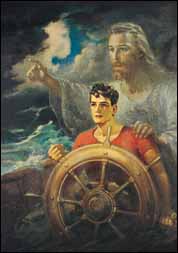 Warner Sallman (American painter and illustrator, 1892-1968), "Christ Our Pilot" (1950). Wilson Galleries, Anderson University, Anderson, IN. Copyright © Warner Press.
Many Christians understand what it means to be saved from sin through Christ's death -- a product of God's grace rather than by our own efforts. What we don't often understand is how this affects our battle with sinful behavior.
From church we hear mixed messages. Nobody is perfect. You'll sin; deal with it. At the same time we hear a call to holiness and righteousness. The result is frustration and discouragement. Where's the balance? Where's the power?
When Paul wrote his Epistle to the Roman church, Rome was a great city, but corrupt -- not an environment conducive to genuine Christian living. A third of the population were slaves, with little control over their lives. How could they live for Christ with integrity in their circumstances? Can Christ really empower our lives? That's the central question.
But Romans 5-8 has some glowing, top-of-the-world passages. But frankly, some parts are hard to understand or may on the surface seem irrelevant.
However, it contains a powerful message. When we finally "get it," the concepts have great power to propel us along our Christian journey. The gain is definitely worth the work and prayer it will take to understand, to grasp and incorporate these truths into our lives.
To help you see where we're headed, I've tried to articulate the Big Concept for each lesson and include it up front. I realize that the lessons may seem a bit pedantic, since I include definitions of all the important Greek words, and even more in the footnotes. But I feel that having a precise understanding of the words is essential to an accurate grasp of Paul's message.
I've also included Key Verses. Most of these are so central to our understanding of God's Word that they are well worth committing to memory. In the appendix I've included a list of hymns and songs based on passages in Romans 5-8 for those teaching this passage in a worship context. I've also included participant handouts for those using this study in a class or small group context.
I count it an honor to help guide your understanding of these core chapters of what many believe is Paul's greatest epistle. But don't rely on me. I encourage you to pause right now and ask the Holy Spirit to guide you into all truth, to illuminate the eyes of your heart, to do a fresh work in you. And he will!
Father, I pray that all who study these chapters may experience the blessing of spiritual fruit in their lives. Change us, O God. And help us take hold of the energy source you've given us to live the Christ Powered Life. In Jesus' name, we pray. Amen.
Yours in Christ's service,
Dr. Ralph F. Wilson
Loomis, California
August 15, 2008
---
Copyright © 2023, Ralph F. Wilson. <pastor

joyfulheart.com> All rights reserved. A single copy of this article is free. Do not put this on a website. See legal, copyright, and reprint information.
Discipleship for New Believers
In-depth Bible study books
You can purchase one of Dr. Wilson's complete Bible studies in PDF, Kindle, or paperback format.


My books are available in paperback and Kindle from Amazon.