Home
Free E-Mail
Bible Studies

Grace
Beginning the Journey (for new Christians). en Español
1, 2, and 3 John
1 & 2 Thessalonians
1 & 2 Timothy
1 Peter
2 Peter, Jude
1 Corinthians
2 Corinthians
7 Last Words of Christ
Abraham
Acts 1-12: The Early Church
Apostle Paul
Christmas Incarnation
Church
Christ Powered Life (Rom 5-8)
Colossians
Conquering Lamb of Revelation
Daniel
David, Life of
Galatians
Gideon
Grace
Great Prayers
Glorious Kingdom, The
Early Church: Acts1-12
Elijah
Ephesians
Hebrews
Holy Spirit, Disciple's Guide
Isaiah
James
Jacob
Jesus and the Kingdom
John's Gospel
John's Letters
Joshua
Lamb of God
Listening for God's Voice
Lord's Supper
Luke
Mark
Moses
Names of God
Names of Jesus
Philippians
Psalms
Rebuild & Renew: Post-Exilic Books
Resurrection
Revelation
Sermon on the Mount
Songs of Ascent (Ps 120-135)

Christian Art
About Us
Speaking
Contact Us
Dr. Wilson's Books
Donations
Watercolors
Sitemap
Tuesday (following the Fourth Sunday in Advent)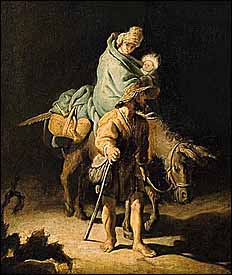 Rembrandt, 'Flight into Egypt' (1627), oil on panel, 26.5 x 24 cm, Museé des Beaux Arts de Tours, France.
Read in the Bible Matthew 2:13-23
The town is quiet again. The Wise Men have left and at long last Joseph falls into a fitful sleep. But then he has a dream.
"13 When they had gone, an angel of the Lord appeared to Joseph in a dream. 'Get up,' he said, 'take the child and his mother and escape186 to Egypt. Stay187 there until I tell you, for Herod is going to search for the child to kill him.'"188 (Matthew 2:13)
As we've considered on Day 22 and Day 23, Herod is a paranoid monster. Named "King of the Jews" by the Roman Senate, he has ruled under the Romans for more than 30 years as a builder of palaces, fortresses, and even a major remodeling of the Temple. But he has also been responsible for the death of thousands, including his three eldest sons and other relatives. Now he is old, in pain, and dangerous. The angel's warning is clear: Get up, take Jesus and Mary, and escape. Flee!
Joseph is obedient. He doesn't wait until morning.
"So he got up, took the child and his mother during the night and left189 for Egypt, where he stayed until the death of Herod." (Matthew 2:14-15a)
Instantly, he wakes Mary. Quickly they gather what possessions they have, load up the family donkey, and leave before first light. On another road headed the opposite direction, the Wise Men, too, are fleeing Herod's impending wrath.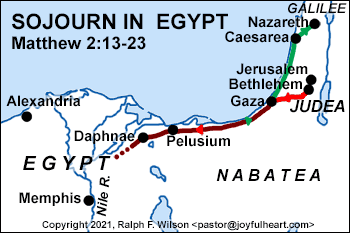 The Holy Family escaped Bethlehem and went to Egypt. After Herod's death they returned to Nazareth in Galilee. (Larger map)
Egypt is a journey of at least 150 miles (240 kilometers), more than a week's travel along the road that hugs the coast of the Mediterranean south into Egypt.190
Matthew sees the Holy Family's time in Egypt as significant.
"And so was fulfilled what the Lord had said through the prophet:
'Out of Egypt I called my son.'" (Matthew 2:15b, quoting Hosea 11:1)
Matthew doesn't seem to introduce the quote that recalls the Exodus as a promise or prediction.191 Is Matthew merely recalling an Old Testament reference that comes to mind when he meditates on Jesus' sojourn in Egypt? Or does he see Jesus as embodying the nation of Israel, or as a new deliverer of God's people as was Moses? We don't really know.
"16 When Herod realized that he had been outwitted by the Magi, he was furious, and he gave orders to kill192 all the boys in Bethlehem and its vicinity who were two years old and under, in accordance with the time he had learned193 from the Magi." (Matthew 2:16)
Bethlehem is only six miles south of Jerusalem, so the Magi's return to Jerusalem would have been expected in two or three days. But when that time had passed, Herod realizes they aren't coming and explodes.194 He had been made a fool of by these foreigners!195
He orders the slaying of all the male babies in the town of Bethlehem and, to make sure, the whole territory around it.
Perhaps twenty little boys are slaughtered196 and twenty families torn apart, mothers weeping hysterically. Matthew recalls a passage from Jeremiah 31:15, which again, doesn't seem to be a prophecy or prediction.197
"17 Then what was said through the prophet Jeremiah was fulfilled:
18 'A voice is heard in Ramah,
weeping and great mourning,
Rachel weeping for her children
and refusing to be comforted,
because they are no more.'" (Matthew 2:17-18)
Matthew sees the similarity of the mothers' morning to Rachel's cries (though in context, Jeremiah is speaking metaphorically of people ripped from their homes and exiled to Babylon).198
As I reflect on this passage, I think of the cruel anger that drives Herod to slaughter toddlers in his quest to destroy a Messiah who might claim his throne. But there is something more going on here, a glimpse of the cosmic war between good and evil, between Satan and his Creator. In Revelation 12:1-6 we read an allegory that points to this, of the Great Dragon, who represents Satan. Read the whole passage, but here is the key verse:
"And the dragon stood before the woman who was about to give birth,
so that when she bore her child he might devour it." (Revelation 12:4b)
Herod and the slaughter of the innocents is only one chapter in a long bloody history of Satan seeking to wipe out and defeat the Messiah and his people. Though these babies were the first martyrs, they were not the last, and we'll see them in heaven someday. Both Jesus and Paul foretell the persecution God's children will face (2 Timothy 3:12; Matthew 5:11-12). Following Christ is dangerous, but rewarding.
I also reflect on Joseph's immediate obedience to the angel's warning to flee. In the Gospel writers' descriptions of Joseph's part in the drama of momentous history, he speaks no lines but shows courageous faith and unquestioning obedience.
I see how God has provided ahead of time by the Magi's gift to sustain the Holy Family on their journey. And I think about the hardships the Holy Family faced, along with the amazing blessings of raising to manhood the Son of God. I think about what a very different culture, a pagan culture, the Holy Family faced in Egypt so far from loved ones. Jesus may have been 4 or 5 years old before they left Egypt. The path of the righteous is not always free from danger, but "his rod and his staff, they comfort me."
Finally, an angel tells Joseph that he may return, but this time he returns not to Bethlehem, but to Galilee, to Mary's and Joseph's hometown of Nazareth (Matthew 2:19-23) to fulfill prophecy that we studied on Day 5.
God's plan, God's story, God's path sometimes winds and takes sharp turns. It is amazing and sometimes dangerous. But our Father leads us. We know he is watching over us to fulfill his plan for our lives, our piece of his great Plan of the ages in Christ.
Prayer
Father, help me to obey quickly as Joseph did -- uprooting his family and being on the road by daylight. Sometimes I am so slow to say "Yes." So sluggish in my faith. Forgive me. Tune me up, so I will be responsive when you speak. And help me to be a good father and grandfather to those you have entrusted into my care. In Jesus' name, I pray. Amen.
Discussion Question
Q24. (Matthew 2:13-23) What can we learn from Joseph's action? What should we have to know about the outcome before we say yes to God? How can a good God allow infants to be slaughtered in Bethlehem? Do you believe God honors them as martyrs for the Messiah?
https://www.joyfulheart.com/forums/topic/2099-q24-egypt/
Endnotes
Copyright © 2023, Ralph F. Wilson. <pastor

joyfulheart.com> All rights reserved. A single copy of this article is free. Do not put this on a website. See legal, copyright, and reprint information.
Discipleship for New Believers
In-depth Bible study books
You can purchase one of Dr. Wilson's complete Bible studies in PDF, Kindle, or paperback format.


My books are available in paperback and Kindle from Amazon.