Home
Free E-Mail
Bible Studies

Grace
Beginning the Journey (for new Christians). en Español
1, 2, and 3 John
1 & 2 Thessalonians
1 & 2 Timothy
1 Peter
2 Peter, Jude
1 Corinthians
2 Corinthians
7 Last Words of Christ
Abraham
Acts 1-12: The Early Church
Apostle Paul
Christmas Incarnation
Church
Christ Powered Life (Rom 5-8)
Colossians
Conquering Lamb of Revelation
Daniel
David, Life of
Galatians
Gideon
Grace
Great Prayers
Glorious Kingdom, The
Early Church: Acts1-12
Elijah
Ephesians
Hebrews
Holy Spirit, Disciple's Guide
Isaiah
James
Jacob
Jesus and the Kingdom
John's Gospel
John's Letters
Joshua
Lamb of God
Listening for God's Voice
Lord's Supper
Luke
Mark
Moses
Names of God
Names of Jesus
Philippians
Psalms
Rebuild & Renew: Post-Exilic Books
Resurrection
Revelation
Sermon on the Mount
Songs of Ascent (Ps 120-135)

Christian Art
About Us
Speaking
Contact Us
Dr. Wilson's Books
Donations
Watercolors
Sitemap
Monday (following the Fourth Sunday in Advent)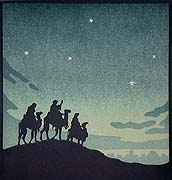 'The Wisemen' (c. 1925), by Australian woodcut artist John Hall Thorpe (1847-1947), color woodcut, 7-7/8 x 7-1/2 in.
Read in your Bible: Matthew 2:7-12
The Wise Men have arrived and put both Jerusalem and King Herod into a frenzy (Day 22). Now they go to find the true King.
"Then Herod called the Magi secretly and found out from them the exact time the star had appeared. He sent them to Bethlehem and said, 'Go and make a careful search for the child. As soon as you find him, report to me, so that I too may go and worship him.'" (Matthew 2:7-8)
Herod finds out precisely when the star appeared and later uses this information to slaughter all the boy babies in Bethlehem two years and under (Matthew 2:16, Day 24). Apparently the Magi had seen the sign a year or two previous to arriving in Jerusalem. Now Herod seeks to enlist the Magi as his secret agents: "As soon as you find him, report to me..." (Matthew 2:8).
"After they had heard the king, they went on their way, and the star they had seen in the east went ahead of them until it stopped over the place where the child was. When they saw the star, they were overjoyed." (Matthew 2:9-10)
It seems that they had seen the star "at its rising" (or "in the East") and had come to Jerusalem, since that is where they expected to find a newborn King of the Jews. (Day 22.) But now the star, which seems to have disappeared for a while, reappears and "went ahead of them."173 Finally it "stopped" (NIV, NRSV) or "stood" (KJV) over the place where the child was."174 It isn't behaving like any normal star or constellation or comet or conjunction of planets we know anything about. This star is sent by God. The star that inspires their trip in the first place now leads them directly to the very home where the Christ-child dwells.
"On coming to the house, they saw the child with his mother Mary,
and they bowed down and worshiped him." (Matthew 2:11a)
By this time, a year or two after Jesus' birth, Mary and Joseph are living in a house.175 While most nativity scenes have shepherds bumping into wise men and angels, this almost certainly was not the case. The Holy Family has left the stable and found a house. Probably Joseph has found employment as a carpenter. They haven't returned to Nazareth, perhaps because of the scandal over Mary's pregnancy prior to marriage. Even though Joseph publicly acknowledged the child as his own, premarital relations were considered a sin in Judaism; the couple would have had to deal with considerable antagonism. And God needs them to be found here in Bethlehem.
But now, outside their home, a caravan of exotic travelers has stopped. Strangely dressed men are approaching while their camels are attended by servants. Other servants carry gifts in their hands. Mary scurries around to straighten up while Joseph goes out to meet the strangers.
We're not told the details, of course, but when the Magi see the child, now a toddler, they bow down176 and worship177 him. Imagine these old men, finely dressed, prostrating themselves on a dirt floor before a small child. They have seen the star and it has reappeared to guide them. These men are convinced -- rightly -- that they are standing before the Messiah, the King of the Jews. Their obeisance is fitting.
After lying prostrate for some time, they rise, perhaps at the urging of Joseph.
"Then they opened their treasures and presented him with gifts of gold and of incense and of myrrh." (Matthew 2:11b)
When foreign dignitaries would appear before a great king they would bring gifts as a sign of obeisance and honor. "Treasures" (NIV, KJV) is probably better translated "treasure chests" (NRSV).178 And as the lids are lifted, the glitter of gold and aroma of precious spices fill the room.
Gold, of course, was the most precious and valued metal known. It was highly prized. It was not found in Palestine, but imported from the mines of Ophir and elsewhere.179
Frankincense is derived from three species of the genus Boswellia that grow in southern Arabia, India, and elsewhere. The gum is exuded from the incised bark in pale glittering drops. It has a bitter flavor and a strong balsamic odor when heated. The Egyptians used it for fumigation and embalming; the Israelites used it in worship in the Holy Place of the tabernacle and temple (Exodus 30:34).180
Myrrh is valuable as a perfume and a constituent of sacred anointing oil (Exodus 30:23). Several shrubs produce a perfumed resinous substance described as myrrh, but the one compounded in the anointing oil was probably from Commiphora myrrha or perhaps Balsamodendron myrrha, a low thorny tree distributed across south Arabia and Ethiopia. The sap is pleasantly scented and dries into a solid resin that can be diluted to form a liquid cosmetic product, perhaps used by Egyptians in embalming.181
These may seem to us inappropriate gifts for a baby, but as munificent gifts from distinguished personages appearing before a king, they would be considered quite appropriate, perhaps as specimens of the products of their country.182 Later Christian writers have seen significance in gold for Christ's royalty, frankincense for his deity, and myrrh for his humanity,183 ultimately his burial, though none of this is in Matthew's account.184 I can't help think of the song "The Little Drummer Boy" (1958):
"I have no gift to bring ... that's fit to give the King ...
I played my drum for Him ... I played my best for Him ...
Then He smiled at me ... me and my drum."185
The song is popular; the sentiment profound. Our best, no matter how seemingly insignificant, is what we owe the King. That is what characterizes the Magi's gifts.
Though the Magi's quest has brought Herod's scrutiny upon the child, these gifts were probably sold gradually to provide for the Holy Family during three years of exile in Egypt where they flee to escape Herod's wrath (Day 24)).
The passage concludes with another sign from God directing the Wise Men's path.
"And being warned in a dream not to return to Herod, they departed to their own country by another way." (Matthew 2:12)
The battle between Light and darkness continues. But God's warning delays it for a few days. And at the same time Joseph too is warned in a dream to flee. God has a plan for his Child.
Prayer
Bowing before Jesus and offering him whatever gifts I can is the essence of worship. So, Lord Jesus, I bow before you. Whatever you can use of what you've made me to be, I offer to you. It is my joy to be used by you. As the infant Christ Child smiled at the sight of the Magi's gifts, it is my desire to bring a smile to your face. In your holy name, I pray. Amen.
Discussion Question
Q23. (Matthew 2:7-12) Does gift-giving on this occasion involve love or mere custom? How were the Magi's gifts fitting for the Christ Child? What gifts can you offer Jesus that mean something? What gifts demonstrate your love?
https://www.joyfulheart.com/forums/topic/2098-q23-gifts/
Endnotes
Copyright © 2023, Ralph F. Wilson. <pastor

joyfulheart.com> All rights reserved. A single copy of this article is free. Do not put this on a website. See legal, copyright, and reprint information.
Discipleship for New Believers
In-depth Bible study books
You can purchase one of Dr. Wilson's complete Bible studies in PDF, Kindle, or paperback format.


My books are available in paperback and Kindle from Amazon.