Home
Free E-Mail
Bible Studies

Jesus' Parables for Disciples

Free E-mail Bible Study

1 & 2 Timothy and Titus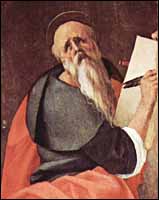 Jacob Pontormo, detail of "St. John the Evangelist" (1519), oil on Holz, 173 x 59, Museo della Collegiata, Empoli
First, Second, and Third John, sometimes called the Epistles or Letters of John, are like trail mix -- concentrated, chewy, and nutritious. As I teach God's Word, I find myself returning again and again to 1st John.
When John writes these letters he is an elderly man. When he was young, he was Jesus'"beloved disciple." Now, when he is old, he is passing on the faith that he learned at Jesus'feet.
He has lived in Ephesus for many years now, teaching and preaching in the churches around that great provincial capital. In First John he writes with great affection. Sprinkled through the letter are references to his "little children" and to his "beloved" friends in Christ.
That doesn't mean he is soft. In First John he:
Refutes enemies of Christ who had infiltrated the church and spread false and dangerous doctrine.
Challenges believers to reject darkness and live in the light.
Calls for righteous living at the same time as he assures them of the forgiveness of God.
Underscores love as the greatest and highest commandment of our Lord Jesus Christ.
All in all, these letters pack a punch to their first century readers as well as readers in the twenty-first century.
As I have immersed myself in John's letters over these past months, I've come to know his heart of love for his children in the Lord and his passion for Jesus Christ, the Son of the Living God. I pray that as you study these letters, that same intensity of love for the brothers and sisters and that same burning passion for the Gospel of our Lord may be yours in abundance.
Yours in Christ's service,
Dr. Ralph F. Wilson
October 1, 2009
Copyright © 2023, Ralph F. Wilson. <pastor

joyfulheart.com> All rights reserved. A single copy of this article is free. Do not put this on a website. See legal, copyright, and reprint information.
Discipleship for New Believers
In-depth Bible study books
You can purchase one of Dr. Wilson's complete Bible studies in PDF, Kindle, or paperback format -- currently 48 books in the JesusWalk Bible Study Series.
Old Testament
Gospels
Acts
Pauline Epistles
General Epistles
Revelation
Topical
Grace: Favor for the Undeserving


My books are available in paperback and Kindle from Amazon.