Home
Free E-Mail
Bible Studies

1 & 2 Thessalonians
Beginning the Journey (for new Christians)
1, 2, and 3 John
1 & 2 Timothy
1 Peter
2 Peter, Jude
2 Corinthians
7 Last Words of Christ
Abraham
Christmas Incarnation
Church
Christ Powered Life (Rom 5-8)
Colossians
David, Life of
Galatians
Gideon
Great Prayers
Ephesians
Hebrews
James
Jacob
Jesus and the Kingdom
John's Letters
Joshua
Lamb of God
Lord's Supper
Luke
Moses
Names of God
Philippians
Psalms
Resurrection
Revelation
Sermon on the Mount

Year of St. Paul
Christian Art
About Us
Speaking
Blog
Contact Us
Dr. Wilson's Books
Donations Sitemap
Discipleship Lessons from
John's Letters (1, 2, and 3 John)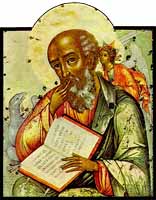 Simon Ushakov, St. John the Theologian (1673), Sergiev Posad State History and Art Museum-Reserve, Moscow. Larger mage.
Please do me a favor right now: Please bookmark the main John's Letters Bible Study page so you can find it again easily.

First, second, and third John, sometimes called the Epistles or Letters of John, are like trail mix -- concentrated, chewy, and nutritious. As I prepared my recent curriculum for new Christians, I found myself returning again and again to 1st John.
When John writes these letters he is an elderly man. When he was young, he was Jesus' "beloved disciple." Now when he is old he is passing on the faith he learned at Jesus' feet.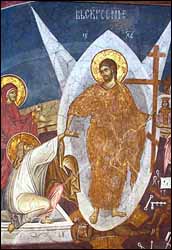 Jesus brings people into the light. Detail from resurrection fresco (14th century), Visoki Decani Monastery, Kosovo-Metohija, Serbia. Larger image.
He has lived in Ephesus for many years now, teaching and preaching in the churches around that great provincial capital. In First John he writes with great affection. Sprinkled through the letter are references to his "little children" and to his "beloved" friends in Christ.
That doesn't mean he is soft. In First John he:
All in all, these letters pack a punch to their first century readers as well as readers in the twenty-first century.
I invite you to join me in an e-mail Bible study of the Epistles of John. Here's the outline:
Walking in the Light (1 John 1:1-2:6)
Don't Love the World (2:7-17)
Antichrists, Anointing, and Abiding (2:18-27)
Sin Is Lawlessness (2:28-3:10)
Love in Action (3:11-24)
God Is Love (4:1-21)
God's Testimony Regarding Jesus (5:1-21)
Walking in Love (2 and 3 John)
Here's how we'll study together.
Please don't sign up for more than one of my Bible studies at one time. Each of them is pretty intensive. Also, please don't sign up for your friends; let them decide for themselves. If you sign up today, you'll receive your first lesson next Friday.

---
Copyright © 1985-2013, Ralph F. Wilson. <pastor

joyfulheart.com> All rights reserved. A single copy of this article is free. Do not put this on a website. See legal, copyright, and reprint information.
Discipleship for New Believers
In-depth Bible study books
You can purchase one of Dr. Wilson's complete Bible studies in PDF, Kindle, or paperback format.
Other Bible Study Books

My books are available in paperback and Kindle from Amazon.