Home
Free E-Mail
Bible Studies

Jesus' Parables for Disciples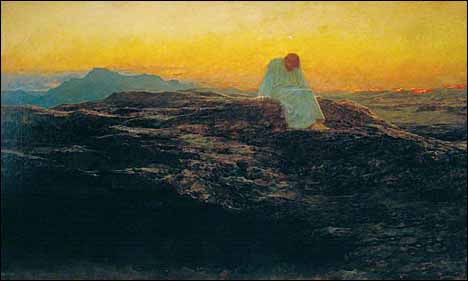 Briton Rivière, 'The Temptation in the Wilderness' (1898), oil on canvas, 46 x 74 in., Guildhall Art Gallery, London.
In a few Christian traditions, listening for God's voice is a core part of one's spiritual life. But in many denominations, expecting to hear God's voice is very far from the norm -- even suspect. And in a few groups, hearing God's voice today runs contrary to their view of Scripture.
So as we begin, I think it's important to observe the pattern of the Bible regarding hearing God's voice. We'll begin with the example Jesus set for us, and then consider the experience of other believers.
Three passages explain for me how Jesus sought his Father's voice and received power for ministry. The first is from Mark.
In its characteristic terse style, Mark's Gospel records within the span of a few verses Jesus' early ministry by the Sea of Galilee and the calling of his first disciples -- Peter, James, and John. On the Sabbath, while teaching in the synagogue in Capernaum, Jesus casts out a demon. Immediately his fame spreads throughout Galilee. He heals Peter's mother-in-law, and that evening the house is mobbed by the sick and needy from the all over the region. That's where we'll pick up the text.
"33 The whole town gathered at the door, 34 and Jesus healed many who had various diseases. He also drove out many demons, but he would not let the demons speak because they knew who he was.
35 Very early in the morning, while it was still dark, Jesus got up, left the house and went off to a solitary place, where he prayed. 36 Simon and his companions went to look for him, 37 and when they found him, they exclaimed: 'Everyone is looking for you!'
38 Jesus replied, 'Let us go somewhere else -- to the nearby villages -- so I can preach there also. That is why I have come.' 39 So he traveled throughout Galilee, preaching in their synagogues and driving out demons." (Mark 1:33-39)
Overnight Jesus has gone from obscurity to rock-star-like fame. His ability to heal and cast out demons has ignited all of Galilee to rush to Capernaum with all their sick and troubled kinfolk. The disciples, too, are excited about their Master's new-found fame.
After an incredible evening of healing and exorcism, Jesus stays the night at Peter's home. But the next morning Jesus is nowhere to be found. Already, people are at the door looking for Jesus. My father needs healing. My child needs deliverance. Peter, I must see Jesus. Where is he?
So Peter and his friends organize a search party to find their newly-famous Friend. Jesus is up before morning light and seeks out a "solitary place" (NIV, KJV), a "desolate" (ESV), "deserted" (NRSV) place. It is described by two Greek words: topos, "place" (from which we get our word "topography"), and erēmos, an adjective "pertaining to being in a state of isolation, isolated, desolate, deserted" of an area "unfrequented, abandoned, empty."[3] Capernaum is built next to a sloping rocky beach at the north end of the Sea of Galilee. Above the town are low hills with canyons sloping down to intermittent creeks (wadis) to the east and west. The beach with its fishing boats wouldn't offer much quiet, so I'm guessing Jesus hikes up the hill above the homes below and finds a spot where he can talk to his Father undisturbed and watch the morning sun rise over the lake.
Finally, the disciples find Jesus. "Everybody is looking for you!" they exclaim (vs. 37). They sound like Hollywood agents trying to acquaint a new actor with his responsibilities to his public, to his fans. No doubt, they go on to explain that Jesus is needed, that he should continue to heal the new crowds of sick people in town who are demanding his help.
Jesus' response seems to ignore their demands. "Let us go somewhere else -- to the nearby villages -- so I can preach there also. That is why I have come" (vs. 38). In his early-morning time with his Father, Jesus has been seeking guidance on what to do next. And his Father has apparently told him that it's now time to begin an itinerant preaching tour of all the Galilee villages to spread the message of the Kingdom.
Notice that Jesus' emphasis is first "preaching." Healing isn't primary, though it is important, since it flows from Jesus' mission to save and his compassion, and serves to authenticate his message. "Preach" (NIV, ESV, KJV), "proclaim the message" (NRSV) is the Greek verb kērussō, "to make public declarations, proclaim aloud."[4] In this case, the preaching seems to be similar to the teaching he had done in the Capernaum synagogue (vs. 21),[5] since he continues to preach in other area synagogues (vs. 39).
Going away to pray is an important pattern in Jesus' life, one that he seeks to demonstrate before his disciples for them to emulate. Luke's Gospel seems to focus on these.
"At daybreak Jesus went out to a solitary place...." (Luke 4:42)
"Jesus often withdrew to lonely places and prayed." (Luke 5:16)
"One of those days Jesus went out to a mountainside to pray, and spent the night praying to God." (Luke 6:12)
"Once when Jesus was praying in private and his disciples were with him, he asked them, 'Who do the crowds say I am?'" (Luke 9:18)
"He took Peter, John and James with him and went up onto a mountain to pray." (Luke 9:28b)
"One day Jesus was praying in a certain place. When he finished, one of his disciples said to him, 'Lord, teach us to pray, just as John taught his disciples.'" (Luke 11:1)
"Jesus went out as usual to the Mount of Olives, and his disciples followed him. On reaching the place, he said to them, 'Pray that you will not fall into temptation.' He withdrew about a stone's throw beyond them, knelt down and prayed." (Luke 22:39-41)
It is often difficult for Jesus to pray, to get away from the people who are demanding things from him, but he makes the effort. It is his characteristic pattern. Notice, however, that he doesn't necessarily exclude his disciples from these times of prayer. By example he is teaching them to seek the Father.
We see a similar passion in David.
"O God, You are my God;
Early will I seek You;[6]
My soul thirsts for You;
My flesh longs for You
In a dry and thirsty land
Where there is no water." (Psalm 63:1, NKJV)
To help you internalize and apply what you are learning from this study, I have included several Discussion Questions in each lesson. These are designed to help you think about and ponder the most important points. Don't skip these. It is best to write out your answers, whether you post them or not. However, you can post your answers -- and read what others have written -- by going to the online forum by clicking on the URL below each question. (Before you can post your answer the first time, you will need to register. You can find instructions at https://www.joyfulheart.com/forums/instructions.htm

Q1. (Mark 1:33-39) What pattern do you see emerging in Jesus' prayer life? Why do you think he spends Quiet Time with the Father before the day begins? How does this prepare him for his ministry? How did the disciple desires for Jesus differ from what Jesus felt impelled to do? (Mark 1:37-38) Why? Do you have a Quiet Time? What could you do to improve the quality of your time with God each day?
https://www.joyfulheart.com/forums/topic/1763-q1-jesus-prayer-pattern/
John's Gospel is the source of a second important passage that explains Jesus seeking his Father's voice. The context is a dispute with the Pharisees, who are accusing Jesus both of breaking the Sabbath by healing on this day of rest and of blasphemy over his claims to a special relationship with the Father.
"17 Jesus said to them, 'My Father is always at his work to this very day, and I, too, am working.' 18 For this reason the Jews tried all the harder to kill him; not only was he breaking the Sabbath, but he was even calling God his own Father, making himself equal with God. 19 Jesus gave them this answer: 'I tell you the truth, the Son can do nothing by himself; he can do only what he sees his Father doing, because whatever the Father does the Son also does. 20 For the Father loves the Son and shows him all he does. Yes, to your amazement he will show him even greater things than these.'" (John 5:17-20)
To the Pharisees' claim that Jesus should cease healing for the Sabbath, Jesus replies:
"My Father is always at his work to this very day, and I, too, am working." (vs. 17)
In other words, "My Father doesn't stop working on the Sabbath. Why should I?" That angers his enemies, since Jesus seems to put himself on the same plane as God and justifies breaking the Sabbath.
But look at Jesus' words another way. God is always working, even if we don't see it, even if we don't know about it. Certainly God is working in ways the Pharisees don't discern. Jesus' power is in discerning what the Father is doing -- and then cooperating with the Father in that. Open our eyes, Lord!
"I tell you the truth, the Son can do nothing by himself; he can do only what he sees[7] his Father doing, because whatever the Father does the Son also does." (John 5:19)
Verse 19 troubles us because Jesus claims that he can't do anything by himself. Why not? Isn't he the Son of God?
To understand this verse, we need to consider what the Bible teaches about the Trinity.[8] Our doctrine of the Trinity teaches us that each member of the Godhead is fully God. Paul points to Jesus' humility by which he voluntarily lays aside some of these prerogatives of divinity.
"Who, being in very nature God,
did not consider equality with God something to be grasped,
but made himself nothing,
taking the very nature of a servant,
being made in human likeness." (Philippians 2:6-7)
Moreover, there is a voluntary submission to the Father's leadership. In 1 Corinthians we read:
"Then the end will come, when he hands over the kingdom to God the Father after he has destroyed all dominion, authority and power. For he must reign until he has put all his enemies under his feet. The last enemy to be destroyed is death. For he 'has put everything under his feet.' Now when it says that 'everything' has been put under him, it is clear that this does not include God himself, who put everything under Christ. When he has done this, then the Son himself will be made subject[9] to him who put everything under him, so that God may be all in all." (1 Corinthians 15:24-28)
If Christ finally subjects himself to the Father, does this mean that he is somehow inferior? No. The doctrine of the Trinity declares that the Father and Son and Holy Spirit are equal in Person, but the Son and Holy Spirit are subordinate to the Father in role -- "ontological equality, but economic subordination," in other words, "equal in being, but subordinate in role."[10] This understanding of equality and role is apparent in the very words "Father" and "Son."
So the phrase, "the Son can do nothing by himself," indicates how dependent Jesus is upon the Father, especially during his time as a human being. As you study the Trinity, you see that members of the Godhead are interdependent, working together. For example, God creates the world through the agency of the Son (John 1:3; Colossians 1:16-17; Hebrews 1:2). The concept of independent action is foreign to the Godhead of Father, Son, and Holy Spirit.
I know this is getting theological, but it is important to what I'll say next.
Historically, there are two basic ways Christians have explained Jesus' miracles:
Jesus does miracles by virtue of being divine. If this were true, Jesus' life is completely unique and can't serve as a useful example for us humans today. Moreover, Jesus would be unable to train his disciples to do as he did in ministry, since his actions would be due solely to his divinity.
Jesus does miracles by the power of the Spirit. In his humanness, Jesus performs miracles in the same way that he teaches his disciples to do them -- by direction from and dependence upon the Father."[11]
I believe that this latter interpretation is much more faithful to John 5:19 than the "Jesus-works-miracles-because-he-is-divine" understanding. And it has huge implications in how we apply the patterns of the New Testament to our lives and ministry.
If we accept that Jesus' miracles resulted (at least in part) from him being a human being who is full of faith and in tune with his Father's will and timing, then Jesus becomes our exemplar as the Spirit-Filled Man, from whom we can learn how to operate in the Spirit!
Since, as Jesus says, God is always working, then he is always at work in our day, and if we can discern what he is doing -- and cooperate with Him in it -- then we will see the power of God in action through us.
Later in the same chapter, Jesus says something similar:
"By myself I can do nothing; I judge only as I hear, and my judgment is just, for I seek not to please myself but him who sent me." (John 5:30)
So Jesus seeks to see what the Father is doing (verse 19) and hear what the Father is saying (verse 30). And on that basis, he acts.
God hasn't stopped working or speaking. Our job as twenty-first century Christians -- as our brothers and sisters in centuries gone by -- is to discern what he is doing, and then be his hands and feet in our generation.
Q2. (John 5:19, 30) Why do you think Jesus said, "By myself I can do nothing"? (vs. 30). How do you justify this statement with Jesus' divine nature as the Son of God? In what ways can we use Jesus' example as a pattern for our own life and ministry? How do you think Jesus would "see" and "hear" the Father?
https://www.joyfulheart.com/forums/topic/1764-q2-seeing-the-father/
Now that we've examined a passage describing Jesus' practice of going to a solitary place to pray (Mark 1:33-39) and a passage about his utter dependence upon communicating with the Father (John 5:19, 30), let's put them together and draw a conclusion.
I believe that Jesus patterns for his disciples a life of spending time in prayer away from the crowds so that he can talk to and listen to his Father about directions for his day and ministry. No doubt he talks with the Father throughout the day also, but it is Jesus' practice of getting away to pray that characterizes his prayer life in Luke's Gospel especially. Jesus shows his disciples how ministry is done by living it out before them
We, too, need to seek a meaningful time alone with God each day -- preferably at the beginning of the day -- to commune with God, not just to read Scripture (which we must do), but also to listen for God's whispers so that we might be ready for the day he brings to us. This is part of the "abiding" that Jesus talks about in the Parable of the Vine and the Branches (John 15:1-9). More about that in this lesson's assignment below.
Before we leave Jesus' example, let's look at one more incident in his life -- the healing of the demon-oppressed boy. Jesus has just come down from the Mount of Transfiguration with Peter, James, and John, but when he arrives where his disciples are stationed, all he finds is utter confusion.
A father has brought his boy to the disciples to heal him from seizures caused by demonic activity. The disciples are unsuccessful in delivering the boy, and now there is an argument going on with the teachers of the law. After Jesus hears the father's story, he responds with impatience towards the unbelief he finds in the father -- and probably in the teachers of the law. Jesus rebukes the demon and the boy is delivered. Later, the disciples ask Jesus why they couldn't cast out the demon in this case. Apparently they had had some previous successes in exorcism (Mark 3:15; 6:13; Luke 10:17). Jesus responds:
"This kind can come out only through prayer." (Mark 9:29)
Most early copies of the New Testament read "only through prayer and fasting," though it is clear that some of the best early manuscripts leave out the words "and fasting." Bible scholars believe it is "virtually certain" that the increased emphasis on fasting in the second or third century church induced scribes to add "and fasting" in verse 29.[12] It doesn't appear that Jesus' disciples practiced fasting beyond what was prescribed in the Law (Mark 2:18-20), nor do we read of Jesus himself fasting, except for the 40 days of his Wilderness Temptation.
So what does Jesus mean, "This kind can come out only through prayer"? Does he mean regular prayer? Certainly the disciples engaged in prayer as they followed Jesus on his journey. So it isn't likely that he is rebuking complete prayerlessness.
We know that "only through prayer" does not refer to Jesus' method of exorcism. Jesus never prays aloud when he cast out demons; rather he speaks a word of command.
I believe that "only through prayer" refers to the time Jesus spends with his Father in prayer. This isn't just a rote prayer or prayer lists -- though these can be good. Jesus goes further; he talks to and listens to his Father in prayer. And through these regular times of prayer, Jesus knows how to deal with this particular demon. Perhaps, Jesus speaks a silent "arrow prayer" to the Father and receives an instant response -- "This is how to proceed in this situation." We're not sure. But it seems that the quality of Jesus' prayer life with the Father is what gives him power to deal with whatever situation presents itself.
To understand the power of Jesus' ministry, we have to understand that he is empowered by the Third Person of the Trinity, the Holy Spirit. Luke's Gospel makes this clear.
"The Holy Spirit descended on him in bodily form like a dove." (Luke 3:22)
"Jesus, full of the Holy Spirit, returned from the Jordan and was led by the Spirit in the desert." (Luke 4:1)
"Jesus returned to Galilee in the power of the Spirit, and news about him spread through the whole countryside. He taught in their synagogues, and everyone praised him." (Luke 4:14-15)
"The Spirit of the Lord is on me,
because he has anointed me to preach good news to the poor.
He has sent me to proclaim freedom for the prisoners
and recovery of sight for the blind,
to release the oppressed,
to proclaim the year of the Lord's favor."
(Luke 4:18-19, quoting Isaiah 61:1-2)
Exactly how the Father, Son, and Holy Spirit work together during Jesus' earthly ministry is a mystery, though there are hints throughout the Gospels.
Christian believers, too, engage all three Persons of the Trinity. We are to pray to the Father in Jesus' name (John 16:26-27). Jesus promises to be with us always (Matthew 28:20). And we are promised the presence and gift of the Holy Spirit who mediates God to us here on earth (John 14-16). How this all fits together is again a mystery. Nevertheless, countless modern-day disciples have learned to live their lives in the presence of the Father, Son, and Holy Spirit.
We've observed Jesus' prayer life and ministry. Now we observe Jesus' teaching about the Holy Spirit and ministry.
Just before his crucifixion, Jesus teaches his disciples to expect the Holy Spirit to take a powerful role in their lives in the near future. I hesitate to go into great detail, or we'll be sidetracked from our main topic of listening for God's voice,[13] but this is important to our understanding of God's voice.
Jesus refers to the Spirit as the "Paraclete" (Greek paraklētos), translated variously as "Counselor" (NIV, RSV), "Advocate" (NRSV), "Helper" (ESV, NRSV, NKJV), "Comforter" (KJV), and "Friend" (The Message). Paraklētos is an adjective formed from the verb parakaleō, which has the basic meaning, "call to one's side" for help.[14] In Greek, the word can have the idea of one who provides help as a legal advocate, especially an advocate for the defense. Another approach might be "Friend," as in a Friend at court.[15]
In a fascinating passage, Jesus says that the Father will send "another Counselor" (paraklētos, John 14:16). Jesus has been their Paraclete, Helper, Friend thus far, but the Holy Spirit will replace Jesus as an interior presence, always with them, to guide and instruct them. The Holy Spirit, when he comes will be an "interior" Paraclete to be with them, Jesus tells them, "for he lives with you and will be in you" (John 14:17b). With reference to our topic of God's voice, Jesus promises that the Holy Spirit will:
Guide disciples into the way of truth (John 16:13).
Teach the disciples (John 14:26).
Speak to the disciples what the Spirit hears from the Father (John 16:13a).
Declare to the disciples what is to come (John 16:13b).
We've only scratched the surface here, but the time you spend studying John 14-16 will be richly rewarded in understanding the Spirit whom Jesus and the Father have given you. In short, the Holy Spirit is God's presence to guide, help, lead, and counsel us. Notice the promise of the Spirit speaking:
"But when he, the Spirit of truth, comes, he will guide you into all truth. He will not speak on his own; he will speak only what he hears, and he will tell you what is yet to come." (John 16:13)
Of course, the Holy Spirit guides and inspires the apostles as they seek to understand doctrine and to record it in the Scriptures. But the Holy Spirit also "speaks" in non-revelatory ways, especially in the book of Acts (Acts 8:29; 10:19; 11:12; 13:2; 21:11). More on that later. In short, the Holy Spirit is our Counselor to whom we can go for help and guidance.
Q3. (John 14-16) What promises concerning the Paraclete -- Comforter -- Counselor -- Helper -- Holy Spirit does Jesus give in John chapters 14-16? How do these relate to guidance? To "hearing" God?
https://www.joyfulheart.com/forums/topic/1765-q3-the-holy-spirit/
In an amazing passage where Paul extols the grace of God to reveal God to man, he quotes Isaiah 64:4 and Isaiah 40:13, and then contrasts them with the amazing era of the Spirit in which we live.
9b "'No eye has seen, no ear has heard,
no mind has conceived what God has
prepared for those who love him'--
10 'but God has revealed it to us by his Spirit. The Spirit searches all things, even the deep things of God. 11 For who among men knows the thoughts of a man except the man's spirit within him? In the same way no one knows the thoughts of God except the Spirit of God....
16 'For who has known the mind of the Lord
that he may instruct him?'
But we have the mind of Christ." (1 Corinthians 2:9-11, 16)
The Holy Spirit can reveal God's thoughts and Christ's mind to believers today!
The word "mind" is nous, which doesn't mean "brain," since the ancients didn't understand that physical organ in the way we do today. Rather nous refers to "the faculty of intellectual perception, mind, understanding." Here, our verse may have the nuance, "result of thinking, mind, thought, opinion."[16]
Who can know God's thoughts? Who has the temerity to think he can tell God something God doesn't already know? No one. Isaiah's prophecy (quoted in 1 Corinthians 2:9-10) refers to the era of the Law before the Spirit comes to indwell the believer. Now things are different. We have the Holy Spirit who can communicate and mediate our thoughts at their most basic level and communicate to our spirits God's guidance and truth.
Does this mean that we now clearly understand God? No. We just get a glimpse, a word, a thought, so we shouldn't get cocky.
There's a story from India about a group of blind men who have never encountered an elephant before. Each feels a different part of the elephant's body -- one a foot, another a tusk, etc., and then describes the elephant based on their partial, limited experience. No wonder their descriptions differ! Paul says,
"Now we see but a poor reflection as in a mirror; then we shall see face to face. Now I know in part; then I shall know fully, even as I am fully known." (1 Corinthians 13:12)
There will come a time when it will all be clear, as the Book of Revelation puts it, "They will see his face" (Revelation 22:4a). Until then we get words, promptings, glimpses to help us forward.
Q4. (1 Corinthians 2:9-16) How does the Holy Spirit make "the mind of Christ" available to us? How does this make you dependent upon the Holy Spirit? How does this relate to listening for God's voice?
https://www.joyfulheart.com/forums/topic/1766-q4-mind-of-christ/
We've considered Jesus' dependence on the Father as a deliberate pattern that Jesus is demonstrating for his disciples to follow. We've looked Jesus' promises to send the Holy Spirit as a Counselor and Helper. And we've considered how the Holy Spirit mediates access for us to Christ's very mind and thoughts.
Now I'd like to further assert that God speaking to individual believers is a clear Bible pattern intended for us to expect as the norm. True, in the Bible, God doesn't seem to speak to everyone. Nor does he speak constantly to those to whom he speaks. But I don't think you can look at the record of the Old and New Testaments and conclude anything else except that God speaks to people -- leaders, prophets, and normal believers as well. Here's a partial list to help jog your memory:
Moses
Samuel
David
Gideon
Simeon
Paul
Philip the Evangelist
Ananias
and many, many others.
There is a small group of well-meaning evangelicals, seeking to defend the doctrine of the Sufficiency of Scripture, who would insist that in our day we shouldn't expect God to speak as in Bible days. We should only expect God to speak by "quickening Scripture" to us.[17] Indeed, the Holy Spirit does "quicken Scripture"! However, to insist that we can't trust the Bible pattern to guide us in how we should expect God to speak to us today seems strange.
I can't help but conclude -- if the Bible is to be our guidebook to Christian living -- that God wants to continue speaking to his people today.
We've covered a lot of ground. Let's sum up the lessons for disciples that we've uncovered so far.
Jesus set a pattern for his disciples to talk to the Father in the morning in a solitary place (Mark 1:35; Luke 4:42; 5:16; 6:12; 9:18; 9:28b).
In Jesus' talks with his Father he received instructions for ministry (Mark 1:38).
Jesus depends on his Father for direction, and then acted on what he saw the Father do (John 5:19) and say (John 5:30).
God is always working (John 5:17), even if we're not aware of it.
Jesus' miracles are the result of the power of the Holy Spirit, not because of his unique divinity, since he had divested himself of many of his prerogatives of divinity when he became a human being (Philippians 2:6-7; Luke 3:22; 4:1, 14-15, 18-19).
The ability to cast out "difficult" demons comes from a life of prayer, which the disciples lacked early in their ministry.
In the Paraclete passages of John 14-16, Jesus promises that the Holy Spirit will: (a) guide disciples into way of truth (John 16:13); (b) teach the disciples (John 14:26); (c) speak to the disciples what the Spirit hears from the Father (John 16:13a); and (d) declare to the disciples what is to come (John 16:13b).
The Holy Spirit mediates to us the mind of Christ (1 Corinthians 2:9-11, 16).
There is a clear Bible pattern of God speaking to people in both the Old and New Testaments.
Since we're trying to develop a skill of listening for God's voice, each lesson includes a practical assignment for you to put into practice in your life that week. This is not an academic study of Bible theory, but a practical study that will result in your life being changed. So, here we go. If you'd like to see all the assignments together, so you can see where we're going, go to Appendix 2. Assignments to Sensitize You to God's Voice.
Assignment 1: As a way of patterning yourself after Jesus, who sought the Father early and often, set aside for yourself a regular Quiet Time to spend with God. You may be already doing this. If so, great. But even if you already do this, it's time to "up your game," to renew this time so it is most meaningful.
Set aside at least five to ten minutes a day -- or more, depending on your schedule -- preferably in the morning when you have your whole day ahead of you.
Your Quiet Time is a time to touch base with your Friend and renew your relationship with him each day. It is also a discipline that serious Christians set up in their lives -- whether they feel like it or not. Sometimes you'll be sluggish and not very spiritually in tune. Have your Quiet Time anyway; that's when you need it the most. Sometimes your Quiet Time may seem like just going through the motions. Do it anyway. Sometimes God meets you wonderfully in your Quiet Time. Rejoice!
Here's a simple guideline for a Quiet Time.[18]
Greeting. "Good morning, Father," is the way I often begin.
Praise. The Psalmist encourages us: "Worship the LORD with gladness; come into his presence with singing (Psalm 100:2; NRSV). Offer verbal praise: "Lord, I come before you with thanksgiving and praise this morning." Perhaps sing a praise chorus.
Scripture. Ask God to open his Word to you. Then read a portion of Scripture, not just a verse from a devotional guide. But read systematically. You might begin with the Gospel of Mark or the Gospel of John and read a chapter a day. Each day, pick up from where you left off the day before. I try to read a chapter from the Old Testament, a Psalm, and a chapter from the New Testament each day. There's no right or wrong way here. However, whatever your practice is, stick with it -- and don't coddle yourself! Over time, this regularity makes you acquainted with the whole Word of God. This helps you know the lines along which God is thinking, his values, and what pleases him. Then as God begins to speak or prompt you, you'll be able to discern whether it is God or not.
Prayer. There's an acronym ACTS -- Adoration, Confession, Thanksgiving, Supplication -- that is a useful guide. I confess my sins to God, and ask him to cleanse me (1 John 1:9). Then I bring before the Lord each of the people close to me and ask God to help them. Sometimes as I'm praying for someone, God will prompt me with some way I can minister to him or her.
Listening. We'll amplify this step in Lesson 2.
Take notes. Some people call this "journaling." It doesn't have to be formal, but be prepared to write down what God seems to be showing you.
Sometimes my pattern for my Quiet Time seems to grow stale. Then I mix it up, perhaps reading a devotional book along with scripture and prayer. Perhaps spending more time singing. At least for a while. Then I usually return to my usual pattern after a few weeks.
Over the years I've observed that people who have a regular Quiet Time are the ones who grow as disciples. Greg Krieger sees spiritual disciplines such as a Quiet Time as a way of putting up all the sails to catch the slightest breeze of the Spirit's whisperings.
Setting up a daily Quiet Time is your assignment for this week. Then talk to your spiritual partner and explain what your plan is. Later in the week, share how this is going. It's easier to form new habits when you have some accountability built in.
Prayer
Father, we are grateful for the example Jesus set for us in talking to you and listening to you, and then acting. Help us to seek you earnestly, listen to you carefully, and then act faithfully in the ways you are showing us. In Jesus' name, we pray. Amen.
Key Verses
"Very early in the morning, while it was still dark, Jesus got up, left the house and went off to a solitary place, where he prayed." (Mark 1:35, NIV)
"I tell you the truth, the Son can do nothing by himself; he can do only what he sees his Father doing, because whatever the Father does the Son also does." (John 5:19, NIV)
"By myself I can do nothing; I judge only as I hear, and my judgment is just, for I seek not to please myself but him who sent me." (John 5:30, NIV)
"His disciples asked him privately, 'Why could we not cast it out?' And he said to them, 'This kind cannot be driven out by anything but prayer.'" (Mark 9:28-29, NIV)
"God has revealed it to us by his Spirit. The Spirit searches all things, even the deep things of God.... We have the mind of Christ." (1 Corinthians 2:10, 16b, NIV)
Endnotes
---
Copyright © 2023, Ralph F. Wilson. <pastor

joyfulheart.com> All rights reserved. A single copy of this article is free. Do not put this on a website. See legal, copyright, and reprint information.
Discipleship for New Believers
In-depth Bible study books
You can purchase one of Dr. Wilson's complete Bible studies in PDF, Kindle, or paperback format -- currently 48 books in the JesusWalk Bible Study Series.
Old Testament
Gospels
Acts
Pauline Epistles
General Epistles
Revelation
Topical
Grace: Favor for the Undeserving


My books are available in paperback and Kindle from Amazon.