Home
Free E-Mail
Bible Studies

Jesus' Parables for Disciples
Beginning the Journey (for new Christians). en Español
1, 2, and 3 John
1 & 2 Thessalonians
1 & 2 Timothy
1 Peter
2 Peter, Jude
1 Corinthians
2 Corinthians
7 Last Words of Christ
Abraham
Acts 1-12: The Early Church
Apostle Paul
Christmas Incarnation
Church
Christ Powered Life (Rom 5-8)
Colossians
Conquering Lamb of Revelation
Daniel
David, Life of
Galatians
Gideon
Grace
Great Prayers
Glorious Kingdom, The
Early Church: Acts1-12
Elijah
Ephesians
Hebrews
Holy Spirit, Disciple's Guide
Isaiah
James
Jacob
Jesus and the Kingdom
John's Gospel
John's Letters
Joshua
Lamb of God
Listening for God's Voice
Lord's Supper
Luke
Mark
Moses
Names of God
Names of Jesus
Parables
Philippians
Psalms
Rebuild & Renew: Post-Exilic Books
Resurrection
Revelation
Sermon on the Mount
Songs of Ascent (Ps 120-135)

Christian Art
About Us
Speaking
Contact Us
Dr. Wilson's Books
Donations
Watercolors
Sitemap

Free E-mail Bible Study

Jesus' Parables for Disciples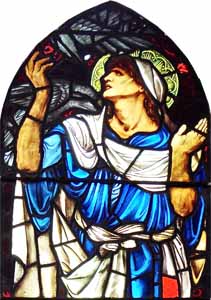 Edward Burne-Jones, 'Elijah the Prophet' (1897), stained glass, St. Martin's Church, Bramton, Cumbria, England.
God can get anyone's attention by shouting. For example, on the road to Damascus, a loud voice and a bright light turned his arch enemy into a disciple. But most of the time, he prefers to speak in a softer voice, one that we can miss if we're not listening carefully.
I'm not sure anyone can be a real expert on hearing God's voice, since God controls it, not we. And I've had some embarrassing gaps in both listening and obeying -- some of which I'll relate to you.
Recently, however, God has put on my heart to share with you what I have learned over 50 years of actively listening for God's voice. I've found that when I seek God for what to preach and teach, I am usually able to discern his desire. I sought the Lord about the girl to marry -- and even received the date of the marriage from God. God's voice has been a huge comfort and guide for me over my lifetime. I share humbly, however, realizing that I have much to learn.
The focus of this study is hearing God's voice in words and in promptings. When I say "hear," I don't mean to suggest that God usually speaks in an audible voice, but that we can discern him speaking in strong impressions in our mind and spirit. It is that form of the voice of God that is what we're especially exploring in this study.
Three things aren't our focus -- the spiritual gifts of prophecy, the word of knowledge, and the word of wisdom. Of course, the Holy Spirit is the common denominator between these gifts and how the normal disciple might hear God's voice and promptings. But to treat these gifts of the Spirit adequately would require a completely different kind of study -- and is beyond my experience.
Nor is this a comprehensive study of God's guidance -- a subject all its own. God guides us in many ways -- through circumstances, other people, a Bible verse that the Holy Spirit "quickens" to us. And, of course, God's voice can be a means of guidance. Here, we are narrowly focusing on God's voice and promptings, to try to understand them better.
The challenge is that I am seeking to teach a learned skill or art, not a body of content. This isn't a set of objective rules you can follow to get the desired result. It is subjective. Relational. Controlled by God, not us.
Nor can I sit down with you at Starbucks to give you feedback and help you as you learn. I know that God is fully able to speak to his people directly without any assistance. However, I believe you'll learn faster and better if you learn to listen to God as part of a Christian community. So I'll be asking you to find a mentor (if you are able), plus a spiritual partner with whom you can interact as you begin to learn what God's voice and whisperings sound like. Don't try this all by yourself -- you just won't get nearly as much out of it!
I'll also be asking you secure a small journal and begin a daily Quiet Time -- or renew your current practice so it is more meaningful. You'll be completing a practical assignment in each lesson -- and then you'll share how it's working out with your spiritual partner. In this way you can try your wings, and begin to learn to fly even before you finish the study.
However, I must warn you that you face a clear spiritual danger as you begin this course. If you settle for learning about God's voice without seeking to know, discern, and obey him yourself, you will suffer great damage, for this will have the effect of "inoculating" you against catching a full-blown case of conversing with the living God. "Be doers of the word, and not hearers only, deceiving yourselves" (James 1:22). So plan to enter fully into the process; don't just read and nod your head.
I've found that this idea of hearing God's voice is amazingly attractive to us humans. I used to take my guitar and sing at convalescent homes. By far the most often requested song among the folks of a certain generation was, "In the Garden."
"I come to the garden alone,
While the dew is still on the roses;
And the voice I hear, falling on my ear,
The Son of God discloses.
And He walks with me,
And He talks with me,
And He tells me I am His own;
And the joy we share as we tarry there,
None other has ever known."[1]
I invite you to join me on a journey of drawing closer to Jesus, to listening for and then obeying God's voice and promptings.
Dr. Ralph F. Wilson
Loomis, California
January 1, 2018
Return to the page to sign up for this study.
[1] Words and music: C. Austin Miles (1912).
---
Copyright © 2023, Ralph F. Wilson. <pastor

joyfulheart.com> All rights reserved. A single copy of this article is free. Do not put this on a website. See legal, copyright, and reprint information.
Discipleship for New Believers
In-depth Bible study books
You can purchase one of Dr. Wilson's complete Bible studies in PDF, Kindle, or paperback format.


My books are available in paperback and Kindle from Amazon.