Home
Free E-Mail
Bible Studies

Jesus' Parables for Disciples
Beginning the Journey (for new Christians). en Español
1, 2, and 3 John
1 & 2 Thessalonians
1 & 2 Timothy
1 Peter
2 Peter, Jude
1 Corinthians
2 Corinthians
7 Last Words of Christ
Abraham
Acts 1-12: The Early Church
Apostle Paul
Christmas Incarnation
Church
Christ Powered Life (Rom 5-8)
Colossians
Conquering Lamb of Revelation
Daniel
David, Life of
Galatians
Gideon
Grace
Great Prayers
Glorious Kingdom, The
Early Church: Acts1-12
Elijah
Ephesians
Hebrews
Holy Spirit, Disciple's Guide
Isaiah
James
Jacob
Jesus and the Kingdom
John's Gospel
John's Letters
Joshua
Lamb of God
Listening for God's Voice
Lord's Supper
Luke
Mark
Moses
Names of God
Names of Jesus
Parables
Philippians
Psalms
Rebuild & Renew: Post-Exilic Books
Resurrection
Revelation
Sermon on the Mount
Songs of Ascent (Ps 120-135)

Christian Art
About Us
Speaking
Contact Us
Dr. Wilson's Books
Donations
Watercolors
Sitemap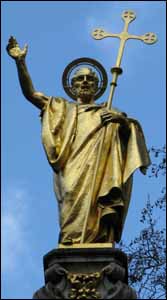 Bertram Mackennal (Australian sculptor, 1863–1931), "New Paul's Cross" (1910), bronze, St. Paul's Cathedral churchyard, London. Larger image.
How vital are a couple of brief letters written from a first century apostle to a young associate? Are they actually relevant to the twenty-first century church? Yes. You'll find them especially helpful to develop as a leader yourself -- and train leaders in your church.
That's what 1 and 2 Timothy are all about. Timothy has been sent to Ephesus to help set a troubled church in order. These letters are Paul's instructions, encouragement, and exhortations to help form Timothy into the kind of leader that can succeed.
In some ways the church at Ephesus seems to have some of the same kinds of problems we see in our churches today. They're relevant!
First, Paul is writing to a church that is big on talk and weak on sound Christian teaching. Recent decades have seen the number of Christian novels and self-help books skyrocket, but at the same time has seen "Christianity Lite" affect more and more churches. Sermons are seldom meaty. Big on inspiration, maybe, but often lacking in the kind of meat and potatoes that can grow solid Jesus followers. 1 and 2 Timothy use the "teach/teacher/teaching" word group 19 times in just two brief letters. Church leaders especially need to seek a personal renewal of their passion for teaching the Word, as "workers that have no need to be ashamed" (2 Timothy 2:15). Paul sees sound teaching as the irreducible core of a healthy, vibrant church. We desperately need that today.
Second, Paul exhorts his young associate about courage in the face of older and more dominant leaders that would oppose his reforms. Timothy, like me and perhaps you, would rather face problem people with passivity rather than action. To put it bluntly, he is timid in the face of opponents. Paul exhorts him to boldness, toward being willing to suffer hardship, if need be, in order to accomplish the task he has been assigned. Paul straightens him up and puts some steel in his backbone. Relevant? Oh, yes!
Third, Paul writes to a situation where evangelism has been sidetracked and de-emphasized. The church has become so embroiled in theological speculation and controversy that they have gone soft on the Great Commission. Paul exhorts Timothy to fulfill his ministry and do the work of an evangelist and reminds us of the core of the gospel: "Here is a trustworthy saying that deserves full acceptance: Christ Jesus came into the world to save sinners!" (1 Timothy 1:15).
Fourth, the church on Paul's heart has leadership problems. Some of the elders have subverted the house-churches ("home groups"), so there is a need for solid leaders on which to rebuild the church. Over my 40 years in ministry, I've seen the desperate recruiting methods our churches use to fill key leadership roles. Sadly, we've drafted many people whose character flaws should have disqualified them from office, but we've gone ahead anyway, neglecting Paul's sound advice about selecting leaders.
Fifth, the moral standards within the church had been compromised by the lifestyle of some of the elders and their disciples. Paul urges Timothy to set an example of godliness among the believers. The "godliness/ungodliness" word group is used 16 times in these two letters. We serve in churches where the moral purity of the faith has been severely compromised by the prevailing mores of our culture to the degree that it's hard to tell Christians from non-Christians by observing only how they conduct themselves in the marketplace, court a future spouse, raise families, and invest their time and money. Godly living is vital -- but ridiculed by our world. Relevant today? Your call!
I invite you to join me on a journey through 1 and 2 Timothy. This isn't a church manual of polity and rules of governance. Rather it constitutes an apostolic crash course for leaders and would-be leaders on how to get our churches healthy again.
May God give us wisdom and conviction as we study so that we may lead the church of Jesus Christ with skill and soundness through the challenges of the twenty-first century.
Yours in Christ's service,
Dr. Ralph F. Wilson
---
Copyright © 2023, Ralph F. Wilson. <pastor

joyfulheart.com> All rights reserved. A single copy of this article is free. Do not put this on a website. See legal, copyright, and reprint information.
Discipleship for New Believers
In-depth Bible study books
You can purchase one of Dr. Wilson's complete Bible studies in PDF, Kindle, or paperback format.


My books are available in paperback and Kindle from Amazon.