Home
Free E-Mail
Bible Studies

Grace
Beginning the Journey (for new Christians). en Español
1, 2, and 3 John
1 & 2 Thessalonians
1 & 2 Timothy
1 Peter
2 Peter, Jude
1 Corinthians
2 Corinthians
7 Last Words of Christ
Abraham
Acts 1-12: The Early Church
Apostle Paul
Christmas Incarnation
Church
Christ Powered Life (Rom 5-8)
Colossians
Conquering Lamb of Revelation
Daniel
David, Life of
Galatians
Gideon
Grace
Great Prayers
Glorious Kingdom, The
Early Church: Acts1-12
Elijah
Ephesians
Hebrews
Holy Spirit, Disciple's Guide
Isaiah
James
Jacob
Jesus and the Kingdom
John's Gospel
John's Letters
Joshua
Lamb of God
Listening for God's Voice
Lord's Supper
Luke
Mark
Moses
Names of God
Names of Jesus
Philippians
Psalms
Rebuild & Renew: Post-Exilic Books
Resurrection
Revelation
Sermon on the Mount
Songs of Ascent (Ps 120-135)

Christian Art
About Us
Speaking
Contact Us
Dr. Wilson's Books
Donations
Watercolors
Sitemap

Introduction to 1 and 2 Thessalonians
Free E-mail Bible Study

Grace: Favor for the Undeserving
by Dr. Ralph F. Wilson
Audio (9:50)
When Paul and his mission band came to Thessalonica about 49 AD, it was one of the most important provincial capitals in the Roman Empire.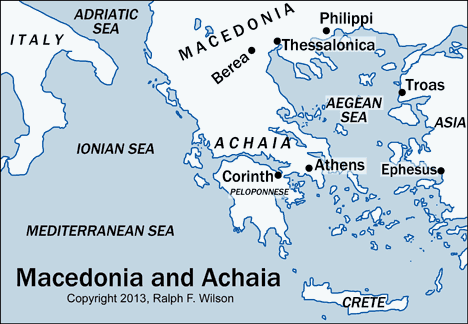 Map of Greece and Macedonia.
Larger map
.
The city of Thessalonica was founded about 315 BC -- on or near the ancient town of Therma -- by Cassander, a general under Alexander the Great, and later, king of Macedonia. The city was named for Cassander's wife, Alexander's half-sister Thessalonica, daughter of Philip II of Macedon. The city was located at the head of the Termaic Gulf, the best natural harbor on the Aegean Sea.
In 146 BC, Thessalonica became capital of the Roman province of Macedonia. In order to administer and protect its far-flung empire, Rome built a network of military highways. Thessalonica was on the Via Egnatia or Egnatian Way, completed in 146 BC, which connected Asia Minor with the Adriatic Sea (and Rome). It reached the Aegean Sea at Thessalonica. Like other major Roman roads, it was about 19.6 feet wide, and paved with large polygonal stone slabs or covered with a hard layer of sand.
Thessalonica became a free city in 42 BC and was the most important and largest city in Macedonia well into the third or fourth century AD. Today it is known as Salonika, the second largest city of modern Greece and an important seaport.
We'll consider the founding of the church in Thessalonica in greater detail in Lesson 1, but here are the basics. According to Acts 17:1-10, Paul, Silas, and Timothy arrive at Thessalonica after leaving Philippi. Paul preaches at the Jewish synagogue in Thessalonica for several weeks, but as opposition develops, he leaves the synagogue to develop a congregation composed primarily of Gentiles. Jewish leaders succeed in stirring up a mob demanding that Paul and Silas be expelled from the city. In order to keep peace, city leaders extract promises and bonds from Jason, a prominent member of the new church, that Paul and Silas will not return. The apostles are secreted away that night under cover of darkness.
Paul goes first to Athens, then to Corinth, where he enjoys a successful 18-month ministry. During this time, Timothy visits Thessalonica and reports back to Paul good news about the church -- as well as its problems. 1 Thessalonians was probably written from Corinth in the later part of 50 AD,[1] and 2 Thessalonians a few months later. 1 Thessalonians is written shortly after receiving a report from Timothy after a recent visit. 2 Thessalonians may have been prompted by a letter from the church.
Paul learns from Timothy several things that are reflected in his first letter. Opponents -- both Jewish and secular -- have degraded Paul's reputation. Part of 1 Thessalonians is to remind the Thessalonians what his character was when he was with them. He is rebuilding his reputation.
The church is suffering considerable persecution, but is increasing in love and good works. Unlike other Pauline churches, their chief problems don't seem to stem from external opponents corrupting their theology (though there may have been outside influence concerning their confusion about the Antichrist and Christ's coming). Paul brings strong correction to the loose sexual morals and over-dependency that is found among some members.
Paul's purpose in these letters is to encourage the new church through persecution, assure them of his character and love for them, and provide some correction in areas where they need it.
While some scholars believe that 2 Thessalonians was the first of the two letters written, there just isn't enough evidence to come to any firm conclusion. I accept the traditional order of the letters' writing.
Since earliest times, both 1 and 2 Thessalonians have been accepted as valid works of Paul, along with his associates Silas and Timothy. Some modern scholars have disputed Paul's authorship of 2 Thessalonians because of the degree of repetition and overlap, and a supposed difference in eschatology between the two letters. But neither argument seems to carry much weight. These letters are the authentic writings of Paul.
Silas and Timothy are named as co-authors in both letters, but the writing is probably Paul's. You probably know a lot about Paul, but here's some background on Silas and Timothy, two essential members of Paul's apostolic team.
We first see Silvanus or Silas (probably a contraction of Silvanus) as one of the "leading men among the brothers" in Jerusalem (Acts 15:22). He is selected to carry a letter from the Jerusalem Council to the Gentile churches. The letter conveys the amazing revelation that the Gentiles need not become Jews to be true Christians. They are only required to observe certain dietary customs to avoid offending their Jewish Christian brothers and sisters -- and to avoid sexual immorality, which was rampant among non-Jews.
Later, Paul selects Silas to accompany him on his Second Missionary Journey, after Paul and Barnabas part company (Acts 15:36-41). Silas travels with Paul through Syria and the provinces of Cilicia, Galatia, and Asia. They are successful in the Macedonian city of Philippi but meet stiff opposition. Paul and Silas were stripped, flogged, and thrown in jail. But the Scripture records:
"About midnight Paul and Silas were praying and singing hymns to God, and the other prisoners were listening to them." (Acts 16:25)
They are freed by an earthquake. The next city they come to was Thessalonica -- and the rest is history. Silas is also mentioned as Paul's co-worker in Berea (Acts 17:14) and in Corinth (2 Corinthians 1:19). Robert C. Campbell observes,
"Silas's ability to continue working in Berea after Paul was compelled to leave may indicate that he was less controversial than Paul."[2]
Probably it is this same Silas who serves as an amanuensis or secretary for the early church's other premier apostle, Simon Peter (1 Peter 5:12). Beyond that we know nothing about Silas.
Timothy (whose name means "honoring God" or "venerating God") was born to a mixed marriage of a Jewish mother and a Greek, unbelieving father. His family lived in the city of Lystra.
On Paul's First Missionary Journey to this Lystra, Timothy, his mother Eunice, and his maternal grandmother Lois become believers (Acts 14:8--20; 2 Timothy 1:5). When Paul visits Lystra on his Second Missionary Journey (Acts 16:1--5), he recognizes the spiritual growth that has taken place in this young man in the intervening years.
Paul sees in Timothy the makings of an associate who can help him in his missionary endeavors. It may sound strange to us, but one of the qualifications Timothy had to meet in order to work with Paul was to be circumcised. Since Timothy was Jewish on his mother's side, he could hardly work with Paul in the synagogues of the Mediterranean as an uncircumcised Jew (Acts 16:3).
Timothy is probably commissioned by Paul and the elders in his home church of Lystra. There is a word of prophecy over him, the laying on of hands, and the impartation of a spiritual gift (1 Timothy 1:18; 4:14; 2 Timothy 1:6), perhaps that of evangelist (2 Timothy 4:5).
And so the partnership begins. Timothy travels with Paul's party as an assistant, apprentice, and proteg3 -- and he gradually proves himself to be a trusted minister in his own right.
He travels with Paul and Silas to Philippi (Acts 16:12) and Berea (Acts 17:14), and joins Paul at Athens. Then he is sent to encourage the church in Thessalonica (1 Thessalonians 3:2) and later is with Paul and Silas in Corinth (1 Thessalonians 1:1; 2 Thessalonians 1:1).
On Paul's Third Missionary Journey, Timothy plays an important role, too. He is sent ahead to Philippi (Acts 19:22), then travels to meet Paul (1 Corinthians 16:10), is with Paul in Corinth (Romans 16:21), and travels with him to Philippi (Acts 20:3--6) before Paul returns to Jerusalem and imprisonment.
When Paul is sent in chains to Rome for trial, Timothy is there with him (Philippians 1:1; 2:19; Colossians 1:1; Philemon 1). He is a great comfort. Paul writes during this time:
"I have no one else like him, who takes a genuine interest in your welfare. For everyone looks out for his own interests, not those of Jesus Christ. But you know that Timothy has proved himself, because as a son with his father he has served with me in the work of the gospel." (Philippians 2:20--22)
Later, Timothy spends some time in prison himself (Hebrews 13:23). After that his history gets fuzzy. Church tradition records that he serves as Bishop of Ephesus until 97 AD, when he is beaten to death and stoned by pagans at the age of about 80.[3]
[1] Bruce, 1&2 Thessalonians, p. xxxv.
[2] Robert C. Campbell, "Silas,"ISBE 4:509.
[3] Eusebius, Church History III, 4, 6; Apostolic Constitutions VII, 46; and Nicephorus, Church History, III, 11.
---
Copyright © 2023, Ralph F. Wilson. <pastor

joyfulheart.com> All rights reserved. A single copy of this article is free. Do not put this on a website. See legal, copyright, and reprint information.
Discipleship for New Believers
In-depth Bible study books
You can purchase one of Dr. Wilson's complete Bible studies in PDF, Kindle, or paperback format.


My books are available in paperback and Kindle from Amazon.