Home
Free E-Mail
Bible Studies

Jesus' Parables for Disciples
Beginning the Journey (for new Christians). en Español
1, 2, and 3 John
1 & 2 Thessalonians
1 & 2 Timothy
1 Peter
2 Peter, Jude
1 Corinthians
2 Corinthians
7 Last Words of Christ
Abraham
Acts 1-12: The Early Church
Apostle Paul
Christmas Incarnation
Church
Christ Powered Life (Rom 5-8)
Colossians
Conquering Lamb of Revelation
Daniel
David, Life of
Galatians
Gideon
Grace
Great Prayers
Glorious Kingdom, The
Early Church: Acts1-12
Elijah
Ephesians
Hebrews
Holy Spirit, Disciple's Guide
Isaiah
James
Jacob
Jesus and the Kingdom
John's Gospel
John's Letters
Joshua
Lamb of God
Listening for God's Voice
Lord's Supper
Luke
Mark
Moses
Names of God
Names of Jesus
Parables
Philippians
Psalms
Rebuild & Renew: Post-Exilic Books
Resurrection
Revelation
Sermon on the Mount
Songs of Ascent (Ps 120-135)

Christian Art
About Us
Speaking
Contact Us
Dr. Wilson's Books
Donations
Watercolors
Sitemap

Appendix 3. References to Moses in the New Testament
by Dr. Ralph F. Wilson


Free E-mail Bible Study

Jesus' Parables for Disciples
Moses is mentioned many times in the New Testament, always positively, though occasionally with reference to the Old Covenant which is contrasted with the New. At no place is he criticized or denigrated, but rather honored.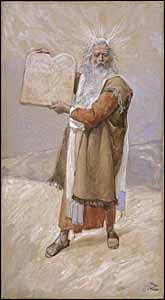 James J. Tissot, "Moses and the Ten Commandments" (1896-1900), watercolor, Jewish Museum, New York. Larger image.
Moses as Lawgiver
Purification, Law of Moses (Luke 2:22)
Cleansing of lepers (Matthew 8:4 ; Mark 1:44; Luke 5:14)
Divorce (Matthew 19:7-8; Mark 10:3-5; Luke 20:28)
To Pharisees who cheated widows: Mark 7:10)
Sadducees on Levirate marriage (Matthew 22:24; Mark 12:19)
Parable of Lazarus and the Rich Man (Luke 16:29, 31)
Moses is accuser of Pharisees (John 5:45-46)
Law of Moses to be observed (John 7:23)
Moses commanded adulteress be stoned (John 8:5)
Disciples of Moses (John 9:28-29)
Stephen accused of blasphemy against Moses (Acts 6:11, 14)
Stephen relates history of Moses (Acts 7:20-44)
Circumcision taught by Moses (Acts 15:1, 5)
Paul accused of turning people from Moses (Acts 21:21)
Quotes Moses positively (Romans 9:15; 10:5, 19; 1 Corinthians 9:9)
Baptized into Moses in the cloud (1 Corinthians 10:2)
Veil over Moses' face (2 Corinthians 3:7, 13, 15)
Jannes and Jambres (Egyptian magicians) opposed Moses (2 Timothy 3:8)
Contrast of Moses' law vs. grace and truth (John 1:17)
Justification from sin by law of Moses limited (Acts 13:39)
Moses preached in every city (Acts 15:21)
Death reigned from Adam to Moses (Romans 5:14)
Moses was faithful, Jesus has greater honor (Hebrews 3:2-5)
Tabernacle is copy of what is in heaven (Hebrews 8:5)
Moses confirmed covenant with people (Hebrews 9:19)
Those who reject Law of Moses die (Hebrews 10:28)
With Elijah and Jesus at Transfiguration (Matthew 17:3-4; Mark 9:4-5; Luke 9:30, 33.)
Moses at bush heard from the living God (Mark 12:26; Luke 20:37)
Moses lifted up snake (John 3:14)
Moses gives bread from heaven (John 6:32)
Moses led rebels out of Egypt (Hebrews 3:16)
Moses didn't mention priests from tribe of Judah (Hebrews 7:14)
By faith, Moses (Hebrews 11:24-29)
Moses terrified at Mt. Sinai (Hebrews 12:21)
Dispute about body of Moses (Jude 1:9)
The song of Moses the servant of God and of the Lamb (Rev 15:3)
Jesus gives an exposition of references to himself in Law of Moses (Luke 24:44)
Philip's testimony: Moses wrote about Jesus (John 1:45; 5:46)
Quotes: God will raise up another prophet (Acts 3:22)
Moses predicted Jesus (Acts 26:22)
In Rome Paul taught Jesus from Law of Moses (Acts 28:23)
---
Copyright © 2023, Ralph F. Wilson. <pastor

joyfulheart.com> All rights reserved. A single copy of this article is free. Do not put this on a website. See legal, copyright, and reprint information.
Discipleship for New Believers
In-depth Bible study books
You can purchase one of Dr. Wilson's complete Bible studies in PDF, Kindle, or paperback format.


My books are available in paperback and Kindle from Amazon.