Home
Free E-Mail
Bible Studies

Jesus' Parables for Disciples
Beginning the Journey (for new Christians). en Español
1, 2, and 3 John
1 & 2 Thessalonians
1 & 2 Timothy
1 Peter
2 Peter, Jude
1 Corinthians
2 Corinthians
7 Last Words of Christ
Abraham
Acts 1-12: The Early Church
Apostle Paul
Christmas Incarnation
Church
Christ Powered Life (Rom 5-8)
Colossians
Conquering Lamb of Revelation
Daniel
David, Life of
Galatians
Gideon
Grace
Great Prayers
Glorious Kingdom, The
Early Church: Acts1-12
Elijah
Ephesians
Hebrews
Holy Spirit, Disciple's Guide
Isaiah
James
Jacob
Jesus and the Kingdom
John's Gospel
John's Letters
Joshua
Lamb of God
Listening for God's Voice
Lord's Supper
Luke
Mark
Moses
Names of God
Names of Jesus
Parables
Philippians
Psalms
Rebuild & Renew: Post-Exilic Books
Resurrection
Revelation
Sermon on the Mount
Songs of Ascent (Ps 120-135)

Christian Art
About Us
Speaking
Contact Us
Dr. Wilson's Books
Donations
Watercolors
Sitemap

Day 10. The Lamb Who Is Our Shepherd (Revelation 7:15-17)
Free E-mail Bible Study

Jesus' Parables for Disciples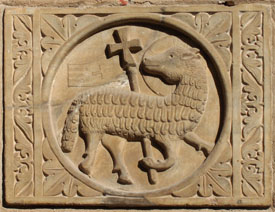 Medieval Agnus Dei with halo and cross; half-relief on the wall of the atrium, Euphrasian Basilica, Poreč, Croatia.
We are still pondering the innumerable band of white-robed saints from every nation, tribe, people, and tongue. They have washed their robes in the blood of the Lamb and made them white, we're told.
"Therefore they are before42 the throne of God, and serve him day and night in his temple." (Revelation 7:15a)
Notice that God's throne room in heaven is also his "temple." We shouldn't be surprised. In the imagery of the Tabernacle in the Wilderness, Yahweh's throne is the portable Ark of the Covenant; his throne room is the Holy of Holies (more on this on Day 21).
Observe that these white-robed saints are not in the presence of God only for a special occasion. No, they are there perpetually -- twenty-four hours a day. They "serve him night and day." Theirs is not the required service of servants or slaves (which would be Greek doulos). The verb latreuō here is rather specific: they serve as worshipers, carrying out religious services before the throne.43
These white-robed saints who have stood fast in the tribulation are now home free. God himself will protect them and provide for their needs.
"He who sits on the throne will shelter them with his presence." (Revelation 7:15b)
This sheltering of the Almighty is difficult to translate exactly in English. The verb is skēnoō, from skēnos, "tent, tabernacle." Literally, it means to spread one's tent over (NIV), then, "to dwell, reside" (KJV).44 Verse 16 spells out some of the things God's shelter will protect them from.
"They shall hunger no more,
neither thirst anymore;
the sun shall not strike them,
nor any scorching heat." (Revelation 7:16)
These words echo promises from the Old Testament.
"Then the LORD will create over all of Mount Zion
and over those who assemble there a cloud of smoke by day
and a glow of flaming fire by night;
over all the glory will be a canopy.45
It will be a shelter46 and shade from the heat of the day,
and a refuge and hiding place from the storm and rain." (Isaiah 4:5-6, NIV)
"The LORD is your keeper;47
the LORD is your shade on your right hand.
The sun shall not strike you by day,
nor the moon by night." (Psalm 121:5-6)
With the Father as the Shelter of these white-robed saints, the Lamb himself has a special role.
"For the Lamb in the midst48 of the throne will be their shepherd,
and he will guide them to springs of living water." (Revelation 7:17a)
Here is another delightful paradox, the Lamb will be the Shepherd, literally, "will
tend them as a shepherd."49 Usually the lamb is led by the shepherd. Here the Lamb himself leads. This reference brings many associations from Scripture:
"The Lord is my shepherd...." (Psalm 23)
"I am the good shepherd.
The good shepherd lays down his life for the sheep." (John 10:11)
To emphasize the spiritual nature of the Lamb's shepherding, our passage specifies that "and he will guide50 them to springs of living water." "Living water" refers to running water, rather than cisterns or pools that dry up in the heat of summer. The Holy Land, especially the deserts of Judah, can become arid between the fall and spring rainy seasons (KJV, the early and latter rains).51 For sheep to survive, their shepherd must know the oases and watering holes of the land, and be able to lead the sheep safely to the next place that will slack their thirst. That is the picture here. Water is a symbol of life and salvation throughout the Scripture, so we see images of "the fountain of life" (Psalm 36:9), "wells of salvation" (Isaiah 12:3), "streams in the desert" (Isaiah 35:6), "the Fountain of Living Waters" (Jeremiah 2:13). In Jesus' teaching, "springs of living water" represent eternal life, ever-bubbling up from the source, never going dry. Jesus taught,
"Whoever drinks of the water that I will give him
will never be thirsty again.
The water that I will give him will become in him a spring of water
welling up to eternal life." (John 4:14)
"Whoever believes in me, as the Scripture has said,
'Out of his heart will flow rivers of living water.'" (John 7:38)
We'll see this theme of living water culminate on Day 23. Dear friend, the Lamb who is the Shepherd will lead you to life that continues to bubble up in abundance forever and forever. Just follow him.
The passage concludes with another promise.
"God will wipe away every tear from their eyes." (Revelation 7:17b)
This is a promise given by the Prophet Isaiah concerning the Last Days.52 We see the same promise at the close of Revelation.
"He will wipe away every tear from their eyes,
and death shall be no more,
neither shall there be mourning, nor crying, nor pain anymore,
for the former things have passed away." (Revelation 21:4)
If you live long enough, you suffer loss after loss. Loss is compounded. Loss of parents, loss of a husband or wife, of a brother or sister. Sometimes even loss of a child. The pain can be overwhelming and, even though it may diminish with time, it never goes away completely. But when we are before God's throne, he wipes every tear from our eyes. What we have in the Lord completely overwhelms and heals any loss we've experienced in the past.
When the people of God are released from Babylon, they return to their homeland with great joy. But as we finally come to the House of God, the heavenly Zion, our joy will be complete.
"And the ransomed of the LORD shall return
and come to Zion with singing;
everlasting joy shall be upon their heads;
they shall obtain gladness and joy,
and sorrow and sighing shall flee away." (Isaiah 35:10)
Jesus' call is both simple and profound. When early disciples ask where he lives, he invites them, "Come and see." When he calls fisherman from Galilee's fishing fleet, he tells them, "Follow me." At its root, Christianity is not a body of doctrine one learns minutely and then subscribes to. It is following the Shepherd wherever he leads us. Sometimes it is through pastures green. And sometimes through scary places where the enemy lurks. But he leads us through those places because they are necessary to get to the promise of the other side.
That's the message of this day. Follow the Lamb. He knows where he is going. Trust him with your fears and your seemingly depthless sorrows. He knows the way. He will meet your needs now. He knows where to find the abundant springs of ever-flowing water. And ultimately, the Lamb will lead you to Zion, the heavenly Jerusalem, to the very presence of God. Hallelujah!
Prayer
Lord Jesus, I've been following after you for many years and found you faithful. You are my Shepherd who guides me, and the Lamb that dies and rises and conquers. Help me to follow you in this next stage of my life, for you know the way. In your holy name, I pray. Amen.
Day 10 Meditation (Revelation 7:15-17). In what way does the Lamb seek to guide you as a Shepherd? What will this require of you? What do the "springs of living water" represent in your life? Have you exhausted these springs yet -- or even really found them? What tears do you need wiped away from your eyes?
https://www.joyfulheart.com/forums/topic/1884-day-10-shepherd/
Endnotes
(References and Abbreviations)
[42] "Before" is enōpion, "pertaining to a position in front of an entity, before someone or something" (BDAG 342, 1).
[43] "Serve" (NIV, ESV, KJV), "worship" (NRSV) is latreuō, "serve, in our literature only of the carrying out of religious duties, especially of a cultic nature, by human beings" (BDAG 587). "To render religious service or homage, to worship" (Thayer 372, b). Also in Revelation 22:3, "The throne of God and of the Lamb will be in it, and his servants (doulos) will worship (latreuō) him" (Revelation 22:3, ESV).
[44] "Shelter with his presence" (ESV), "shelter" (NRSV), "dwell among" (KJV), literally, "spread his tent over them" (NIV) is skēnoō (from skēnos, "tent"), "live, settle, take up residence"... on Revelation 7:15 "over or above them", i.e. "shelter them," of God (BDAG 929). "To fix one's tabernacle, have one's tabernacle, abide (or live) in a tabernacle (or tent)." On this verse, "God will spread his tabernacle over them, so that they may dwell in safety and security under its cover and protection" (Thayer, 578).
[45] "Canopy" (NIV, ESV, NRSV), "defense" (KJV) is ḥuppâ, "canopy," from ḥāpap, "cover, shelter, shield" (TWOT #710b).
[46] "Shelter" is sukkâ, "covert, thicket, booth" (TWOT #1492d).
[47] "Keeper" is a participle of the verb shāmar, "keep, guard, observe." The basic idea of the root is "to exercise great care over" (TWOT #2414).
[48] "Midst" (ESV, KJV), "center" (NIV, NRSV) is the adjective mesos, "1. pertaining to a middle position spatially or temporally, middle, in the middle. 2. pertaining to a position within a group, without focus on mediate position, 'in the midst of, among' in answer to the questions where and whither (also Revelation 5:6b; 6:6).
[49] "Shepherd" (NIV, ESV, NRSV), "feed" (KJV) is the verb poimainō, "to serve as tender of sheep, herd, tend, (lead to) pasture," here, "protect, care for, nurture" (BDAG 842, 2b).
[50] "Guide" is hodēgeō, "to assist in reaching a desired destination, lead, guide" (BDAG 690, 1).
[51] Deuteronomy 11:14; Jeremiah 5:24; Joel 2:23; etc.
[52] Isaiah 25:8; 30:19; 35:10; 60:20.
Copyright © 2023, Ralph F. Wilson. <pastor

joyfulheart.com> All rights reserved. A single copy of this article is free. Do not put this on a website. See legal, copyright, and reprint information.
Discipleship for New Believers
In-depth Bible study books
You can purchase one of Dr. Wilson's complete Bible studies in PDF, Kindle, or paperback format.


My books are available in paperback and Kindle from Amazon.