Home
Free E-Mail
Bible Studies

Jesus' Parables for Disciples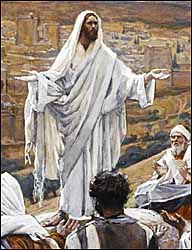 James Tissot, detail of "The Lord's Prayer"(1886-96), watercolor, Brooklyn Museum, New York. Full image.
We are so used to nicely crafted sermons and tidy Christian platitudes, that we are shocked when we encounter the radical Jesus. And radical he was!
With his cousin, John the Baptist, he came onto the scene and began to preach that the Kingdom of God was at hand. The Reign of God had come to First Century Palestine in the person of Jesus of Nazareth.
We like the comfort of the Beatitudes:
"Blessed are the poor in spirit,
for theirs is the kingdom of heaven."(Matthew 5:3)
How gentle!
But when we actually begin to listen to Jesus' parables of the Kingdom, we are taken aback. Consider, for example:
The Parable of the Sower and the Soils (Matthew 13:1-9, 18-23). It teaches that a person's faith can become choked with the thorns of wealth and worries. Is he talking about your faith? Your spiritual life?
The Parable of the Unmerciful Servant (Matthew 18:21-35) describes a person who refuses to forgive a minor fault despite the fact that he has just been forgiven a humungous debt. Surely, that doesn't apply to me!
The Parable of the Talents (Matthew 25:14-30) makes us pause. Does it mean that we will be held accountable to God himself for the way we use what he has given us? Am I the servant who buried his talent?
This can get uncomfortable. I am sure it made Jesus' first hearers uncomfortable too. But they were so fascinated by the power of the unvarnished truth that they came back again and again. And this Man healed them!
What is this Kingdom of God? Why is it Good News? Why does it demand so much from me?
I invite you to come to grips with the raw truths that Jesus taught, without the sugarcoating of modern religion. Come back with me to the first century roads and villages of Galilee and Judea and hear again your Master teach.
You'll find that the seed of his word will sprout and grow in you afresh, strong and fruitful. I look forward to walking with you on this journey through Jesus' teachings of the Kingdom.
Yours in Christ,
Pastor Ralph
September 24, 2010
---
Copyright © 2023, Ralph F. Wilson. <pastor

joyfulheart.com> All rights reserved. A single copy of this article is free. Do not put this on a website. See legal, copyright, and reprint information.
Discipleship for New Believers
In-depth Bible study books
You can purchase one of Dr. Wilson's complete Bible studies in PDF, Kindle, or paperback format -- currently 48 books in the JesusWalk Bible Study Series.
Old Testament
Gospels
Acts
Pauline Epistles
General Epistles
Revelation
Topical
Grace: Favor for the Undeserving


My books are available in paperback and Kindle from Amazon.