Home
Free E-Mail
Bible Studies

Jesus' Parables for Disciples
Beginning the Journey (for new Christians). en Español
1, 2, and 3 John
1 & 2 Thessalonians
1 & 2 Timothy
1 Peter
2 Peter, Jude
1 Corinthians
2 Corinthians
7 Last Words of Christ
Abraham
Acts 1-12: The Early Church
Apostle Paul
Christmas Incarnation
Church
Christ Powered Life (Rom 5-8)
Colossians
Conquering Lamb of Revelation
Daniel
David, Life of
Galatians
Gideon
Grace
Great Prayers
Glorious Kingdom, The
Early Church: Acts1-12
Elijah
Ephesians
Hebrews
Holy Spirit, Disciple's Guide
Isaiah
James
Jacob
Jesus and the Kingdom
John's Gospel
John's Letters
Joshua
Lamb of God
Listening for God's Voice
Lord's Supper
Luke
Mark
Moses
Names of God
Names of Jesus
Parables
Philippians
Psalms
Rebuild & Renew: Post-Exilic Books
Resurrection
Revelation
Sermon on the Mount
Songs of Ascent (Ps 120-135)

Christian Art
About Us
Speaking
Contact Us
Dr. Wilson's Books
Donations
Watercolors
Sitemap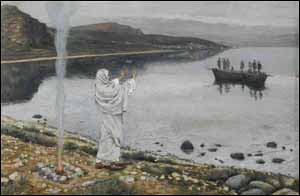 James J. Tissot, 'Jesus Christ Appears on the Shore of Lake Tiberias' (1884-96), gouache on gray wove paper, 5-7/8" x 9-1/16", Brooklyn Museum, New York.
The Gospel is almost finished. There remains a scene on the beach at Galilee.
Many commentators believe that this was not part of the Gospel as it was first written, that it was written later -- and surely the final sentences, verses 24 and 25 were written by an editor, not John. The reasons that some see chapter 21 as an addition are two-fold:
John 20:30-31 explaining the purpose of the Gospel, seem like the closing words. They wrap up the Gospel rather neatly.
The reason for the addition, it is suggested, is to correct a misperception that John wouldn't die before Jesus comes (verses 22-23), and thus protect the church when the Apostle John eventually did die.
However, it's not that simple. Many others observe that:
There is no break in style between the first 20 chapters and chapter 21.
No ancient manuscript whosoever contains John's Gospel without chapter 21.
My own tentative conclusion is that all of chapter 21 -- except perhaps verses 24 and 25 -- were written by John himself. The reason for the seeming break between the chapters is primarily the time that followed by a few days or weeks the events of Holy Week that occupied chapters 13 through 20 of the Gospel, though they may have been written later.
---
Copyright © 2023, Ralph F. Wilson. <pastor

joyfulheart.com> All rights reserved. A single copy of this article is free. Do not put this on a website. See legal, copyright, and reprint information.
Discipleship for New Believers
In-depth Bible study books
You can purchase one of Dr. Wilson's complete Bible studies in PDF, Kindle, or paperback format.


My books are available in paperback and Kindle from Amazon.