Home
Free E-Mail
Bible Studies

Jesus' Parables for Disciples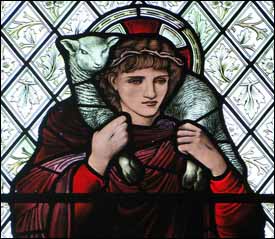 Edward Burne-Jones, 'Good Shepherd' stained glass window (1895), Harris Manchester College, Oxford.
John's Gospel includes a number of passages that include two Greek words together,
egō eimi
, "I am.""
[375]
When these words are used emphatically, "I am" is a rather unveiled reference to the name by which God revealed himself to Moses as Yahweh -- "I AM THAT I AM" (Exodus 3:14). In saying "I am" in this way, Jesus is declaring his divinity and oneness with the Father.
Here are the "I AM" passages found in John that include a predicate:
"I am the bread of life" (6:35, 48, 51).
"I am the light of the world (8:12, cf. 9:5).
"I am the gate for the sheep" (10:7, 9).
"I am the good shepherd" (10:11, 14).
"I am the resurrection and the life" (11:25).
"I am the way, the truth, and the life" (14:6).
"I am the vine" (15:1, 5)
Elsewhere in John we see "I am" in clauses structured a bit differently.
"I am [he]" -- Jesus of Nazareth (18:5, 6).
"I am [he]" (8:24) -- unless you believe you'll die in your sins.
"I am [he]" (8:28) -- the Son of Man.
"Before Abraham was, I am!" (8:58).
"I am he" (13:19) -- the one referred to in Psalm 41:9.
In the Garden of Gethsemane, when the soldiers come looking for Jesus of Nazareth, he answers, "I am" (egō eimi) (18:5-6, 8).
It is no coincidence that John emphasizes Jesus' "I AM" statements. He wants his readers to believe in Jesus as the Son of God and have eternal life (20:31).
Endnotes
---
Copyright © 2023, Ralph F. Wilson. <pastor

joyfulheart.com> All rights reserved. A single copy of this article is free. Do not put this on a website. See legal, copyright, and reprint information.
Discipleship for New Believers
In-depth Bible study books
You can purchase one of Dr. Wilson's complete Bible studies in PDF, Kindle, or paperback format -- currently 48 books in the JesusWalk Bible Study Series.
Old Testament
Gospels
Acts
Pauline Epistles
General Epistles
Revelation
Topical
Grace: Favor for the Undeserving


My books are available in paperback and Kindle from Amazon.