Home
Free E-Mail
Bible Studies

Jesus' Parables for Disciples
Beginning the Journey (for new Christians). en Español
1, 2, and 3 John
1 & 2 Thessalonians
1 & 2 Timothy
1 Peter
2 Peter, Jude
1 Corinthians
2 Corinthians
7 Last Words of Christ
Abraham
Acts 1-12: The Early Church
Apostle Paul
Christmas Incarnation
Church
Christ Powered Life (Rom 5-8)
Colossians
Conquering Lamb of Revelation
Daniel
David, Life of
Galatians
Gideon
Grace
Great Prayers
Glorious Kingdom, The
Early Church: Acts1-12
Elijah
Ephesians
Hebrews
Holy Spirit, Disciple's Guide
Isaiah
James
Jacob
Jesus and the Kingdom
John's Gospel
John's Letters
Joshua
Lamb of God
Listening for God's Voice
Lord's Supper
Luke
Mark
Moses
Names of God
Names of Jesus
Parables
Philippians
Psalms
Rebuild & Renew: Post-Exilic Books
Resurrection
Revelation
Sermon on the Mount
Songs of Ascent (Ps 120-135)

Christian Art
About Us
Speaking
Contact Us
Dr. Wilson's Books
Donations
Watercolors
Sitemap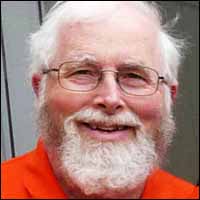 Dr. Ralph F. Wilson
James was a practical man. He had seen hypocrisy -- in himself, in the Pharisees, in everyday Christians -- and he would have none of it! His letter to the early Christian churches is practical and convicting. He talks about heart Christianity worked out in actions. He discusses love and then insists that Christian love can't just speak compassionate words to the hungry -- love must feed them.
James was Jesus' brother, growing up in the same household. During Jesus' ministry, James had been a skeptic. After Christ's resurrection, however, he believed and became the lead pastor of the Church at Jerusalem, helping to set the tone for the emerging Christian movement.
Martin Luther called James' Letter "a right strawy epistle" since it didn't present salvation by grace as clearly as in Paul's letters. But many have found it to be "a right convicting epistle." James has a way of slicing through all our rationalizations and defenses, and speaking to our hearts with power. James' Letter speaks to building Christian character.
Over the course of this brief letter, James discusses key themes to help disciples mature in the faith:
Standing firm during trials and temptations,
Living out the Christian faith in practical ways rather than just studying or hearing it,
Loving selflessly,
Taming the tongue,
Humbling oneself before God,
Trusting in God rather than in wealth, and
Exercising patience.
He concludes these traits of a disciple with a call to praying with faith. I suspect both you and I need to come back to these and let the Lord continue to work on us.
May God use this study to help you grow as an authentic disciple with a life patterned after James' brother and Master, Jesus Christ the Lord.
Dr. Ralph F. Wilson
Loomis, California
23 April 2022
Copyright © 2023, Ralph F. Wilson. <pastor

joyfulheart.com> All rights reserved. A single copy of this article is free. Do not put this on a website. See legal, copyright, and reprint information.
Discipleship for New Believers
In-depth Bible study books
You can purchase one of Dr. Wilson's complete Bible studies in PDF, Kindle, or paperback format.


My books are available in paperback and Kindle from Amazon.