Home
Free E-Mail
Bible Studies

Jesus' Parables for Disciples
Beginning the Journey (for new Christians). en Español
1, 2, and 3 John
1 & 2 Thessalonians
1 & 2 Timothy
1 Peter
2 Peter, Jude
1 Corinthians
2 Corinthians
7 Last Words of Christ
Abraham
Acts 1-12: The Early Church
Apostle Paul
Christmas Incarnation
Church
Christ Powered Life (Rom 5-8)
Colossians
Conquering Lamb of Revelation
Daniel
David, Life of
Galatians
Gideon
Grace
Great Prayers
Glorious Kingdom, The
Early Church: Acts1-12
Elijah
Ephesians
Hebrews
Holy Spirit, Disciple's Guide
Isaiah
James
Jacob
Jesus and the Kingdom
John's Gospel
John's Letters
Joshua
Lamb of God
Listening for God's Voice
Lord's Supper
Luke
Mark
Moses
Names of God
Names of Jesus
Parables
Philippians
Psalms
Rebuild & Renew: Post-Exilic Books
Resurrection
Revelation
Sermon on the Mount
Songs of Ascent (Ps 120-135)

Christian Art
About Us
Speaking
Contact Us
Dr. Wilson's Books
Donations
Watercolors
Sitemap

Introduction to the Letter of James
Free E-mail Bible Study

Jesus' Parables for Disciples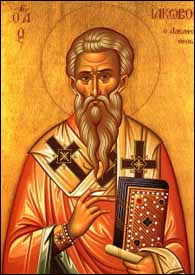 Icon of James the Just, from OrthodoxWiki.org
The Letter of James is one of those no-nonsense New Testament books. James tells it like it is with no holds barred. He doesn't seem concerned that he'll offend someone. He just says it. I've found that the Letter of James is a great place in which to mine and refine practical Christian living.
The Epistle of James is included among the "General" or "Catholic" epistles, since the exact recipient church is not specified. Rather, it seems to have a more general audience, a letter to the whole Church. It is addressed "to the twelve tribes scattered among the nations." The term "twelve tribes" is reminiscent of the 12 tribes of Israel, but it is pretty clear he isn't addressing primarily Jews, but followers of Jesus. So the "twelve tribes" are more figurative, and the expression seems to view the believers as a kind of New Israel and a New Diaspora in the world.
Some in the early church felt that the Letter of James was pseudepigraphic, that is, the ascription of a false name of an author to the work.
While early church historian Eusebius (c. 263 - c. 339) regarded the Epistle as canonical (that is, as authoritative Scripture), he says,
"The first of the Epistles styled Catholic is said to be by James the Lord's brother; but it ought to be known that it is held by some to be spurious. Certainly not too many ancient writers have mentioned it."
Jerome (c. 348 - c. 420), great translator of the Latin Vulgate Bible, wrote:
"James, who is called the Lord's brother, wrote one Epistle only, which is one of the seven catholic Epistles, which, it is asserted, was published under his name by another, although little by little as time went on it obtained authority."
Ultimately, the Church came to accept the Epistle not only as apostolic, but also that it should be attributed to James, brother of Jesus Christ (Matthew 13:55; Mark 6:3; Galatians 1:19) and the head of the early church at Jerusalem. James apparently became a believer as a direct result of the resurrection of Christ: "he appeared to Peter, and then to the Twelve... Then he appeared to James, then to all the apostles..." (1 Corinthians 15:5, 7). This James was one of the only apostles that Paul met soon after his conversion (Galatians 1:19), and figured prominently in the Jerusalem Council outlined in Acts 15. He was referred to by Hegesippus (c. 180) as "James the Just," because of his faithful observance of the Jewish law.
The other prominent James mentioned in the New Testament was the brother of John, one of the sons of Zebedee, and a member of Jesus' inner circle of "Peter, James, and John." However, he was beheaded by Herod Agrippa I in 44 AD (Acts 12:2).
James who authored the Letter of James is known as James the Just or James of Jerusalem. He is sometimes confused with James, son of Alphaeus (Mark 3:18), who has been called James the Lesser to differentiate him from the Apostle James the son of Zebedee.
James the Just was martyred about 63 AD. According to Eusebius, James the Just, because of his reputation for righteousness, Jewish leaders asked him to stand on the pinnacle of the temple and warn the people against the doctrine that Jesus had been resurrected and would come again. When he did the opposite, they pushed him to the ground, stoned him, and beat him to death with a fuller's club.1 Josephus records that he was stoned.2
In Christian iconography, St. James the Less often holds something intended to look like a fuller's club (the weapon of his martyrdom). In some paintings the "club" is slimmer and has a wooden board attached at a right angle to the end.
Assuming we accept the Letter's authorship by James the Just, the brother of Jesus, it could have been written any time between 40 and 60 AD, but probably closer to 60 AD.
Martin Luther was a bit hard on James, since the letter didn't fit closely enough to his carefully defined doctrine of sola fide, "only faith." James says "faith without works is dead" (James 2:17, 26), and that was a bit much for the Reformer. He wrote about the Letter:
"In fine, Saint John's Gospel and his first Epistle, Saint Paul's Epistles, especially those to the Romans, Galatians, Ephesians, and Saint Peter's first Epistle, -- these are the books which show thee Christ, and teach thee everything that is needful and blessed for thee to know even though thou never see or hear any other book or doctrine. Therefore is Saint James's Epistle a right strawy Epistle in comparison with them, for it has no gospel character to it."3
As we study the Letter, we'll see that James' divergence from Paul's salvation by grace doctrine is verbal, but not actual or real. And Luther to the contrary, I've found James a very challenging part of my growth as a disciple. He doesn't allow me to hide behind my profession of faith, deceiving myself. He challenges me to live out my faith in my everyday actions, by a love for the helpless, a controlled tongue, earnest prayer, and a concern for the wandering.
I greatly enjoy and am chastened by the Letter of James. I hope the same for you.
Endnotes
[1] Eusebius, Church History 2:23
[2] Josephus, Antiquities 20.9.1
[3] From Luther's introduction to the 1522 edition of his German New Testament, Ropes' translation.
Copyright © 2023, Ralph F. Wilson. <pastor

joyfulheart.com> All rights reserved. A single copy of this article is free. Do not put this on a website. See legal, copyright, and reprint information.
Discipleship for New Believers
In-depth Bible study books
You can purchase one of Dr. Wilson's complete Bible studies in PDF, Kindle, or paperback format.


My books are available in paperback and Kindle from Amazon.