Home
Free E-Mail
Bible Studies

Jesus' Parables for Disciples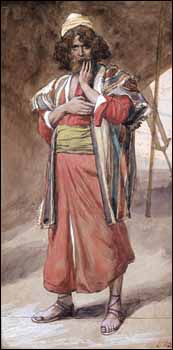 James J. Tissot, "Jacob" (c. 1896-1902), gouache on board, 24.4 x 12.3 cm, Jewish Museum, New York.
Jacob is a troubling character in the Old Testament. He is conniving and he is spiritual too. He has moments of strong faith as well as of fear. His family is sometimes in disarray, and yet at the end he is the one who sets it straight.
Jacob, whose very name suggests "deceiver," is renamed by God as "Israel"--"one who has struggled with God."And an entire nation is named after him, the nation of Israel.
Jacob is a bit too much like us, with very human strengths and weaknesses, but a man with a striving for spiritual things.
From this imperfect man we learn important lessons of faith. Especially, we learn about God's grace.
The events described in Jacob's story comprise most of Genesis chapters 25-49. If you haven't read the Old Testament much, you'll be pleased to find that God can speak to you here --loud and clear. Try to accept the fact that the culture described here is nearly 4,000 years ago and they did things differently then. But you'll quickly see that the people and their problems haven't changed much. The story of Jacob is a great opportunity to learn important lessons about ourselves and our God.
This is not the kind of Bible study for the faint of heart. We'll be looking at some issues that don't have nice, neat answers. But life is like that. You'll grow through this process. You'll become closer to, more sensitive to, more obedient to God --plus you'll learn to study your Bible in a new way.


These lessons are also available as in e-book and paperback formats, 133 pages.
I originally wrote this in 1998 as an early attempt at online Bible study. Since then, it has been completely revised, annotated, and adapted for an interactive e-mail Bible study, complete with discussion questions that can be used by individuals in an online forum, as well as by classes and small groups. The questions are designed to force you to grapple with the core issues and spiritual lessons that lie a little below the surface. I encourage you to take the time to answer these questions, as they are one of the keys to a deeper understanding and application of the material.
My prayer is that you will grow in your faith as you study the Life of Jacob. I know God has challenged my life in the course of my studies. I pray he will challenge and refine your life, too.
Yours in Christ's service,
Dr. Ralph F. Wilson
Loomis, California
January 1, 2010
Copyright © 2023, Ralph F. Wilson. <pastor

joyfulheart.com> All rights reserved. A single copy of this article is free. Do not put this on a website. See legal, copyright, and reprint information.
Discipleship for New Believers
In-depth Bible study books
You can purchase one of Dr. Wilson's complete Bible studies in PDF, Kindle, or paperback format -- currently 48 books in the JesusWalk Bible Study Series.
Old Testament
Gospels
Acts
Pauline Epistles
General Epistles
Revelation
Topical
Grace: Favor for the Undeserving


My books are available in paperback and Kindle from Amazon.