Home
Free E-Mail
Bible Studies

Jesus' Parables for Disciples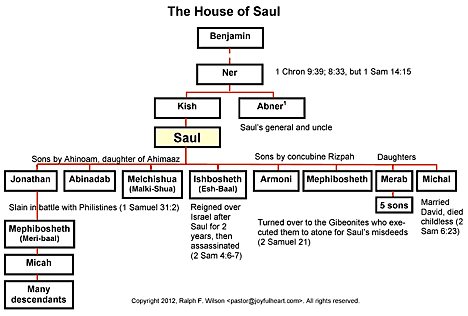 Larger image of the genealogy of the House of Saul
[1] Ner could be interpreted as Kish's brother in 1 Chronicles 9:36, thus Saul's cousin. However, in 1 Chronicles 8:33 and 9:39, Ner is clearly the father of Kish. Thus Abner is Saul's uncle (1 Samuel 14:50-51). The word is dwd, "beloved uncle." The word is used in the Old Testament 58 times. 38 are 'beloved' (all in Song of Solomon), 8 are 'love,' and 17 are 'uncle' (Earl S. Kalland, dwd, TWOT #410a). It is possible, however, that there may have been two men named Kish, one being Ner's brother and the other his son, "we just don't know ("Ner," ISBE 3:519-520; M.L. Margolis, "Abner," ISBE 1:12-13).
---
Copyright © 2023, Ralph F. Wilson. <pastor

joyfulheart.com> All rights reserved. A single copy of this article is free. Do not put this on a website. See legal, copyright, and reprint information.
Discipleship for New Believers
In-depth Bible study books
You can purchase one of Dr. Wilson's complete Bible studies in PDF, Kindle, or paperback format -- currently 48 books in the JesusWalk Bible Study Series.
Old Testament
Gospels
Acts
Pauline Epistles
General Epistles
Revelation
Topical
Grace: Favor for the Undeserving


My books are available in paperback and Kindle from Amazon.