Home
Free E-Mail
Bible Studies

Grace
Beginning the Journey (for new Christians). en Español
1, 2, and 3 John
1 & 2 Thessalonians
1 & 2 Timothy
1 Peter
2 Peter, Jude
1 Corinthians
2 Corinthians
7 Last Words of Christ
Abraham
Acts 1-12: The Early Church
Apostle Paul
Christmas Incarnation
Church
Christ Powered Life (Rom 5-8)
Colossians
Conquering Lamb of Revelation
Daniel
David, Life of
Galatians
Gideon
Grace
Great Prayers
Glorious Kingdom, The
Early Church: Acts1-12
Elijah
Ephesians
Hebrews
Holy Spirit, Disciple's Guide
Isaiah
James
Jacob
Jesus and the Kingdom
John's Gospel
John's Letters
Joshua
Lamb of God
Listening for God's Voice
Lord's Supper
Luke
Mark
Moses
Names of God
Names of Jesus
Philippians
Psalms
Rebuild & Renew: Post-Exilic Books
Resurrection
Revelation
Sermon on the Mount
Songs of Ascent (Ps 120-135)

Christian Art
About Us
Speaking
Contact Us
Dr. Wilson's Books
Donations
Watercolors
Sitemap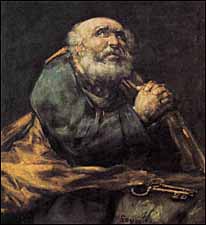 Francisco de Goya y Lucientes, "St. Peter Repentant" (1823-25), oil on canvas, 29 x 25.5 cm, Phillips Collection, Washington
Paul concludes his letter to the Colossians with instructions on prayer and witnessing, as well as personal notes and greetings.
First, some words on prayer. This isn't a carefully outlined teaching, just the brief encouragements that come to the apostle's mind as he writes to the church.
"Devote yourselves to prayer, being watchful and thankful." (4:2)
Perhaps their praying has been ragged and hit and miss. Paul gives three characteristics in prayer that they need to work on:
1. Persistence. "Devote" (NIV, NRSV), "continue in" (KJV) is proskartereō, "to persist in something," here, "busy oneself with, be busily engaged in, be devoted to," 1 from pros, "on, at"+ kartereō, "be steadfast, endure." It's easy to skip times of prayer, to rush over our devotional time because we're so busy. Also, we have a spiritual enemy who tries to distract us from talking to God. But Paul highlights prayer's importance: persist in prayer, be devoted to it!
2. Alertness. "Being watchful" (NIV), "keeping alert" (NRSV), "watch" (KJV) is grēgoreō, "to stay awake, be watchful," then figuratively as here, "to be in constant readiness, be on the alert." 2 The verb comes from egrēgora, "to have been roused from sleep, to be awake," the perfect of egeirō, "wake, arouse" someone from sleep. Have your prayers ever put you to sleep? Mine have. We can go through the motions of prayer without having our minds in gear. Paul urges attention to what we're doing. This is not just a mindless exercise. It is communication with the Most High God.
3. Thankfulness. "Being thankful" (NIV), "thanksgiving" (NRSV, KJV) is eucharistia, "the expression or content of gratitude, the rendering of thanks, thanksgiving," from which we get our English word "Eucharist." 3 Prayer is not just petitioning God to do this or that. It is communication with a person. Prayer includes thankfulness, which is the language of faith. When we thank God for what he has done, it encourages us in faith to expect answers to our other prayers.
Now Paul asks for specific prayers to be made for him.
"3 And pray for us, too, that God may open a door for our message, so that we may proclaim the mystery of Christ, for which I am in chains. 4 Pray that I may proclaim it clearly, as I should." (4:3-4)
Notice that Paul doesn't ask prayer for just himself. He sees himself as part of a ministry team -- even while in jail in Rome. Along with Paul are his co-worker Timothy (1:1) and others, including his fellow prisoner Aristarchus (4:10a), Mark (4:10b), Jesus Justus (4:11), Epaphras (4:12), Luke (4:14a), and Demas (4:14b). Some were well-trained workers by now, able to minister independently. Others, Paul probably had with him to train for future ministry. Paul asks prayer for the whole team.
Paul has two primary requests:
That God will provide opportunities to speak the Word.
That God will help them proclaim the Word with clarity.
Paul's first request is for an open door:
"And pray for us, too, that God may open a door for our message, so that we may proclaim the mystery of Christ, for which I am in chains." (4:3)
This figure of an open door signifying opportunity occurs several other times in the New Testament.
[Paul and Barnabas] "reported all that God had done through them and how he had opened the door of faith to the Gentiles." (Acts 14:27)
"But I will stay on at Ephesus until Pentecost, because a great door for effective work has opened to me...." (1 Corinthians 16:8-9)
"I went to Troas to preach the gospel of Christ and found that the Lord had opened a door for me." (2 Corinthians 2:12)
[To the church in Philadelphia]: "See, I have placed before you an open door that no one can shut." (Revelation 3:8)
Jesus himself used this terminology as he instructed his disciples about prayer:
"So I say to you: Ask and it will be given to you; seek and you will find; knock and the door will be opened to you.... To him who knocks, the door will be opened." (Luke 11:9-10)
"Pray," Paul says, "that God may open a door for our message4 " (4:3). Have you ever had a time when you couldn't seem to find a handle on a situation, a place to start on a project, a strategy for evangelism? Do you seem to be beating your head against a wall with no effect?
Sometimes we have no opportunities because of our laziness. But Paul -- even in prison5 -- was anything but lazy! Unless God creates an opportunity, we are ineffective. When God opens the door of opportunity, we need to be ready to step through it.
How often do you ask others to pray for you that you may have an opportunity to witness at work, to say a word to a loved one about Christ? This kind of prayer should be often on our lips and God is able to answer it.
Paul isn't asking prayer for a preaching opportunity. That's a different Greek word. Here he seems to be asking for an opportunity to speak personally -- perhaps to Caesar's representative, or the Praetorian Guard, or to his keepers.
"Pray that I may proclaim it clearly, as I should." (4:4)
"Proclaim clearly" (NIV), "reveal clearly" (NRSV), "make manifest" (KJV) translate two words: laleō, the most common word for "say, speak"6 and phaneroō (which we've seen before with regard to Christ being revealed), "to cause to become known, disclose, show, make known." 7
So Paul's request for prayer while he is in prison is not for his welfare, but for effectiveness in personal ministry. Send an opportunity, O Lord. Then when you provide it, let me speak with such clarity that the message will be communicated. He is talking about everyday evangelism.
Q2. (Colossians 4:3-4) What prayer request does Paul ask of the Colossian believers? What does it mean to pray for an "open door." Why does he ask for prayer in communicating the gospel? Isn't he an "old hand" at this? Why does he need help?
http:/www.joyfulheart.com/forums/index.php?showtopic=986
Now he speaks to the Colossian believers about their everyday evangelism.
"5 Be wise in the way you act toward outsiders; make the most of every opportunity. 6 Let your conversation be always full of grace, seasoned with salt, so that you may know how to answer everyone." (4:5-6)
The outsiders that Paul is referring to are those who are outside the community of Christian believers. The way we act or conduct ourselves8 with non-Christians is important. We need to be wise and loving.
You've probably seen Christians act in outrageous ways around unbelievers, in ways that might make you want to crawl in a hole and disappear. That is why Paul calls for practical wisdom.9 Sometimes we're so embarrassed by the behavior of fellow Christians that we bend the other way and remain completely silent. That isn't the answer, says Paul.
Instead, we are literally to "redeem the time" (KJV). What does that mean? The phrase uses two words.
"Opportunity" (NIV), "time" (KJV, NRSV) is kairos, a word that carries the idea here of "favorable time, opportunity." 10
"Make the most of" (NIV, NRSV), "redeeming" (KJV) is exagorazō. The basic meaning is "deliver, liberate," but a figurative sense used here is "to gain something," especially advantage or opportunity, "make the most of." 11
So Paul tells us to take full advantage of every opportunity we are given. In Ephesians a similar exhortation is followed by a reason: "because the days are evil" (Ephesians 5:16).
We can't afford to miss opportunities to speak an effective word for Christ in our everyday conversation12 with non-Christians when the opportunity presents itself.
"Let your conversation be always full of grace, seasoned with salt, so that you may know how to answer everyone." (4:6)
"Full of grace" (NIV), "gracious" (NRSV), "grace" (KJV) is the key concept underlying our conversations. "Grace" (charis) is used commonly by Paul to express the free gift of salvation through Christ, since the basic meaning of charis is "favor" that is expressed by the giver of his own will, without any need for the recipient to respond in kind, that is, undeserved favor. But in this context, charis has a widely used meaning in common Greek, "a winning quality or attractiveness that invites a favorable reaction, graciousness, attractiveness, charm, winsomeness." For example, the same word is used in Luke 4:22 to describe Jesus' "gracious words."
To understand what this is, contrast loving, open, friendly speech with an attitude and words that are perceived by non-Christian neighbors as being:
Defensive
Condescending
Holier-than-thou
Cold
Manipulative
Negative
Hard
Legalistic
Critical
Na´ve
Pushy
Uncaring
You know what I mean. So often the worldly caricature of "born again" Christians is negative. In films and television, Christians aren't often portrayed as loving, open, caring people, as would be required by Paul's expression "full of grace" or "gracious." Why? Partly because we're in a spiritual warfare in which Satan is seeking to poison people's minds against Christians. But partly because we haven't learned to be gracious and loving.
Next we find the phrase "seasoned with salt." In the Sermon on the Mount, Jesus used the figure of saltiness in the context of witness (Matthew 5:13). He's not talking about salt's use as a preservative there, but its tastiness, its flavorfulness, the way it gives just the right added flavor and tang to food to make it exquisite to the palate.13
The NASB translates this verse, "with grace, as though seasoned with salt," making "seasoned with salt," as an explanation of full of grace rather than a different quality altogether. It's very possible that this is Paul's meaning.
Grace and love are the unique tang of our testimony, if we're following Jesus. So often we try to blend in with a tasteless and insipid world. No! We have a unique flavor of grace that the world needs -- and is desperate for, if they can recognize it as genuine and not self-serving.
Paul's instruction concludes with the phrase, "so that you may know how to answer everyone." Peter said it this way:
"Always be prepared to give an answer to everyone who asks you to give the reason for the hope that you have. But do this with gentleness and respect...." (1 Peter 3:15)
We'd like, of course, to be able to answer questions about Christianity with a thorough knowledge of the Bible, to stun our critics by the force of our logic and our preparation through apologetics courses to field any question.
But the point of Paul's and Peter's counsel to us is two-fold:
Willingness to seize the opportunities God gives; don't be silent.
Be gracious and gentle in your reply.
That is what we all can do, from the youngest Christian to the most mature believer. And that is what we must do to serve Christ as his witnesses here on earth.
Q3. (Colossians 4:5-6) What instructions does Paul give us in sharing our faith with non-believers? Why, do you think, we sometimes let opportunities slip by? How will our conversation being "full of grace" help us represent Christ well?
http:/www.joyfulheart.com/forums/index.php?showtopic=987
Now Paul turns from practical teaching to personal comments, as he winds down his letter. First is Tychicus.14 He was Paul's traveling companion on several occasions, and later a person whom Paul could send as his representative to troubleshoot problems in the various churches (Acts 20:4; Ephesus 6:21; 2 Timothy 4:12; Titus 3:12).
"7 Tychicus will tell you all the news about me. He is a dear brother, a faithful minister and fellow servant in the Lord. 8 I am sending him to you for the express purpose that you may know about our circumstances and that he may encourage your hearts." (4:7-8)
These words are very similar to Paul's comments at the end of his Letter to the Ephesians. Ephesus, remember, is about 100 miles west of Colossae, the large capital city on the west coast of Asia Minor. It is likely that Tychicus will carry letters to both Ephesus and Colossae at the same time -- or come soon after -- to represent Paul personally in both churches. Notice Paul's description of him in verse 7:
Dear brother
Faithful minister (diakonos, "minister, servant")
Fellow servant in the Lord (sundoulos, "fellow-slave")
Tychicus isn't commended as a great speaker or a fiery evangelist, but one who is faithful and reliable, a good solid co-worker upon whom Paul could rely, who was committed to the mission. Do you have this quality of faithfulness?
His mission is two-fold:
Relay information, "that you may know about our circumstances," thus building both prayer and financial support.
Encouragement, "that he may encourage your hearts."
This sounds like the purpose of many missionary presentations in our own day. Sometimes our congregations can become isolated from the "front lines." It's vital that we stay in touch -- and be touched by -- Christ's work around the world.
"He is coming with Onesimus, our faithful and dear brother, who is one of you. They will tell you everything that is happening here." (4:9)
Onesimus,15 we'll learn as we study the brief Letter to Philemon, is a runaway slave who has met Paul in Rome, become a Christian, and is now returning to his master, Philemon, in hopes of being freed.
10 My fellow prisoner Aristarchus sends you his greetings, as does Mark, the cousin of Barnabas. (You have received instructions about him; if he comes to you, welcome him.) 11 Jesus, who is called Justus, also sends greetings. These are the only Jews among my fellow workers for the kingdom of God, and they have proved a comfort to me." (4:10-11)
Aristarchus is one of Paul's travel companions, a Jewish-Christian Macedonian from Thessalonica (Acts 19:29; 20:4; 27:2; Philemon 24). He is currently in Rome in prison as is Paul. It is clear, however, that Paul is able to communicate with him regularly. They may even be staying together, guarded by the same guard.
John Mark is also with Paul in Rome at this time. He had gone on Paul's first missionary journey with Barnabas, but had left early. As he planned his second trip, Paul wasn't eager to include him, causing Mark and his cousin Barnabas to set out on their own missionary trip to Cyprus (Acts 12:12, 25; 15:37-39; 2 Timothy 4:11; Philemon 24). But the rift has healed and Paul has left instructions to the churches to receive Mark openly.
Mark was also an associate of Peter, who may have been in prison in Rome about the very same time as Paul. According to Irenaeus (died 202 AD), after Peter's and Paul's deaths in Rome, "... Mark, the disciple and interpreter of Peter, did also hand down to us in writing what had been preached by Peter," 16 that is, the Gospel of Mark.
"Jesus, who is called Justus," also Jewish, is mentioned only here in the Bible.
"12 Epaphras, who is one of you and a servant of Christ Jesus, sends greetings. He is always wrestling in prayer for you, that you may stand firm in all the will of God, mature and fully assured. 13 I vouch for him that he is working hard for you and for those at Laodicea and Hierapolis." (4:12-13)
Epaphras, you'll remember from the Introduction and Lesson 1 (1:7-8), is probably the founder of the Church in Colossae. He has gone to Rome to seek out Paul and ask him to write a letter to the Colossians to help the believers understand how they are being deceived by the false teachers. In Lesson 1 we examined four characteristics of his character and ministry: beloved, a fellow-servant or fellow-slave of Christ, faithful, and a "minister of Christ."
In his letter to Philemon, Paul speaks of Epaphras as "my fellow prisoner in Christ Jesus" (Philemon 1:23), so apparently he is incarcerated at this time with Paul -- on what charge we do not know.
What we learn new about Epaphras in this passage is that he "is always wrestling in prayer for you." This term "wrestling" (NIV, NRSV), "laboring fervently" (KJV) is agōnizomai (related to the noun agōn which we saw in 1:7). The basic idea is "to engage in an athletic contest." Here the word is used figuratively, generally "to fight, struggle." 17
This teaches us that intercessory prayer is not easy. It is "labor intensive," as Paul says that Epaphras is "working hard" (4:13) for the readers. The phrase is literally "he has much labor," employing the noun ponos, "work that involves much exertion or trouble, (hard) labor, toil." The word can also imply the experience of great trouble on account of his prayers.18 Since intercessory prayer is spiritual warfare of a rather intense nature, it can be draining. The ministry of intercessory prayer is behind the scenes, but of vital importance for the health and success of the church's ministry.
Notice that Epaphras is praying for three churches, clustered within a few miles of each other: Colossae, Laodicea, and Hierapolis.19 These churches were closely tied both geographically and in ministry.
"Our dear friend Luke, the doctor, and Demas send greetings." (4:14)
Paul's companion during his imprisonment is Luke, "the beloved physician," who had travelled extensively with him. Paul refers to him as a "fellow-worker" in Philemon 24. He was with Paul at the end of his life (2 Timothy 4:11).
Luke20 wrote both the Gospel of Luke and the Acts of the Apostles, almost one quarter of the New Testament. Apparently, he was a Gentile, since he is spoken of separately from those with Paul at Rome who were Jews (4:11). According to the Anti-Marcionite Prologue to the Gospel of Luke (perhaps from the late second century AD), we learn that:
"Luke is a Syrian of Antioch, a Syrian by race, a physician by profession. He had become a disciple of the apostles and later followed Paul until his (Paul's) martyrdom, having served the Lord continuously, unmarried, without children, filled with the Holy Spirit he died at the age of eighty-four years in Boeotia." 21
Demas22 was another of Paul's close associates, mentioned here and in Philemon 24. But, sadly, he was not with Paul at the end. Paul writes:
"Do your best to come to me quickly, for Demas, because he loved this world, has deserted me and has gone to Thessalonica." (2 Timothy 4:9-10)
Laodicea was about 12 miles west of Colossae, larger and more important. Paul has also written them a letter, which, unfortunately, has not survived.
"15 Give my greetings to the brothers at Laodicea, and to Nympha and the church in her house. 16 After this letter has been read to you, see that it is also read in the church of the Laodiceans and that you in turn read the letter from Laodicea." (4:15-16)
Greek Nymphan23 could refer to either a male or female resident of Laodicea, since the preposition "their" or "her" has different readings in ancient texts.24
Notice the reference to "the church in her house" (4:15). Up until the third century the church didn't normally have buildings dedicated to public worship. Rather, they met in homes, usually the larger homes of the wealthier members of the church (Philemon 2; Romans 16:5; 1 Corinthians 16:19; and Acts 12:12). For us to imagine that a bigger church is a better church is a modern phenomenon. In ancient times a large church in a city would be distributed among many house churches, with multiple elders presiding over the various parts of the flock (see Acts 20:17-35; 11:30; 14:23; 15:4; 16:4; 1 Timothy 15:7; Titus 1:5; James 5:14; 1 Peter 5:1).
Now Paul singles out Archippus for an exhortation. From Philemon we learn that Archippus was a leader in the church at Colossae -- Paul calls him "our fellow soldier." Perhaps he is the son of Philemon and Apphia (Philemon 1-2). Here is Paul's word:
"Tell Archippus: 'See to it that you complete the work you have received in the Lord.'" (4:17)
"See to it" (NIV), "see" (NRSV), "take heed" (KJV) is blepō, "to see," here with the connotation, "to pay especially close attention to something, notice, mark something." When used in the imperative, as here, it sometimes means "beware" or "look to." 25 "Work" (NIV), "task" (NRSV), "ministry" (KJV) is diakonia, "service," here "functioning in the interest of a larger public, service, office," 26 perhaps "assignment." "Complete" (NIV, NRSV), "fulfill" (KJV) is plēroō, "fill," here, "to bring to a designed end, fulfill." 27
I fear that there are many in our churches whom God has called to particular ministries -- either formal ministries or informal ones within the congregation or in the community -- who have gotten sidetracked. For one reason or another they haven't fulfilled the responsibility or call that God has placed on them. As a result, ministry is going undone, people are going uncared for, work is neglected, and the ministry of Christ on earth is lacking.
Is that you to whom God is speaking in this verse? If so, do what God has called you to do. Perhaps you can't fulfill it as you might have years ago, but do what you can now. God is patiently, tenderly, lovingly, longingly speaking to you.
Paul concludes with three simple sentences:
"I, Paul, write this greeting in my own hand. Remember my chains. Grace be with you." (4:18)
First, he assures them that the letter is authentic. Though a trained scribe probably wrote the bulk of Paul's letters, the last few lines were written in his own hand to show his readers that he indeed wrote it (1 Corinthians 16:21; Galatians 6:11; 2 Thessalonians 3:17; Philemon 19).
Next, he calls on them to "remember my chains." He is reminding them to pray for him -- that is how the verb is used elsewhere (1 Thessalonians 1:3; Hebrews 13:7, etc.).

A book of the compiled lessons is available in both e-book and paperback formats.
Finally he offers them a word of grace, a "grace wish," that was common at the close of his letters -- also found in secular letters. But while secular letters might ask the favor of the gods, Paul is invoking the grace of the Lord Jesus Christ that brought forgiveness where judgment was deserved, reconciliation where alienation was expected, and life where death had been the sentence. Paul expresses God's wish for you, too: "Grace -- God's rich, full, free grace be with you!" Amen.
Prayer
Thank you for your grace, O Lord. You are so good to us. Thank you also for the faithful people of God who have been obedient to you, and in spite of suffering, deprivation, and death, have preserved the gospel for us, and shared it and taught it to each one of us. Thank you! In Jesus' name, we pray. Amen.
Key Verses
"Devote yourselves to prayer, being watchful and thankful." (Colossians 4:2, NIV)
"Be wise in the way you act toward outsiders; make the most of every opportunity. Let your conversation be always full of grace, seasoned with salt, so that you may know how to answer everyone." (Colossians 4:5-6, NIV)
"Tell Archippus: 'See to it that you complete the work you have received in the Lord.'" (Colossians 4:17, NIV)
References
---
Copyright © 2022, Ralph F. Wilson. <pastor

joyfulheart.com> All rights reserved. A single copy of this article is free. Do not put this on a website. See legal, copyright, and reprint information.
Discipleship for New Believers
In-depth Bible study books
You can purchase one of Dr. Wilson's complete Bible studies in PDF, Kindle, or paperback format.


My books are available in paperback and Kindle from Amazon.