Home
Free E-Mail
Bible Studies

Jesus' Parables for Disciples
Beginning the Journey (for new Christians). en Español
1, 2, and 3 John
1 & 2 Thessalonians
1 & 2 Timothy
1 Peter
2 Peter, Jude
1 Corinthians
2 Corinthians
7 Last Words of Christ
Abraham
Acts 1-12: The Early Church
Apostle Paul
Christmas Incarnation
Church
Christ Powered Life (Rom 5-8)
Colossians
Conquering Lamb of Revelation
Daniel
David, Life of
Galatians
Gideon
Grace
Great Prayers
Glorious Kingdom, The
Early Church: Acts1-12
Elijah
Ephesians
Hebrews
Holy Spirit, Disciple's Guide
Isaiah
James
Jacob
Jesus and the Kingdom
John's Gospel
John's Letters
Joshua
Lamb of God
Listening for God's Voice
Lord's Supper
Luke
Mark
Moses
Names of God
Names of Jesus
Parables
Philippians
Psalms
Rebuild & Renew: Post-Exilic Books
Resurrection
Revelation
Sermon on the Mount
Songs of Ascent (Ps 120-135)

Christian Art
About Us
Speaking
Contact Us
Dr. Wilson's Books
Donations
Watercolors
Sitemap

Day 17. The Shepherds Visit the Christ Child (Luke 2:15-20)
Free E-mail Bible Study

Jesus' Parables for Disciples
Tuesday, Third Week of Advent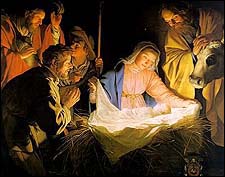 Gerard (Gerrit) van Honthorst (1590-1656), 'Adoration of the Shepherds' (1622). 164 x 190 cm, Wallraf-Richartz-Museum, Cologne.
Read from your Bible Luke 2:15-20
On Day 16 we looked at the angels and their message. Now we turn to the recipients of the message, the shepherds.
Before the angels came, the shepherds were resting quietly under the starry sky.
"And there were shepherds living out in the fields nearby,
keeping watch over their flocks at night." (Luke 2:8)
Tending flocks and growing crops formed the basis of the Palestinian economy. Sheep raised on the hillsides around Bethlehem may well have been destined for temple sacrifices in Jerusalem, only six miles to the north.112
Some of Israel's great heroes were shepherds -- Abraham, Isaac, Jacob, and David. Psalm 23 compares God's care to that of a Good Shepherd. In the first century, it seems, shepherds -- specifically, hireling shepherds -- don't command much respect. Nevertheless, these shepherds seem like devout men, even though they are from a despised class.113 They live most of the year outside, away from the townspeople.114 They are constantly with their sheep, since the sheep are vulnerable to all kinds of trouble. The shepherds make sure that the sheep are safe from wandering off and injuring themselves, as well as from dangers from thieves and wolves.115
The angels appear to the shepherds and give them good news. Now the shepherds have a choice.
"When the angels had left them and gone into heaven, the shepherds said to one another, 'Let's go to Bethlehem and see this thing that has happened, which the Lord has told us about.' So they hurried off and found Mary and Joseph, and the baby, who was lying in the manger." (Luke 2:15-17)
They hurry to Bethlehem. Where do you find a manger? In a stable, of course. Perhaps they split up to survey the whole town and quickly check out the stables in this village until they find one with a baby sleeping in it. Then perhaps one whistles to signal that the manger and baby have been found. They gather and meet the Holy Family. Though we're not told this, I am sure they kneel before the child in worship. And then they share with Mary and Joseph their story of the angelic visitation. Mary looks at Joseph and nods. It was as the angel told them months before.
"When they had seen him, they spread the word116 concerning what had been told them about this child, and all who heard it were amazed at what the shepherds said to them." (Luke 2:18)
Now they go and tell others what the angels have told them, just like the villagers did after the remarkable birth of John the Baptist (Luke 1:65). The angel's announcement of "a savior, Christ the Lord" is spoken of throughout the area, resulting in amazement in the hearers. The word is out; the Messiah is born!
"But Mary treasured up all these things and pondered them in her heart." (Luke 2:19)
If you are Mary, you have much to think about.117 Consider what she has to make sense of:
The announcement of the birth by Gabriel (Luke 1:26-38);
Joseph's dream of an angel (Matthew 1:20-22);
Zechariah's vision in the temple (Luke 1:5-25) that she heard about from Elizabeth;
Elizabeth's prophecy (Luke 1:39-46);
Mary's own prophetic praise in the Magnificat (Luke 1:46-56);
Zechariah's prophecy when John the Baptist was born (Luke 1:57-79), which she may have been present to hear; and
The shepherd's story of the angelic glory and tidings of good news (Luke 2:8-14).
A lot for a teenage girl to integrate into her own understanding and circumstances!
"The shepherds returned, glorifying and praising God for all the things they had heard and seen, which were just as they had been told." (Luke 2:20)
The final scene in this passage is the shepherds climbing back up the hill to where their flocks lie. The angel had told them what to expect and that's just the way they found it. We leave them glorifying and praising God.118
God brings Good News to the poor and humble. The shepherds, sometimes despised by their countrymen, are the first recipients of the Good News of Jesus' birth. Since God is no respecter of persons, we aren't to show favoritism either.
Appropriate responses to this Good News include "great joy" (Luke 2:10), praise (Luke 2:13-14, 20), curiosity to confirm its truth (Luke 2:15-16), amazement (Luke 2:18), telling others (Luke 2:17), and thoughtful meditation (Luke 2:19). Nowhere do we see unbelief.
Prayer
Thank you, Lord, for the faith and curiosity of the shepherds who confirmed the presence of the Holy Child in a manger on Christmas night. Give us faith and boldness to seek him out too. In Jesus' name, we pray. Amen.
Discussion Question
Q17. (Luke 2:15-20) How did the shepherds know to find the Holy Family? According to verses 17, 18, and 20, what was their response to finding Christ? What was Mary's reaction?
https://www.joyfulheart.com/forums/topic/2091-q17-shepherds/
Endnotes
[111] "Those with whom he is pleased" (ESV), "those whom he favors" (NRSV). The meaning of this phrase depends upon the case (nominative or genitive) of the Greek noun eudokia, which can mean either, (1) "state or condition of being kindly disposed, good will," or (2) "state or condition of being favored, favor, good pleasure" (BDAG 404-405). The KJV translation is based on the Textus Receptus that renders "good will" in the nominative case. However, newer translations, based on the oldest Alexandrian and Western Greek manuscripts, render it in the genitive case, "on earth peace among those whom he favors" (NRSV). Similar Semitic phrases -- "sons of his [God's] good pleasure and "the elect of his good pleasure" -- occur in several Qumran hymns (Metzger, p. 133, citing 1 QH iv.32f.; xi.9; viii.6). Marshall, Luke, p. 112.
[112] Morris, Luke, p. 84. He cites Rabbinical sources to the effect that flocks were only to be kept in the wilderness (Mishnah, Baba Kamma 7:7; Talmud Baba Kamma 79b-80a). Any animal found between Jerusalem and a spot near Bethlehem must be presumed to be a sacrificial victim (Mishna, Shekalim 7:4).
[113] Jeremias, Jerusalem, pp. 304-305: "Most of the time they were dishonest and thieving; they led their herds onto other people's land and pilfered the produce of the land." He cites b. Sanh. 25b; Strack and Billerbeck II, 114; M.B.K. x.9; T.B.K. xi.9, 370; b. Ket. 62b; b.B.K. 94b Bar. Green, Luke, p. 130, disputes this analysis. Rather, he sees them merely as "peasants, located toward the bottom of the scale of power and privilege." Marshall, Luke, p. 108, too, notes that the tradition of despised shepherds is late. Morris, Luke, pp. 84-85.
[114] "Abiding in the field" (KJV) is the Greek verb agrauleō, "live out of doors" (BDAG 15). Flocks were kept outside in this way from April to November, and, sometimes during the winter, in suitable locations (Marshall, Luke, p. 108, cites Strack and Billerbeck II, 114-116 and Morris, Luke, p. 84).
[115] "Keeping watch" is a combination of two related Greek words. The verb is phylassō, "to carry out sentinel functions, watch, guard" (BDAG 1068). The noun is phylakē, "the act of guarding." Together they carry the idea of "keep watch, do guard duty" (BDAG 1067).
[116] The NIV's translation "spread the word" seems to miss the point, which is rendered well in the KJV and NRSV: "They made known what had been told them about this child."
[117] Luke uses two verbs to describe Mary's thinking process: "Treasured up" (NIV) or "kept all these things" (KJV) is the Greek verb syntēreō, "to store information in one's mind for careful consideration, hold or treasure up (in one's memory)" (BDAG 975). "Pondered" is the Greek verb symballō (a compound word made from syn-, "together" and ballō, "throw"), which means here, "to give careful thought to, consider, ponder," something similar to our colloquial "get it all together" (BDAG 956).
[118] Glorifying is Greek doxazō, the verb form of doxa. Praising is Greek aineō, "to praise," with the root idea of "express approval" (BDAG 27). Also in Luke 2:13.
Copyright © 2023, Ralph F. Wilson. <pastor

joyfulheart.com> All rights reserved. A single copy of this article is free. Do not put this on a website. See legal, copyright, and reprint information.
Discipleship for New Believers
In-depth Bible study books
You can purchase one of Dr. Wilson's complete Bible studies in PDF, Kindle, or paperback format.


My books are available in paperback and Kindle from Amazon.