Home
Free E-Mail
Bible Studies

Grace
Beginning the Journey (for new Christians). en Español
1, 2, and 3 John
1 & 2 Thessalonians
1 & 2 Timothy
1 Peter
2 Peter, Jude
1 Corinthians
2 Corinthians
7 Last Words of Christ
Abraham
Acts 1-12: The Early Church
Apostle Paul
Christmas Incarnation
Church
Christ Powered Life (Rom 5-8)
Colossians
Conquering Lamb of Revelation
Daniel
David, Life of
Galatians
Gideon
Grace
Great Prayers
Glorious Kingdom, The
Early Church: Acts1-12
Elijah
Ephesians
Hebrews
Holy Spirit, Disciple's Guide
Isaiah
James
Jacob
Jesus and the Kingdom
John's Gospel
John's Letters
Joshua
Lamb of God
Listening for God's Voice
Lord's Supper
Luke
Mark
Moses
Names of God
Names of Jesus
Philippians
Psalms
Rebuild & Renew: Post-Exilic Books
Resurrection
Revelation
Sermon on the Mount
Songs of Ascent (Ps 120-135)

Christian Art
About Us
Speaking
Contact Us
Dr. Wilson's Books
Donations
Watercolors
Sitemap

Day 1. Gabriel's Announcement to Mary (Luke 1:26-38)
Free E-mail Bible Study

Grace: Favor for the Undeserving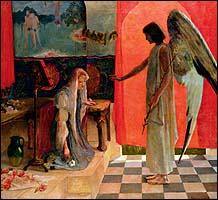 Rupert Charles Wolston Bunny (Australian painter, 1864-1947), The Annunciation (1893).
(Readings and prayers for lighting the First Advent Candle are available in Appendix 1.)
Read in the Bible: Luke 1:26-38
We begin our daily Advent readings with Gabriel's appearance to Mary.
"26 In the sixth month, God sent the angel Gabriel to Nazareth, a town in Galilee, 27 to a virgin pledged to be married to a man named Joseph, a descendant of David. The virgin's name was Mary." (Luke 1:26-27)
Mary is a young girl of marriageable age, perhaps 13 to 15 years old. In fact, she is already betrothed to a man named Joseph, a carpenter in town. Though she isn't actually married yet, the betrothal is a legal ceremony that makes Mary his wife by law. The wedding ceremony is probably scheduled a few of months hence -- we don't know.
I imagine Mary alone. Suddenly, an angel appears to her and brings a startling message. The angel's name is Gabriel, which means, "God is powerful" or "man of God." This same angel had appeared to her relative Zechariah a few months previously (Luke 1:11) and to the prophet Daniel (Daniel 8:16; 9:21) hundreds of years before.
"28 The angel went to her and said, 'Greetings, you who are highly favored! The Lord is with you. 29 Mary was greatly troubled at his words and wondered what kind of greeting this might be. 30 But the angel said to her,
'Do not be afraid, Mary, you have found favor with God.
31 You will be with child and give birth to a son,
and you are to give him the name Jesus.
32 He will be great
and will be called the Son of the Most High.
The Lord God will give him the throne of his father David,
33 and he will reign over the house of Jacob forever;
his kingdom will never end.'" (Luke 1:28-33)
Gabriel tells her not to be afraid -- easy for him to say. Angels are terrifying, especially when they appear out of nowhere. God isn't looking to harm you, Mary. No indeed! He looks on you with favor. Gabriel's message is three-fold:
Mary will become pregnant
She will give birth to a son whom she is to name "Jesus."
He will be great, in fact, the greatest man ever to live, the Messiah, the heir of king David's throne (which we'll discuss on Day 7).
God had promised David that one of his sons would always sit upon the throne of the kingdom (2 Samuel 2:10-16) -- an eternal throne! The other Old Testament personage who had received such a promise is the Son of Man (Daniel 7:13-14, whom we will discuss on Day 25).
"His dominion is an everlasting dominion that will not pass away,
and his kingdom is one that will never be destroyed." (Daniel 7:14b)
This young teenager is trembling, but she shows lots of poise with her next question.
"'How will this be,' Mary asked the angel, 'since I am a virgin?'" (Luke 1:34)
Notice that her question is not one of unbelief but of means. How will God go about this?
"The angel answered,
'The Holy Spirit will come upon you,
and the power of the Most High will overshadow you.
So the holy one to be born will be called the Son of God.'" (Luke 1:35)
The angel discloses more information. The Holy Spirit will "overshadow" her and thus bring about conception.
The next line is amazing:
"So the holy one to be born will be called the Son of God." (Luke 1:35c)
The term "son of God" was widely used to refer to the Messiah, David's offspring, echoing God's words to David a thousand years before regarding David's son Solomon.3
"I will be his father, and he will be my son." (2 Samuel 7:14a)
But it's obvious that the angel means it in a different way, a way that explains the actual biological parentage of Jesus; Mary will become pregnant by God's Spirit.
Half-way through verse 35 we see the word "so" or "therefore."4
"So the holy one to be born will be called the Son of God." (Luke 1:35d)
Since God is the Father of this child it makes logical sense that he shall be called the Son of God -- the literal, 'biological' Son of God.
It's a pretty mind-blowing concept! It took the Church hundreds of years to figure out how to express this relationship clearly, but in the Nicene Creed (325, 381 AD) the Church Fathers came up with these words that represent well what Christians believe:
"We believe in ... one Lord Jesus Christ,
the only‑begotten Son of God,
⁠begotten of his Father before all worlds,
⁠God of God, Light of Light,
⁠very God of very God,
⁠begotten, not made,
⁠being of one substance with the Father."
One key phrase "being of one substance," can be rendered "of one Being with the Father," or, if you want the theological term, "consubstantial."
Jesus isn't created like the rest of God's created beings. Rather he is begotten from God's own being and essence -- the same "stuff" God himself is made of -- and thus "equal with God" (Philippians 2:6; John 5:18). Christ being born in human flesh is what we call the Incarnation (Latin in + carne, "flesh"). Jesus is the God-Man, both God and Man, God in human flesh. This heavy-duty miracle is central to the Christmas story and the gospel. (We'll talk more about it on Christmas Day, Day 26, and Day 28).
Now the angel informs Mary that her elderly relative Elizabeth is also pregnant, the once-barren priest's wife who lives in Judea.
"36 Even Elizabeth your relative is going to have a child in her old age,
and she who was said to be barren is in her sixth month.
37 For nothing is impossible with God." (Luke 1:36-37)
You're not the only one experiencing a miraculous birth, Mary. Why don't you contact Elizabeth and compare notes with her. Hint, hint! We'll learn more about her trip to Elizabeth's house on Day 2.
The passage concludes with Mary's consent.
"'I am the Lord's servant,' Mary answered. 'May it be to me as you have said.' Then the angel left her." (Luke 1:38 )
Mary's response to all this is amazing! She acknowledges to the angel that since she sees herself as one who serves God, "the handmaiden of the Lord," as the KJV puts it,5 that this is okay with her. "May it be to me as you have said."
She's a young girl, not old enough in Western courts to make a binding promise, but in God's kingdom this amazing girl says, "Yes, of course," and God takes her at her word. Dear friends, our children, our grandchildren, our young teenagers can make commitments to the Lord that he honors and nurtures . He can call them to great tasks in the Kingdom of God.
On this day it is God's plan to make Mary the earthly mother of the Son of God and so begin the amazing story that ends in our salvation and reconciliation to God.
Prayer
Father, thank you for Mary's humble submission to the costly task you asked of her. Make me as willing to do your will as she was. Help me to understand servanthood as well as Mary did. In Jesus' name, I pray. Amen.
Discussion Question
Q1. (Luke 1:26-38) What honor did God bestow on Mary? What would this honor cost her? What does her response to the angel indicate? What discipleship lesson can you learn from Mary's response?
https://www.joyfulheart.com/forums/topic/2075-q1-mary/
Endnotes
[3] Matthew 6:63; John 1:49; 11:27; 19:7.
[4] "So..." (NIV, NJB), "therefore" (ESV, NRSV, KJV), "for that reason" (NASB) translates the Greek words dio kai. Dio is a very common conjunction meaning , "therefore, for this reason," but next to kai, it denotes "that the inference is self-evident" (BDAG, 250).
[5] "Servant" (ESV, NRSV, NIV), "handmaid" (KJV), "bondservant" (NASB) is doulē, "female slave, bondwoman." It is a Near Eastern expression, used by one of humble station in addressing one of a higher rank or a deity (BDAG 259).
Copyright © 2023, Ralph F. Wilson. <pastor

joyfulheart.com> All rights reserved. A single copy of this article is free. Do not put this on a website. See legal, copyright, and reprint information.
Discipleship for New Believers
In-depth Bible study books
You can purchase one of Dr. Wilson's complete Bible studies in PDF, Kindle, or paperback format.


My books are available in paperback and Kindle from Amazon.