Home
Free E-Mail
Bible Studies

Grace
Beginning the Journey (for new Christians). en Español
1, 2, and 3 John
1 & 2 Thessalonians
1 & 2 Timothy
1 Peter
2 Peter, Jude
1 Corinthians
2 Corinthians
7 Last Words of Christ
Abraham
Acts 1-12: The Early Church
Apostle Paul
Christmas Incarnation
Church
Christ Powered Life (Rom 5-8)
Colossians
Conquering Lamb of Revelation
Daniel
David, Life of
Galatians
Gideon
Grace
Great Prayers
Glorious Kingdom, The
Early Church: Acts1-12
Elijah
Ephesians
Hebrews
Holy Spirit, Disciple's Guide
Isaiah
James
Jacob
Jesus and the Kingdom
John's Gospel
John's Letters
Joshua
Lamb of God
Listening for God's Voice
Lord's Supper
Luke
Mark
Moses
Names of God
Names of Jesus
Philippians
Psalms
Rebuild & Renew: Post-Exilic Books
Resurrection
Revelation
Sermon on the Mount
Songs of Ascent (Ps 120-135)

Christian Art
About Us
Speaking
Contact Us
Dr. Wilson's Books
Donations
Watercolors
Sitemap

Preface
Free E-mail Bible Study

Grace: Favor for the Undeserving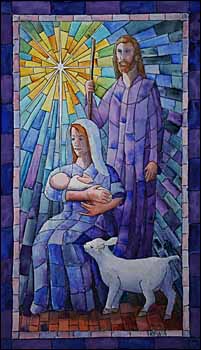 'The Holy Family' (2020), an original watercolor by Ralph F. Wilson
Advent, the season preceding Christmas, is a time for thoughtful meditation on the coming of Christ as we prepare our hearts to celebrate his birth.
Many, many advent booklets exist to help people in this process. Most take an inspirational thought and develop into a one-page-per-day format to encourage readers in Christ. And that is good!
However, 28 Advent Scriptures is different. Rather than a brief inspirational thought, each day we focus on a key Bible passage that relates to the Advent season and provide an exposition of it. Each is relatively short, but complete enough to help you understand the text at hand.
You'll find this series of mediations particularly rich in examining the best-known Messianic prophecies, as well as the gospel accounts of Christ's birth. My goal is to help you know what the Bible itself tells us about Messiah's birth. Thus, I encourage you to bring your Bible to each day's meditation, read the text for the day in your preferred translation and then read the day's meditation.
This Advent season promises to be an intensely rich time in the Scriptures as you feast on the promises of the Messiah and the Kingdom he will bring. You'll find yourself thinking about these passages all day long. And look forward to tomorrow's verses.
Each of these Advent expositions has enough meat to provide a thoughtful expedition into God's Word that will refresh your spirit and ground your soul. And there is plenty of underlying research that allows each exposition to form the basis of an Advent talk or Christmas sermon. I have also provided footnotes to help you explore further.
Since the start date of Advent varies from year to year -- as well as the length of the Advent season -- most Advent booklets are designed for a particular calendar year. (See Appendix 2. Advent Dates 2021 -- 2040.)
This series of Advent meditations, however, can be adapted to be used any year -- for many years after it is published. Thus I have provided a full 28 meditations to encompass the longest conceivable Advent season. If Advent in a particular year is shorter, you will have some meditations to read for a few days after Christmas Day.
Many families and churches use Advent Candles to celebrate each Sunday in Advent. In an appendix you'll find readings that you can use during the four Sundays of Advent as well as on Christmas Day.
My prayer is that 28 Advent Scriptures will strengthen your faith and increase your joy this coming Advent season and for many Christmases to come.
Dr. Ralph F. Wilson
Loomis, California
Advent, 2021
Endnotes
[1] Advent Sunday is always the fourth Sunday before (not including) Christmas Day. So Advent can begin as early as November 27th and as late as December 3rd. It is possible to compute the date of the First Sunday in Advent by adding three days to the date of the last Thursday of November; it can also be computed as the Sunday before the first Thursday of December. Advent ends on Christmas Day, which ushers in Christmastide, traditionally followed by Epiphany or Three Kings Day on January 6th, or more recently, in some traditions, the Sunday after January 1st ("Advent," Wikipedia article, retrieved 18 Dec 2020.
[2] "Advent wreath," Wikipedia article, retrieved 18 Dec 2020.
Copyright © 2023, Ralph F. Wilson. <pastor

joyfulheart.com> All rights reserved. A single copy of this article is free. Do not put this on a website. See legal, copyright, and reprint information.
Discipleship for New Believers
In-depth Bible study books
You can purchase one of Dr. Wilson's complete Bible studies in PDF, Kindle, or paperback format.


My books are available in paperback and Kindle from Amazon.