Home
Free E-Mail
Bible Studies

Grace
Beginning the Journey (for new Christians). en Español
1, 2, and 3 John
1 & 2 Thessalonians
1 & 2 Timothy
1 Peter
2 Peter, Jude
1 Corinthians
2 Corinthians
7 Last Words of Christ
Abraham
Acts 1-12: The Early Church
Apostle Paul
Christmas Incarnation
Church
Christ Powered Life (Rom 5-8)
Colossians
Conquering Lamb of Revelation
Daniel
David, Life of
Galatians
Gideon
Grace
Great Prayers
Glorious Kingdom, The
Early Church: Acts1-12
Elijah
Ephesians
Hebrews
Holy Spirit, Disciple's Guide
Isaiah
James
Jacob
Jesus and the Kingdom
John's Gospel
John's Letters
Joshua
Lamb of God
Listening for God's Voice
Lord's Supper
Luke
Mark
Moses
Names of God
Names of Jesus
Philippians
Psalms
Rebuild & Renew: Post-Exilic Books
Resurrection
Revelation
Sermon on the Mount
Songs of Ascent (Ps 120-135)

Christian Art
About Us
Speaking
Contact Us
Dr. Wilson's Books
Donations
Watercolors
Sitemap

Introduction to Advent
Free E-mail Bible Study

Grace: Favor for the Undeserving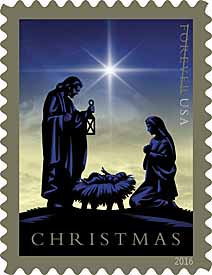 US Christmas Stamp 2016-17, 'Nativity', designed by Greg Breeding, with original art by Nancy Stahl.
"Advent" means "arrival" or "appearance" (from Latin adventus). It has come to refer in the Church Calendar to the Christian season beginning four Sundays before Christmas, concluding on Christmas Day. The reason we celebrate Advent is to prepare our hearts to understand and welcome the coming of Messiah Jesus -- and to counter all the commercialized Christmas mythology developed by our secular culture to displace the true meaning of Christmas.
The first written reference to the season of Advent was in 380 AD, when the Council of Saragossa (Spain) called for a celebration of the weeks leading up to Christmas Day as a way of countering a Gnostic heresy that denied the physical nature of Jesus -- his conception, birth, and crucifixion in the flesh. Thus the focus on the Incarnation -- Jesus coming as a real baby, as a real human being, to save us. The God-Man, Emmanuel. Gradually, Advent was included in the church calendar with four Sundays of Advent leading up to Christmas Day, originally with a twin focus on the First Advent (the birth of Jesus) and the Second Advent (the Second Coming of Jesus).
However, Advent isn't just four weeks long. It is complex. Because the First Sunday of Advent is a variable date and Christmas Day is a fixed date, Advent can be as short as 22 days (when Christmas falls on a Monday) and as long as 28 days (when Christmas falls on a Sunday).1 Some Advent calendars and devotionals get around this by beginning all readings on December 1st. But I'm beginning these readings on Advent Sunday. To allow for all the possibilities, I've included readings for 28 days plus a reading on Christmas Day, which should be read on that day instead of (or in addition to) the regular reading for that day. I apologize ahead of time for the inevitable confusion. You can sort some of this out by studying Appendix 2. Advent Dates 2021 -- 2040.
Many traditions celebrate by lighting a candle each Sunday in Advent. Four candles set in an advent wreath seems to have begun with the German Lutherans. You light one candle on each Sunday of Advent, sometimes with a fifth candle, the Christ candle, lit on Christmas eve or on Christmas Day. The custom spread to America in the 1930s.
There is no one tradition about the four Advent candles. Rather, there are at least three common traditions (with lots of variations). Each candle can represent:
God's Blessings -- Hope, Peace, Joy, and Love.
A person or group involved in the Christmas story -- the Messiah or Prophecy candle, the Bethlehem candle, the Shepherd candle, and the Angel candle.
In the UK, often -- Hope, Old Testament prophecies, John the Baptist, and Mary."2
Take your pick for your own family traditions. In Appendix 1, I provide a scripture, brief meditation, and prayer for each of these traditions for each Sunday of Advent, plus one for Christmas Day.
If you haven't already, I encourage you create or purchase an Advent candle arrangement or Advent wreath for your family and/or church. For ideas, google: "advent wreath".
You'll find that the color of the candles varies between traditions. For some traditions, three of the candles are violet (the liturgical color of penitential seasons), with a rose candle lit on the Third Sunday of Advent (Gaudete Sunday, meaning "Rejoice Ye!" -- celebrating joy). In other traditions the four candles are red, reflecting their use in Christmas decorations. Usually, the center Christ Candle is white.
Copyright © 2023, Ralph F. Wilson. <pastor

joyfulheart.com> All rights reserved. A single copy of this article is free. Do not put this on a website. See legal, copyright, and reprint information.
Discipleship for New Believers
In-depth Bible study books
You can purchase one of Dr. Wilson's complete Bible studies in PDF, Kindle, or paperback format.


My books are available in paperback and Kindle from Amazon.