Home
Free E-Mail
Bible Studies

Jesus' Parables for Disciples

Preface to the 7 Last Words of Christ
by Dr. Ralph F. Wilson

Audio (3:56)
Free E-mail Bible Study

1 & 2 Timothy and Titus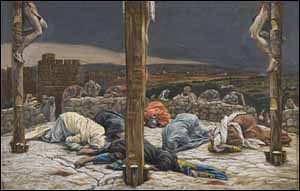 James J. Tissot, "The Earthquake" (1886-1894), opaque watercolor, Brooklyn Museum. Larger image.
By all accounts Jesus didn't do a lot of talking on the cross. He was silent during the hours he hung there, except for a very few words. But these Seven Last Words provide a window into Jesus' soul, a way to understand what is ultimately important to this One who is dying on the cross.
As I have studied and meditated on each Word, trying to plumb the meaning of each saying, I have been touched by the awe of the scene on Golgotha that dark, foreboding Friday afternoon as Jesus hung on the cross. I've learned, I think, to understand him better -- his incredible love, his determination, his humanness as well as his divinity, his intimate relationship with his Father, and finally his trust.
It isn't often that we can see with such clarity into a human being, especially Jesus the Son of God himself. But the looking inspires in us awe and changes us forever.
I encourage you to study these Seven Last Words one each day in a single week. The best might be during Holy Week, beginning on the Saturday before Palm Sunday and finishing on Good Friday itself. Some of you will use these meditations as the basis for a Good Friday service.
However you use them, don't rush through them. Let each of them simmer on the stove of your heart for a while so all the flavors begin to meld together into a unique and satisfying aroma.
Some are longer than others. I resisted the temptation to make them all the same length as if they were all equally significant. So savor all of these Seven Last Words from the cross, both the long and the short, that you may encounter Christ in them.
Spend some time thinking about the question for personal meditation that concludes each of the Words. In framing an answer, you'll find yourself stretched and sharpened as you begin to put into your own words thoughts that have remained only fuzzy in your mind until now.
I have illustrated each of these lessons with remarkable watercolors by James Jacques Tissot (1836-1902), a French painter who spent the last two decades of his life visiting the Holy Land twice and producing some 700 illustrations of the Old Testament and the Gospels. I hope you enjoy his work as much as I do.
My prayer is that these Seven Last Words of Christ from the Cross will bless you and draw you closer to the One who died for you and to the Father who sent his Son on this costly journey to redeem us.
Dr. Ralph F. Wilson
March 23, 2009
"Wildwood," Loomis, California
---
Copyright © 2023, Ralph F. Wilson. <pastor

joyfulheart.com> All rights reserved. A single copy of this article is free. Do not put this on a website. See legal, copyright, and reprint information.
Discipleship for New Believers
In-depth Bible study books
You can purchase one of Dr. Wilson's complete Bible studies in PDF, Kindle, or paperback format -- currently 48 books in the JesusWalk Bible Study Series.
Old Testament
Gospels
Acts
Pauline Epistles
General Epistles
Revelation
Topical
Grace: Favor for the Undeserving


My books are available in paperback and Kindle from Amazon.