Home
Free E-Mail
Bible Studies

Grace
Beginning the Journey (for new Christians). en Español
1, 2, and 3 John
1 & 2 Thessalonians
1 & 2 Timothy
1 Peter
2 Peter, Jude
1 Corinthians
2 Corinthians
7 Last Words of Christ
Abraham
Acts 1-12: The Early Church
Apostle Paul
Christmas Incarnation
Church
Christ Powered Life (Rom 5-8)
Colossians
Conquering Lamb of Revelation
Daniel
David, Life of
Galatians
Gideon
Grace
Great Prayers
Glorious Kingdom, The
Early Church: Acts1-12
Elijah
Ephesians
Hebrews
Holy Spirit, Disciple's Guide
Isaiah
James
Jacob
Jesus and the Kingdom
John's Gospel
John's Letters
Joshua
Lamb of God
Listening for God's Voice
Lord's Supper
Luke
Mark
Moses
Names of God
Names of Jesus
Philippians
Psalms
Rebuild & Renew: Post-Exilic Books
Resurrection
Revelation
Sermon on the Mount
Songs of Ascent (Ps 120-135)

Christian Art
About Us
Speaking
Contact Us
Dr. Wilson's Books
Donations
Watercolors
Sitemap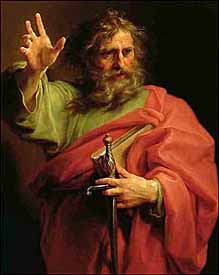 Pompeo Giralamo Batoni (1708-1787), "St. Paul," oil on canvas, Basildon Park, The National Trust, UK.
Paul has been talking about the wasting away of the outer person, the body, and preparation for an "eternal weight of glory" in heaven, the contrast between the temporary and the eternal. This passage continues this theme by examining what things will be like in God's presence, our eternal home "" and the faith walk that we are engaged in.
Paul begins by using the analogy that compares a tent, the most impermanent of structures, with a house, designed to last indefinitely.
"Now we know that if the earthly[156] tent[157] we live in is destroyed, we have a building[158] from God, an eternal[159] house[160] in heaven,[161] not built by human hands."[162] (5:1)
The "earthly tent" Paul is talking about is, of course, our human body. If you've been tent-camping you know that when it comes time to "break camp" or "strike the tent," the poles are taken down, the stakes are pulled, and the tent collapses, finally to be rolled into a relatively small bundle. The word Paul uses is "destroyed" (NIV, NRSV), "dissolved" (KJV).[163] A tent is temporary and portable, never intended to be thought of as permanent. The tent in this analogy is our human body.
But what does our "eternal house in heaven" represent? Here you'll find a number of interpretations, some of them pretty obscure:
The Body of Christ, the Church,
The New Jerusalem,
The heavenly temple of the Lord's presence,
The mansion-like abode to which the Lord's people go after death, and
Our resurrection body.
Option 4 was adopted by a number of older Bible interpreters, including St. Thomas Aquinas. It imports into this passage Jesus' analogy of death "" a large house with individual rooms.
"In my Father's house are many rooms; if it were not so, I would have told you. I am going there to prepare a place for you. And if I go and prepare a place for you, I will come back and take you to be with me that you also may be where I am. You know the way to the place where I am going." (John 14:2-4)
The problem with the mansion interpretation is that it breaks Paul's own analogy:
Single Tent to House
Temporary to Eternal
The mansion interpretation would require an analogy of single tent to many-roomed mansion, an idea which isn't found anywhere in the context. It would also require oika, "house," to be used two very different ways in the same sentence.[164] Not very likely.
I believe that the best way to understand "eternal house in heaven" is as a resurrection body. I reach this conclusion for a number of reasons:
Paul has already introduced resurrection a few verses previously at 4:14.
Paul taught the Corinthians about resurrection bodies extensively in a previous letter, especially:
"For the perishable must clothe itself with the imperishable, and the mortal with immortality. When the perishable has been clothed with the imperishable, and the mortal with immortality, then the saying that is written will come true: β€˜Death has been swallowed up in victory.'" (1 Corinthians 15:53-54)
It seems likely that here Paul is comparing our impermanent physical bodies with our permanent resurrection bodies.
End Notes
---
Copyright © 2023, Ralph F. Wilson. <pastor

joyfulheart.com> All rights reserved. A single copy of this article is free. Do not put this on a website. See legal, copyright, and reprint information.
Discipleship for New Believers
In-depth Bible study books
You can purchase one of Dr. Wilson's complete Bible studies in PDF, Kindle, or paperback format.


My books are available in paperback and Kindle from Amazon.