Home
Free E-Mail
Bible Studies

Jesus' Parables for Disciples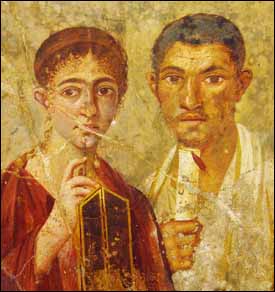 Terentius Neo, the baker, and his wife, from the atrium of a house in Pompeii (AD 55-79 AD), fresco on plaster, 58x52 cm. Museo Archeologico Nazionale, Naples, Italy.
Marriage is one of the most important human relationships. No wonder Peter spends a few sentences to help his readers with this sometimes difficult institution.
But Peter's thoughts haven't been confined to marriage. He is very concerned about all kinds of relationships in society -- with the government, with masters and slaves, and with marriage. He knows that if Christians are perceived as societal rebels and radicals, their message won't be heard and the Christian faith won't grow.
In some Western cultures, to expect wives to be submissive to their husbands isn't considered politically correct. But Peter's words seem pretty straightforward:
"Wives, in the same way be submissive to your husbands so that, if any of them do not believe the word, they may be won over without words by the behavior of their wives, when they see the purity and reverence of your lives." (3:1-2)
When he says "in the same way" he is referring back to his comments about submission to governments and to masters (2:13-20). "Be submissive," as we saw previously, is the Greek verb hypotassō (also in 2:13 and 3:5), which, in the middle voice, means "to subject oneself, to be subservient, to submit voluntarily,"[137] and seems to include the idea of "obey."[138] I've heard people try to argue that submission doesn't really mean "to submit," but that's very difficult to sustain from either the New Testament or from Greek usage.
The key here is voluntary submission. Peter isn't demanding obedience -- though obedience is involved with submission. He is asking for an attitude towards one's husband of voluntary submission, whether or not he is a Christian.[139]
How can you submit to a husband who is not a Christian, you ask? You can't submit to him spiritually, of course, unless he is submitted to Christ. Nor can you submit if he requires you to commit some sin, since your submission to Christ takes precedence over your submission to any human being. But submission to your non-Christian husband, Peter makes clear, may be an important element of his conversion to Christianity. When he sees the reality of his wife's faith as it's worked out through her life, it is a powerful testimony to him of the truth of the Christian message.
It's your behavior,[140] Christian wives, that must convince him, not your words. You can't talk your husband into the kingdom. You must be willing to live out your Christianity before him. He must observe it in action.[141] Then your words may be superfluous. Think of your behavior as in investment in your husband's salvation. "Won over" is the Greek verb kerdainō, which originally meant "to acquire by effort or investment, to gain." Here it is used figuratively.[142]
Q1. (3:1) Why is submission so difficult for us humans? Does submission require you to be silent when you don't agree or feel something can be improved? When is submission wrong for Christian?
https://www.joyfulheart.com/forums/topic/168-q1-submission/
What should a Christian wife strive for? Inner beauty.
"... When they see the purity and reverence of your lives. Your beauty should not come from outward adornment, such as braided hair and the wearing of gold jewelry and fine clothes. Instead, it should be that of your inner self, the unfading beauty of a gentle and quiet spirit, which is of great worth in God's sight. (3:3-4)
"Beauty" (NIV), "adornment" (KJV) translate the Greek noun kosmos, "that which serves to beautify through decoration, adornment, adorning."[143] The English word "cosmetics" comes from the verb kosmeō, "adorn, decorate," found in verse 5.
The beauty that is important, Peter contends, isn't external. In spite of that, some women place a great deal of time on external beauty and very little on internal beauty. Of course, women are well aware that men are attracted by physical beauty. As women age, however, physical beauty fades. Women who have cultivated their inner life, their spiritual life, their inner beauty, are able to radiate a beauty that lasts -- and is very attractive to both man and God (Proverbs 31:30).
Peter mentions three substitutes for inner beauty:
Fancy hair styles. "Braiding" (NRSV, NIV) or "plaiting" (KJV) is the Greek noun emplokē, "braiding, braid (fashionable or elaborate), braiding of hair."[144]
Gold jewelry.
"Fine clothes" (NIV, NRSV), "apparel" (KJV) is the Greek noun himation. It can be used generally of any garment, "clothing, apparel."[145] Here it has the idea of gaining beauty by putting on fine clothing.
Does this mean that women should wear shabby clothing, unkempt hair, and no jewelry? I don't think so. If you were to take this verse in that way, you would have to insist that women don't wear any clothing at all, since himation is the general word for clothing. Good grooming is always appropriate, since it reflects not only on you, but on your husband, and on your God.
Q2. (3:3) Why should women try to look their best? How can trying to look their best divert women from what is more important? What is the balance?
https://www.joyfulheart.com/forums/topic/169-q2-outer-vs-inner-beauty/
Peter is not making a Christian law but a vital point. If you rely on outward beauty to keep your man, you're very short sighted. The inner beauty won't fade[146] -- don't neglect it. It may even help you win your husband to Christ. The term "inner self" (NIV, NRSV) is a paraphrase of the KJV literal "hidden man of the heart," though the "man" is the Greek noun anthropos, "human being," not the specific word for the male gender. The key idea here is expressed by the Greek adjective kryptos, "hidden, secret,"[147] that is, not visible on the exterior. What are the characteristics of the inner beauty of which Peter is speaking?
How do you come by this kind of character? The same way as all Christians -- male and female -- from yielding regularly to the Spirit of God and letting that Spirit reign in your life. From the abiding presence of the Holy Spirit come his fruits -- love, joy, peace, patience, kindness, goodness, faithfulness, gentleness, and self-control (Galatians 5:22-23).
Not only your husband will notice your character -- God notices too. Peter says that to God this inner beauty is of "great worth" (NIV), "great price" (KJV), "very precious" (NRSV). The Greek adjective polytelēs means "pertaining to being of great value or worth, ordinarily of relatively high degree on a monetary scale, (very) expensive, costly."[152] You've met women -- and men -- who look stunning but when you get to know them you find they have no substance, no integrity, no character. God looks on your heart and smiles in enjoyment of your character which he values so highly. And when a discerning husband catches a glimpse of your heart, you'll catch and keep him, too. And hopefully, win him to Christ because he sees in you something worth having.
Now Peter appeals to Sarah, the mother of Israel, though we don't have much record in the Bible of just how she submitted to Abraham.
"For this is the way the holy women of the past who put their hope in God used to make themselves beautiful. They were submissive to their own husbands like Sarah, who obeyed Abraham and called him her master. You are her daughters if you do what is right and do not give way to fear." (3:5-6)
Notice four more keywords from these verses that help you see the character that God prizes:
Q3. (3:4-6) How does a person cultivate inner beauty? How does one gain character? Why is true character so important and precious to God? How can character help a Christian woman win and hang onto her husband?
https://www.joyfulheart.com/forums/topic/170-q3-cultivating-inner-beauty/
We've talked so far about Christian wives. Perhaps Peter spends more time here because of the particular challenges Christian women had in trying to win their husbands to Christ -- surely not because the women had less spiritual maturity than the men. But now he speaks directly to husbands:
"Husbands, in the same way be considerate as you live with your wives, and treat them with respect as the weaker partner and as heirs with you of the gracious gift of life, so that nothing will hinder your prayers." (3:7)
Peter calls men to two virtues:
Wisdom. "Be considerate" (NIV, NRSV), "in an understanding way" (NASB), "according to knowledge" (KJV) translate the prepositional phrase kata gnōsis, literally "according to knowledge," "knowledgeably," that is, "in awareness of female vulnerability and common Christian hope," "with understanding."[159] Some husbands seem clueless with regard to their wife's needs. Peter calls Christian husbands to grow up and show some smarts as they live with their wives.
The reasons Peter gives are two-fold: (1) women are weaker and (2) women are equal spiritually:
Weaker. Peter describes a wife here in terms that aren't politically correct. He calls woman[163] the weaker vessel.[164] I'm sure he is speaking of physical weakness, perhaps vulnerability to attack, or shorter lifespan.[165] At any rate, this weaker condition is to be the occasion of respect, not bullying.
Equal. Instead of being taken advantage of or looked down on, women are to be respected as equal to men in terms of their standing before God and promises for the future. "Joint heirs" (RSV), "heirs with you" (NIV), "heirs together" (KJV) translate the Greek compound adjective, syngklēronomos, "inheriting together with," mostly as a substantive, "co-heir."[166] This may have been a radical thought in Peter's day, but he learned this kind of respect at the feet of Jesus, who treated women with a great deal of respect and honor.
Q4. (3:7) Why should a husband relate to his wife with knowledge and wisdom? In what way does this demonstrate love? In what way does this demonstrate self-interest? Why do men sometimes try to dominate their wives? Why do wives sometimes try to dominate their husbands? What harm does this do? How is domination of another person contrary to God's nature?
https://www.joyfulheart.com/forums/topic/171-q4-being-considerate/
Finally, Peter reminds husbands that they are accountable to God. God will judge them if they misbehave.
"... So that nothing will hinder your prayers." (3:7b)
"Hinder" is the Greek verb engkoptō, "to make progress slow or difficult, hinder, thwart."[167] If Christian men treat their wives wrongly, Peter is saying, their prayers suffer, probably for two reasons. First, men who are selfish and overbearing are unlikely to be the kind of people who spend much time in prayer. But even more, God doesn't listen to the prayers of hypocrites and sinners.[168] Many Christian husbands maintain a respectful appearance at church, but at home sin terribly against their wives and children, in anger, injustice, selfishness, and worse. Peter is saying here: Husbands, you can't hide from God.
Q5. (3:7) How can treating one's wife wrongly hinder a husband's prayers? How can treating a husband wrongly hinder a wife's prayers?
https://www.joyfulheart.com/forums/topic/172-q5-hindering-your-prayers/
As I consider the character traits that Peter urges on wives and husbands I see a convergence. Consider these traits. None is exclusively male or female. They may manifest themselves differently according to culture or gender, but they are character qualities that God wants to work in all of us -- godly virtues.
Reverence and respect for authority: Romans 13:7; Ephesians 6:5; 1 Peter 2:17-18; 3:15; and showing honor: Romans 12:10; 13:7; 1 Timothy 6:1
Purity: Matthew 5:8; 2 Corinthians 6:6; Philippians 4:8; 1 Timothy 4:12; 5:2; 2 Timothy 2:22
Gentleness: Matthew 5:5; 11:29; 2 Corinthians 10:1; Galatians 5:23; 6:1; Ephesians 4:2; Colossians 3:12; 1 Timothy 6:11; 2 Timothy 2:25; Titus 3:2; James 1:21; 3:13; 1 Peter 3:15
Quietness: 1 Thessalonians 4:11; 2 Thessalonians 3:12; 1 Timothy 2:2, 11
Faith: Galatians 5:22-23; Colossians 1:23; 2:5, 7; 1 Thessalonians 3:2; 5:8; 2 Thessalonians 1:3; 1 Timothy 4:12; 6:11; 2 Peter 1:5; and many others.
Obedience: Romans 1:5; 15:18; 16:19, 26; Ephesians 6:1, 5; Philippians 2:12; Colossians 3:20, 22; 2 Thessalonians 1:8; 3:14; Titus 3:1; Philemon 21; Hebrews 5:8-9; 13:17; 1 Peter 1:14, 22; 4:17; 1 John 2:3-5; 3:22, 24; 5:3; Revelation 3:3
Righteousness: Matthew 5:6; Acts 24:25; Romans 6:13, 18; 14:17; 2 Corinthians 6:14; Ephesians 4:24; 5:9; Philippians 1:11; 1 Thessalonians 2:10; 1 Timothy 4:7; 6:11; 2 Timothy 2:22; 3:16; Titus 2:12; Hebrews 12:11; James 1:20; 3:13, 18; 1 Peter 2:24; 2 Peter 3:11; 1 John 3:7
Courage: Acts 4:13; 23:11; 1 Corinthians 16:13; Philippians 1:14, 20
Wisdom: 1 Corinthians 6:5; Ephesians 1:8, 17; 5:15; Colossians 1:9, 28; 3:16; 4:5; James 1:5; 3:13, 17.
Prayer
Father, the more I meditate on this, the more I see that the deeper my character is the better my marriage will be. Forgive me for my selfishness and attempts to dominate. Work in me to exhibit the fruit of your Spirit both inside of me and in the way I relate in my marriage. In Jesus' name, I pray. Amen.
Key Verses
"Your beauty should not come from outward adornment, such as braided hair and the wearing of gold jewelry and fine clothes. Instead, it should be that of your inner self, the unfading beauty of a gentle and quiet spirit, which is of great worth in God's sight." (1 Peter 3:3-4)
"Husbands, in the same way be considerate as you live with your wives, and treat them with respect as the weaker partner and as heirs with you of the gracious gift of life, so that nothing will hinder your prayers." (1 Peter 3:7)
End Notes
Copyright © 2023, Ralph F. Wilson. <pastor

joyfulheart.com> All rights reserved. A single copy of this article is free. Do not put this on a website. See legal, copyright, and reprint information.
Discipleship for New Believers
In-depth Bible study books
You can purchase one of Dr. Wilson's complete Bible studies in PDF, Kindle, or paperback format -- currently 48 books in the JesusWalk Bible Study Series.
Old Testament
Gospels
Acts
Pauline Epistles
General Epistles
Revelation
Topical
Grace: Favor for the Undeserving


My books are available in paperback and Kindle from Amazon.