Home
Free E-Mail
Bible Studies

Jesus' Parables for Disciples
How to Select a Bible

by Dr. Ralph F. Wilson



Video
Oct 09
Free E-mail Bible Study

1 & 2 Timothy and Titus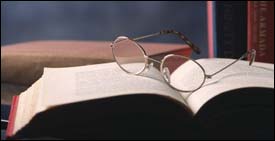 You know, of course, that the Bible wasn't written in English, but in Hebrew (and a bit of Aramaic) in the Old Testament and Greek in the New Testament. A translation tries to render the original language into clear, accurate English. There are two types of translations:
Literal word-for-word translation. This makes for accuracy, but can be rather wooden to read out loud. A good example of this type is the New American Standard Bible.
Dynamic thought-for-thought correspondence. Here the translator takes a thought in the original language and tries to translate it into the same concept in good English, without being tied to the exact words in the original. A good example of this might be Today's English Version (TEV).
The best study Bible contains a balance of both. You want a careful, accurate translation, but one that reads easily and clearly for family devotions or public worship.
Another issue is the underlying Greek and Hebrew text. The KJV translators worked with the best texts available to them in 1611, but in the last 150 years we have gained a much more accurate understanding of what the original text must have been. Nearly all modern translations are enriched by the translators working from the most accurate Greek and Hebrew texts possible.
Popular English Translations
Here are some of the most popular English translations. Your church or tradition may have a particular preference, but any one of these might be a good choice for you:
The King James Version (KJV, 1611) is, of course, the granddaddy of our English Bibles. For its day it was a very accurate translation and is still used in many congregations today. In 1984, the New King James Version (NKJV) was published as a whole Bible by Thomas Nelson. Translators modernized the language of archaic words substantially and removed most of the "thees" and "thous." The underlying Greek and Hebrew texts remained the same as the KJV of 1611. For churches with a strong King James tradition, the NKJV is a popular alternative.
The New International Version (NIV) was first translated as a whole Bible by evangelical scholars in 1973, with revisions in 1983 and 1988. It is an excellent balance between readability and accuracy of translation. For years it has been the most popular newer translation in the United States, especially among evangelical churches.
New American Standard Bible (NASB or NASV), translated by the Lockman Foundation, was published in the whole Bible in 1971 and revised in 1977. Its big strength is its consistency in literally translating words and tenses. It is known as a very accurate translation, though perhaps not as easy to read aloud as some others.
New Revised Standard Version (NRSV, 1989) and its predecessor, the Revised Standard Version (RSV, 1952), are careful translations in the King James tradition. Several Protestant denominations prefer the NRSV. It is both accurate and readable.
English Standard Version (ESV, 2001) is a fairly literal translation in the tradition of the RSV. It was translated by evangelical scholars.
Of course there are many other modern translations, many of them good for serious Bible study, too numerous to list here. The original Living Bible and The Message are not translations, but paraphrases. They can be refreshing to read but aren't good Bibles for careful study.
Study Bible
After you've decided what translation to use, I encourage you to purchase a study Bible, since it will contain a number of tools in one volume that can help you dig deeper. Nearly every Bible publisher offers a study Bible. Your local Christian bookstore can help you figure out which one is right for you. Here are some of the features that you'll come to appreciate:
Cross References. In a column next to the text, a study Bible lists several other verses with a similar idea or theme. For example, for "Nicodemus" in John 3:1, my Bible refers me to John 7:50 and 19:39 where he appears again. For "Rabbi" in verse 2, the cross references send me to Matthew 23:7 which has nine more references on this topic that I can explore. These cross references won't be comprehensive, but will point out the main passages that discuss any related ideas.
Bible Book Introductions. It's important to know something about the author, date, themes, circumstances, and intended audience of the Bible book or letter you're studying. In most study Bibles you'll find one to three pages of introductory comments for each book with a brief outline.
Study Notes or Annotations. Study Bibles have footnotes at the bottom of the page to help explain some of the more obscure ideas you'll run across -- a kind of mini-commentary. Remember, these aren't part of the Bible itself, but can often point you in the right direction in your study. These notes are usually indexed for easy reference.
Concordance. You've had a verse on the tip of your tongue, but don't know exactly where it is. A concordance helps you find a Bible passage if you can think of a key word or two that the verse contains. A concordance can also help you find other verses that teach a concept or use a word found in the passage you're studying.
Topical Index. In addition to a concordance, some study Bibles have a separate topical index that helps you find scripture references on a particular topic.
Maps. Part of understanding what's happening in narrative passages of Scripture is learning the geography, the location of cities, battles, mountains, valleys, enemies, etc.
Other features you may find include articles on various topics, a brief Bible dictionary, outlines of topics and Bible books, index of place names, time lines, and so on.

---
JesusWalk: Beginning the Journey
New Christian, New Believer Discipleship Training and Spiritual Formation
Copyright © 2023, Ralph F. Wilson. <pastor

joyfulheart.com> All rights reserved. A single copy of this article is free. Do not put this on a website. See legal, copyright, and reprint information.
Discipleship for New Believers
In-depth Bible study books
You can purchase one of Dr. Wilson's complete Bible studies in PDF, Kindle, or paperback format -- currently 48 books in the JesusWalk Bible Study Series.
Old Testament
Gospels
Acts
Pauline Epistles
General Epistles
Revelation
Topical
Grace: Favor for the Undeserving


My books are available in paperback and Kindle from Amazon.