Home
Free E-Mail
Bible Studies

Jesus' Parables for Disciples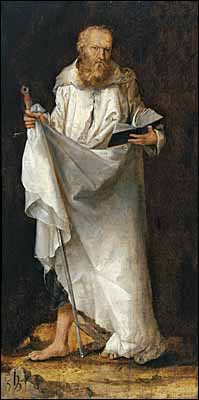 Circle of Dutch painter and engraver Lucas van Leyden, "Saint Paul" (c. 1525), oil on panel, 44 x 21 cm, Museo Thyssen-Bornemisza, Madrid. The painter was also known as Lucas Hugensz or Lucas Jacobsz.
Paul was under overwhelming stress when he wrote 2 Corinthians about 56 AD from Macedonia.
"We were under great pressure, far beyond our ability to endure, so that we despaired even of life.... But this happened that we might not rely on ourselves but on God, who raises the dead." (1:8-9)
He was writing to a church where his reputation had been trashed by his opponents, but that desperately needed the balance and correction that only he could give. The letter contains many nuggets of spiritual insight, such as:
The anointing and sealing of the Spirit (1:21-22)
Living letters written on human hearts (3:2-3)
Unveiled faces beholding the Lord's glory (3:18)
A treasure in jars of clay (4:7)
Away from the body but at home with the Lord (5:6-8)
The new creation, behold the new has come (5:16-17)
A ministry of reconciliation, ambassadors for Christ (5:18-20)
Christ was made to be sin for us (5:21)
Perfecting holiness in the fear of the Lord (6:14-7:2)
Sowing generously, reaping generously, and the cheerful giver (9:6-7)
Rejoicing in weakness despite a thorn in the flesh (12:7-10)
The letter is also the most intimate of Paul's epistles. In his struggle with the church at Corinth he bares his soul, and talks about how God has given him strength in spite of the horrific record of physical abuse, repeated hardship, and crushing pressure for being an apostle who moved the Kingdom forward in faith. As you read, you begin to ask: How can Paul do this? What makes this apostle tick? What can I learn from him? And as you immerse yourself in 2 Corinthians, you'll begin to understand.
I know that over the past six months that I've been drilling down into this letter, it has brought me both insight and courage to go on when I felt worn out from the struggle. I dedicate this book to my Tuesday morning men's discipleship breakfast group at Denny's -- Steve Dunlap, Steve Winther, Paul Johnson, and John Graham -- who plumbed the depths of 2 Corinthians together with me. My prayer is that it will bless you as much as it has blessed me.
Yours in Christ Jesus,
Dr. Ralph F. Wilson
Loomis, California
August 15, 2011
---
Copyright © 2023, Ralph F. Wilson. <pastor

joyfulheart.com> All rights reserved. A single copy of this article is free. Do not put this on a website. See legal, copyright, and reprint information.
Discipleship for New Believers
In-depth Bible study books
You can purchase one of Dr. Wilson's complete Bible studies in PDF, Kindle, or paperback format -- currently 48 books in the JesusWalk Bible Study Series.
Old Testament
Gospels
Acts
Pauline Epistles
General Epistles
Revelation
Topical
Grace: Favor for the Undeserving


My books are available in paperback and Kindle from Amazon.