Home
Free E-Mail
Bible Studies

Jesus' Parables for Disciples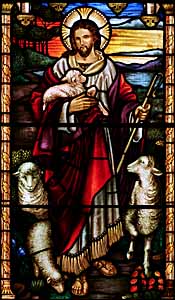 Philip Handel (1931-2009), 'The Good Shepherd,' St. John the Baptist Anglican Church, Ashfield, New South Wales.
I love Jesus as a Person, as my Lord and Friend. He's the "historical Jesus," yes, a human as he appeared on earth and walked the dusty roads of Galilee. But he is much more. He was with God at the beginning. All things were made through him. He is the Redeemer of mankind, the Shepherd of souls. He is the One by whom all will be judged. And he is the Coming Messiah who will wrap up the world and make it a place where, once more, righteousness dwells. He is God the Son.
I'd like to explore with you the various facets of Jesus' person, life, and mission. One way to do this is by carefully studying the Gospels and Epistles. But another way is to approach it topically -- by Jesus' names, titles, descriptors and the metaphors.
I'll try to mention at least once all these names, titles, descriptors, and metaphors. But I'll concentrate on the ones most used in Holy Scripture. If you understand Jesus in these chief names and titles, then the seldom-used, but precious names will be icing on the cake for you.
What we're about to commence on is actually "theology," the study of God. I did this in relation to God the Father in my book Names and Titles of God (JesusWalk, 2010). But as the present study focuses on Jesus, a more precise word is "Christology," the study of Jesus Messiah and his various offices.
Of course there'll be some overlap and repetition, since these names and themes are interwoven, with several often mentioned in the same passage. But that's fine. We're going swimming together, and though we'll try to keep the study organized, the most important thing is to enjoy the water.
I don't want this to be a merely academic survey. My goal during this study is to help you enter into a deeper relationship with Jesus. I'll suggest songs for you to worship him with, and prayers to pray. I'll suggest some weekly exercises to help you know Him in these various ways. So by the end of our 10-week study, you'll not only know more about Jesus, but actually know Him better experientially.
Last weekend my wife and I enjoyed again a performance of Handel's "Messiah," and became aware afresh of the glorious names and titles by which Jesus has been called throughout the ages. The concert ended with joy on my face. Hallelujah!
I look forward to studying with you as we explore and revel in a study of Jesus Christ our Lord.
Yours in Christ Jesus,
Dr. Ralph F. Wilson
Christmastide 2015
---
Copyright © 2023, Ralph F. Wilson. <pastor

joyfulheart.com> All rights reserved. A single copy of this article is free. Do not put this on a website. See legal, copyright, and reprint information.
Discipleship for New Believers
In-depth Bible study books
You can purchase one of Dr. Wilson's complete Bible studies in PDF, Kindle, or paperback format -- currently 48 books in the JesusWalk Bible Study Series.
Old Testament
Gospels
Acts
Pauline Epistles
General Epistles
Revelation
Topical
Grace: Favor for the Undeserving


My books are available in paperback and Kindle from Amazon.