Home
Free E-Mail
Bible Studies

Jesus' Parables for Disciples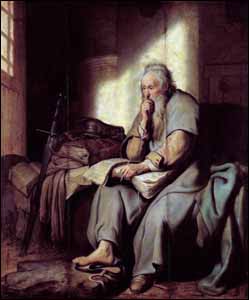 Rembrandt, 'St. Paul in Prison' (1627), oil on wood, 72.8 x 60.2 cm., Stuttgart, Staatsgalerie. His body may be in prison, but you can see in his face a contemplation of the heavenly realms that he opens for us in Ephesians 1.
Of all of St. Paul's Epistles, for me the Letter to the Ephesians is his masterpiece. Though written from prison, the first half of the Letter is full of praise and worship, an exalted understanding of Christ, and a transcendent view of the Church. He challenges us to leave our lowest selves and inspires us to seek our highest potential in Jesus, seated with him at the right hand of the Father. Here is salvation by grace through faith, as well as the unity and mission of the church. Paul's prayers are amazing in their breadth and scope!
The second half turns from doctrine to application. He spells out what unity looks like and how gifted ministry functions in the church body. Paul's condemnation of sinful attachments is matched by his conviction that the power of Christ can free us to become like "light in the Lord." He paints a portrait of a loving Christian marriage between believing spouses, and compares it to Christ and his Church. This prison epistle concludes with a challenge to "put on the whole armor of God" and to struggle in prayer for victory. All in all, it is an uplifting, glorious epistle, indeed!
In this second edition, I have made only minor changes in the actual text. I have moved most of the Greek words into the footnotes to make it less intimidating. I have also revised the structure of my 2006 study so that people can choose to study the same materials in a faster 7-lesson pace or the original 16 lessons (though I have retained all the discussion questions, prayers, and key verses included in the original 16-lesson format). The new structure allows classes, groups, and individuals to more easily select the pace that works best for them.
I hope you enjoy studying Paul's letter to the Ephesians as much as I have.
Dr. Ralph F. Wilson
Loomis, California
January 1, 2022
Copyright © 2023, Ralph F. Wilson. <pastor

joyfulheart.com> All rights reserved. A single copy of this article is free. Do not put this on a website. See legal, copyright, and reprint information.
Discipleship for New Believers
In-depth Bible study books
You can purchase one of Dr. Wilson's complete Bible studies in PDF, Kindle, or paperback format -- currently 48 books in the JesusWalk Bible Study Series.
Old Testament
Gospels
Acts
Pauline Epistles
General Epistles
Revelation
Topical
Grace: Favor for the Undeserving


My books are available in paperback and Kindle from Amazon.