Home
Free E-Mail
Bible Studies

Jesus' Parables for Disciples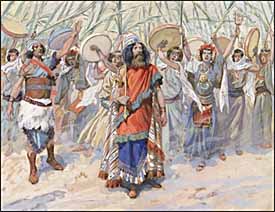 James J. Tissot, 'Festivities in Honor of King David' (1896-1902), gouache on board, The Jewish Museum, New York. Larger image.
Why do people love David's story?
First, David's story is exciting. David's encounter with Goliath is probably the best-known Bible account of all time. A shepherd boy trusts in Yahweh and defeats a huge, experienced warrior with only his faith, a sling, and a stone. There are "chance" encounters in caves and deserts, beautiful women and palace intrigue. There are last-minute escapes amidst pursuits by two kings -- first Saul and then his own son Absalom. Ultimately, David prevails to conquer and administer a huge empire in the east Mediterranean. It's exhilarating!
Second, David's story is inspiring. This mighty warrior is both a committed believer and a prolific singer-songwriter, whose lyrics still inspire readers 3,000 years after they were first set down. His faith and love and Spirit-inspired insights fill nearly 75 songs that we have available. He has learned to trust Yahweh in the depths of depression and the extremes of danger. And he knows how to offer the high praises of God as he sees God in all his glory. David points us to his God.
Third, David's story is human. This lover of God has flaws that threaten to destroy his spirit and his family. In David, we watch a man who falls very low, but repents to take hold of God's grace and forgiveness, and is ultimately restored and redeemed. He points us to hope in God's mercy for ourselves.
Fourth, David's story is manly. Men in our day struggle with the notion that faith in God is primarily for women -- that real men don't do church! David's life helps us see how a great warrior and leader of men works to integrate his faith into his own life and to allow his faith to direct the course of his career.
Fifth, David's story is morally challenging. He is guided by moral principles that find their root in Yahweh. He rules righteously, rather than selfishly. And he sets a standard for righteousness in government that challenges us today. He lives in a world far from our own -- with palaces and harems as well as giants and fierce hand-to-hand combat. But underlying the differences are the moral guidelines that keep us steady.
Finally, David's story is ongoing. God chose him to be the ancestor and type of the Messiah, the Son of David and Son of God -- Jesus of Nazareth. The foundational Davidic Covenant -- one of the most important themes in the whole Bible -- finds its fulfillment in Christ, who proclaimed that the Kingdom of God is at hand. To understand Jesus, you need to start with David.
I think you'll find this Life of David useful for a number of purposes. It was originally written for an e-mail Bible study in the JesusWalk® Bible Study Series. After each of the three or four discussion questions for each lesson, you'll find a URL which leads you to an online forum where others are grappling with the same questions. You're invited to participate.
This material is designed to aid your study of David's life, with a special emphasis on what we can learn as Jesus'disciples today. Twenty maps and charts help you understand David's family as well as the geography of his sojourns, escapes, battles, and conquests. historical background and geopolitical context will help you to understand David in his own world and grasp his internal complexity.
He is a sweet psalmist, a leader, and a lover. He's a mighty warrior, a prophet and judge, a king, and the priest of his people. And he is a great sinner. But he takes hold of God's amazing grace and emerges with his faith restored. David teaches us about ourselves.
Classes and small groups will find this a helpful curriculum guide to their study of 1 and 2 Samuel, with handouts as well as thorough preparation for the leader. Thought-provoking questions will prompt many insightful discussions. If you find some of the lessons too long for the time you have, feel free to break a lesson into two parts to digest it more thoroughly.
Preachers and teachers will find a great deal of their research done for them. The lessons are heavily footnoted for those who want to dig deeper into word definitions, but the footnotes are optional for the general student.
This isn't a verse-by-verse commentary, however. We're covering 43 chapters in 13 lessons -- 1 Samuel 14 to 31, all of 2 Samuel, plus 1 Kings 1-2. As a result, we'll move more quickly over much of the narrative material, but slow down when it comes to key events and important spiritual lessons. The goal is to help you see the major themes and big picture of David's life, while still absorbing the important details.
I hope that you'll be encouraged and inspired as you study the life of David. I know I have been! My prayer is that while you grapple with this passage of Scripture, the Holy Spirit will work with the Word to make you more like Jesus, the Son of David.
Yours in Christ's service,
Dr. Ralph F. Wilson
August 6, 2012
Loomis, California
---
Copyright © 2023, Ralph F. Wilson. <pastor

joyfulheart.com> All rights reserved. A single copy of this article is free. Do not put this on a website. See legal, copyright, and reprint information.
Discipleship for New Believers
In-depth Bible study books
You can purchase one of Dr. Wilson's complete Bible studies in PDF, Kindle, or paperback format -- currently 48 books in the JesusWalk Bible Study Series.
Old Testament
Gospels
Acts
Pauline Epistles
General Epistles
Revelation
Topical
Grace: Favor for the Undeserving


My books are available in paperback and Kindle from Amazon.