Home
Free E-Mail
Bible Studies

Jesus' Parables for Disciples
Beginning the Journey (for new Christians). en Español
1, 2, and 3 John
1 & 2 Thessalonians
1 & 2 Timothy
1 Peter
2 Peter, Jude
1 Corinthians
2 Corinthians
7 Last Words of Christ
Abraham
Acts 1-12: The Early Church
Apostle Paul
Christmas Incarnation
Church
Christ Powered Life (Rom 5-8)
Colossians
Conquering Lamb of Revelation
Daniel
David, Life of
Galatians
Gideon
Grace
Great Prayers
Glorious Kingdom, The
Early Church: Acts1-12
Elijah
Ephesians
Hebrews
Holy Spirit, Disciple's Guide
Isaiah
James
Jacob
Jesus and the Kingdom
John's Gospel
John's Letters
Joshua
Lamb of God
Listening for God's Voice
Lord's Supper
Luke
Mark
Moses
Names of God
Names of Jesus
Parables
Philippians
Psalms
Rebuild & Renew: Post-Exilic Books
Resurrection
Revelation
Sermon on the Mount
Songs of Ascent (Ps 120-135)

Christian Art
About Us
Speaking
Contact Us
Dr. Wilson's Books
Donations
Watercolors
Sitemap

Christmas Incarnation

A 4-week Advent Bible study series
by Dr. Ralph F. Wilson
Free E-mail Bible Study

Jesus' Parables for Disciples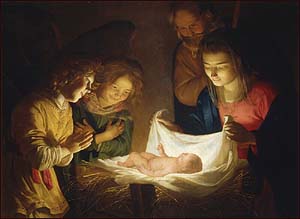 Gerard (Gerrit) van Honthorst (1590-1656), Adoration of the Children (1620), Uffizi Gallery, Florence. Italy. Larger image.
Here is a series of four lessons that can be used as an Advent Study for small groups, adult education classes, or personal study. They are designed to help you focus on the real meaning of Christmas -- the incarnation of God himself in Jesus Christ -- and what we can learn about discipleship from the principal characters in this drama. This series is available as an interactive online study and also as series of interactive YouTube videos that can be used to stimulate small group discussion and learning. If your group can't fit in all four lessons, consider using the first three.

Christian Incarnation: A Study of Jesus Birth on YouTube, with Dr. Wilson teaching the four lessons in 20- to 25-minute sessions, with pauses for group discussion. 1. Mary; 2. Joseph; 3. Shepherds; 4. Wise Men. The DVD is out of print, but these videos are free for you to use for your class, group, or church via YouTube.
https://www.youtube.com/playlist?list=PLQLvKcLxLhV5vf0L6MO2hnqBAkVd3cb0H
Links to many paintings of Christmas subjects and paintings of angels can be found on the JoyfulHeart.com site. Other articles on incarnation include: "A Healthy Cry from the Manger: The Meaning of the Incarnation," "They Call Him Immanuel (Emmanuel)," and "A Flesh-and-Blood Christmas Miracle."
Copyright © 2023, Ralph F. Wilson. <pastor

joyfulheart.com> All rights reserved. A single copy of this article is free. Do not put this on a website. See legal, copyright, and reprint information.
Discipleship for New Believers
In-depth Bible study books
You can purchase one of Dr. Wilson's complete Bible studies in PDF, Kindle, or paperback format.


My books are available in paperback and Kindle from Amazon.